For kids! Online fun
We've got plenty of fun for you online and in our building! Enjoy science workshops, storytelling, trails plus more!
Additional information
| | |
| --- | --- |
| Ticket Types | Ticket: 26 Oct 12:30, Ticket: 26 Oct 14:00, Ticket: 28 Oct 12:30, Ticket: 28 Oct 14:00 |
Join us for a Harris Half Term online! 
We have storytelling, sing-a-long videos plus more, all available on our website for little ones to enjoy.
The Banana King 
Singing voices at the ready!  Join in with Steve Brown as he tells you the story of the journey that bananas go on before they reach you. You'll also be able to sing along with the whole family, turn the volume up and get ready to sing and dance!
---
Cuerdale Hoard 
Take a step back in time and learn about the Cuerdale Hoard. A set of Viking treasure found in Cuerdale in Lancashire. Hear the fascinating story behind the amazing 1,000 year old Viking treasure hoard you can see part of in our Discover Preston Gallery.
If you'd like to come in and see some of this treasure, ask your grown up to book a ticket to visit the galleries.
---
Storytelling with Phil Kaila
Find somewhere comfy to sit and listen to the story of a young African girl who learns that she must be prepared to work hard for the things she wants most in life. This story links to the special Mapokwe baskets from Zambia, in Africa, that are part of the Harris collection.
Find out more about black history as we celebrate Black History month this October.
---
Brilliant Books for you to borrow
Borrow one of these brilliant books with a spooky theme when you next visit! These books are suitable for a younger audience.
Meg and Mog
Meg and Mog

by Helen Nicholl and Jan Pienkowski
A classic series, Meg and Mog is a favourite for young children and has been published as a picture book and board book. Meg and her cat Mog join other witches for a Halloween Party. Other adventures include a trip to the Moon, an adventure at Sea, a trip to the Zoo and a meeting with Pirates!
Mr Men: Adventures with Monsters
Mr Men: Adventures with Monsters

, written and illustrated by Adam Hargreaves
'It was a dark and stormy night and Little Miss Scary and her friends were driving to the fair . . .' however, they don't arrive as their bus runs out of petrol near a dark and mysterious house. Naturally, being a dark and stormy night the friends go to the house for help where they meet many famous supernatural creatures including a werewolf and a vampire! Terrified as they run from room to room, the friends eventually find that not all monsters are as scary as they may first seem.
Mr Men: Halloween Party
Mr Men: Halloween Party

by Roger Hargreaves
In Mr Men Halloween Party, Mr Happy is hosting a spooky fancy dress party with Mr Happy as a vampire and Miss Magic as a witch, but just who is the mysterious ghostly guest?
Recommended for children two years and above and part of the well-loved Mr Men and Little Misses stories created by Roger Hargreaves.
Funnybones
Funnybones

by Janet and Allen Ahlberg
For perfect Halloween fun for pre-schoolers the Funnybones series is a must. Introducing Big Skeleton, Little Skeleton and Dog Skeleton, they live in a dark, dark, house in a dark, dark wood. Excellent for early readers and beautifully illustrated (smiliest skeletons ever!) they meet dinosaurs, help Skeleton Dog when he starts falling apart, meet pirates, go for a mystery tour and deal with some Bumps in the Night! Great fun for Halloween.
Winnie and Wilbur
Winnie and Wilbur

series by Valerie Thomas and Korky Paul
Winnie the Witch and Wilbur her cat are characters in a long-running series of popular stories for pre-school children. In the first book Winnie, whose house and all the furnishings are black, keeps tripping over Wilbur who she can't see as he is also black. Winnie decides to use her magic to change his colour and ends up with a very unhappy cat!
Other titles in the series include The Broomstick Ride, The Flying Carpet, Under the Sea, Pirate Adventure, Dinosaur Day and the New Computer. Winnie even meets Santa! The stories of Winnie and Wilbur's adventures will appeal to boys and girls, not too scary but a lot of fun.
Room on the Broom
Room on the Broom

by Julia Donaldson and Axel Scheffler
This is the tale of a witch, her cat and the importance of kindness and cooperation. Flying on a windy day the witch's hat flies off her head and into the bushes. Landing and searching for it, a dog suddenly appears with her hat in its mouth. He returns it to the witch and asks her, politely, if there is room on the broom for him? The witch readily agrees there is, and off they fly.
The witch loses other items on the blustery journey; each item located by other animals who join her on the broom. When danger strikes the kindness and friendship shown by the witch and the animals saves the day. A delightful tale for pre-school children by the authors of The Gruffalo and Stick Man, amongst many others.
Holiday fun for inside and outside 
Get close to nature, challenge friends, make your own superhero mask and more by downloading our activity booklet.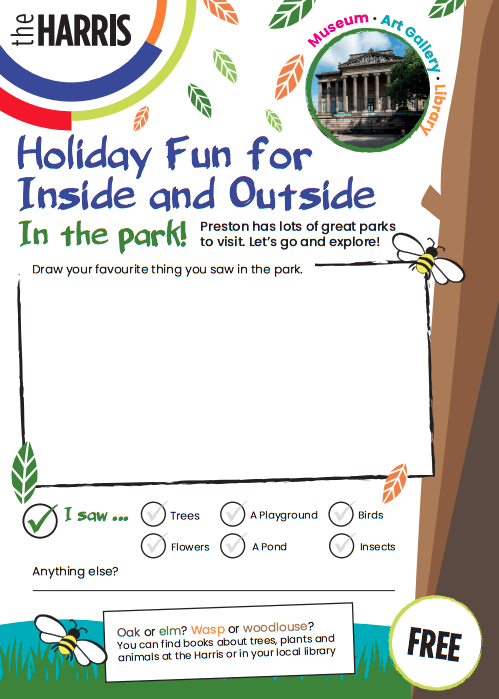 ---
The Harris trail 
On your marks, get set…explore!
For those of you that will be visiting the Harris building this half term, make sure you pick up one of  the free trail maps, which will be near our front door when you come in. You get to keep this map!
On it, you will find lots of fantastic objects that are around the building. Your task is to explore the building and tick off as many as you can find! When you have finished, ask for a free sticker from the Welcome Desk.
You can ask your adult to share a photo of some of the things you find on social media.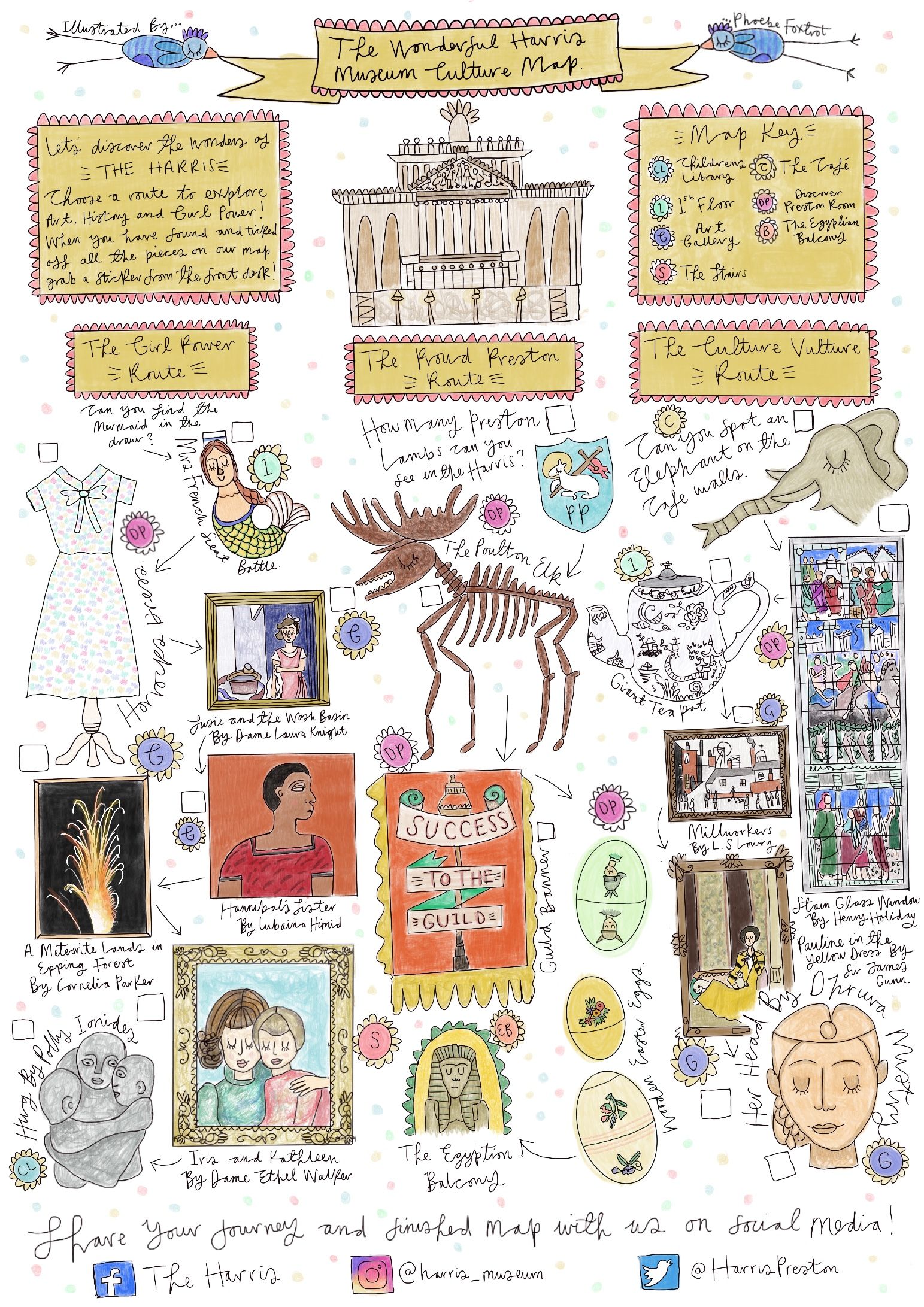 This lovely trail was specially created created by Phoebe Foxtrot for the Harris.