taxonomy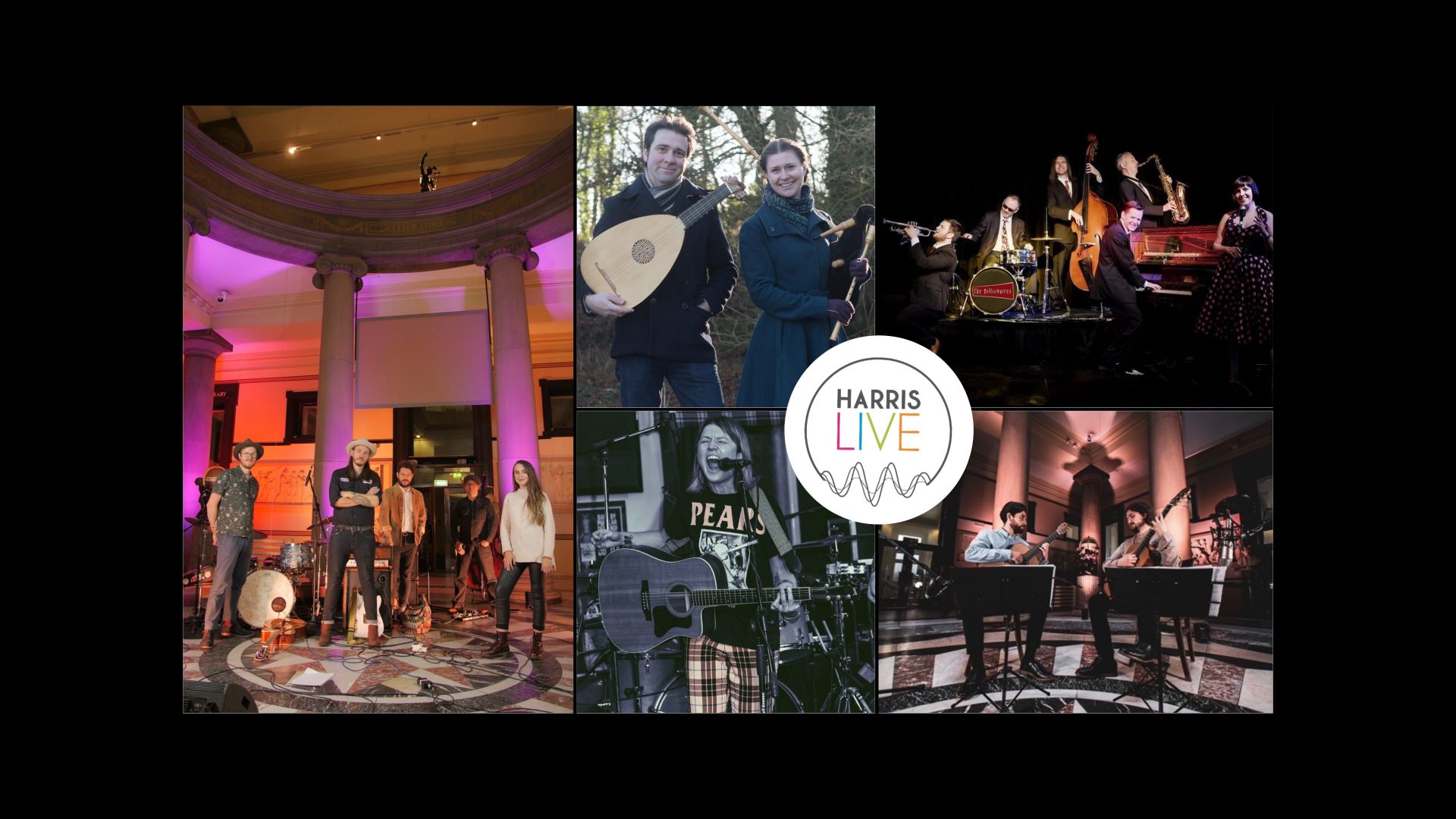 A monthly musical treat. Harris Live is a must for fans of live music and those wanting to discover new sounds.
Every month, Harris Live brings you a range of accomplished artists performing a variety of music styles recorded live in the splendid setting of the Grade I listed Harris.
You can buy tickets for individual performances or a single ticket that gives you access to all the performances.
Single Performance tickets: £5
All individual tickets are £5 apart from A Brief History of Christmas (Dec) £10.
Access all areas ticket: £15
Access to all recordings as they are released, plus re-watch at any time apart from A Brief History of Christmas (Dec) which will only be streamed once.
Book an Access All Areas ticket for Harris Live
Start: 7:30pm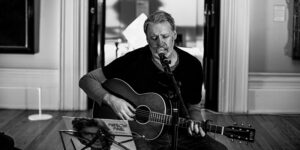 One Sided Horse
Earlier performances – available to access all areas ticket holders
April – One Sided Horse
One Sided Horse is the brain child of Mark Whiteside and is his first solo effort away from the radically different Evil Blizzard where "Side" his singing drummer alter ego haunts audiences from the back of the stage. Here we see Mark move front and centre and with the help of some of his friends, create a new kind of sound.
Mark has shaped a collection of songs which are both haunting and melodic. Fans of The National, Nick Cave, Tindersticks will especially love this beautiful set recorded live in the Harris Fine Art gallery. Calming and warm, this is music that you can really relax to.
This evening's set includes new work written over lockdown and Mark's introductions give a thoughtful insight into his musical history and his creative process.
October – Chuva Guitar Duo 
The Chuva Guitar Duo was founded in 2018 by Manchester-based guitarists Rafael Onyett and Borna Kuca. The duo studied at the Royal Northern College of Music under the tutelage of the internationally renowned classical guitarist Craig Ogden. Since commencing their studies at the college, the duo have performed across the UK, at venues including the Bury Parish Church, Instituto Cervantes and the Royal Northern College of Music.
Weds 18 November – Robbie Cavanagh (available to access all areas ticket holders)
With a blend of intricate guitar melodies and powerful, emotive lyrics, take this chance to enjoy the hauntingly beautiful music of Robbie Cavanagh that's made a huge impact on the UK country/Americana scene.
Cavanagh's second record saw him showcase at AmericanaFest in London and across the pond in Nashville, as well as performing alongside the likes of Jarrod Dickenson, Aaron Lee Tasjan, The Wandering Hearts, Robert Vincent, Mary Gauthier and Ferris Sylvester to name a few. Robbie is now working on material for a third record, which he'll be performing live with his band for the first time on this 2020 tour.
Weds 2 December – A Brief History of Christmas

600 Years of Yuletide Songs, Carols, Tunes and Tales
Acclaimed musicians GreenMatthews present a festive romp through 600 years of Christmas music, songs and carols.
Beginning in the Middle Ages and ending in the 20th century, 'A Brief History of Christmas' is a whistle-stop tour of the origins of our midwinter festivities. Featuring long-forgotten songs and tales as well as some familiar and well-loved carols, 'A Brief History of Christmas' is a show guaranteed to delight the hearts of young and old.
The show takes in 600 years of music – featuring music and songs played on
archaic instruments such as cittern, shawm and rauschpfeife, as well as more familiar instruments such as guitar, flute, oboe and accordion – all helped along
by GreenMatthews' trademark wit and humour.
Weds 6 January – Matt Wells & Willy Fluss
Matt Wells and Willy Fluss have being working together for well over a decade and have hundreds of shows, thousands of hours and an endless repertoire under their belts. From Mediterranean folk tunes, Gypsy Jazz, the American songbook and Pop and Fusion classics. But it's what happens before, between and often during these tunes that the duo really come to life. They play free moving, organic improvisations that are unplanned, unpenned and unrepeated. 
Choosing the most traditional of instruments, the nylon strung Spanish guitar, they weave a sonic tapestry which is as forward thinking, as it is a celebration of the past.
Weds 3
February – Catlow
Blackpool based singer/songwriter Catlow has been involved in a number of bands and projects over the past 16 years, and is currently creating noise with punk rock band Death Trails. Pre-lockdown she regularly hosted a locally loved jam night and in recent months has taken her folk/punk/blues style to the world of live stream gigs.
Friday 2 April – Audrey's Dance
Audrey's Dance are a two piece sad-pop band from Preston, Lancashire who formed in November 2017. They have played with The Blinders, Working Men's Club, LIINES, Witch Fever, Red Rum Club and supported King No-One, Thomas Truax, The Blackheart Orchestra, Amy Studt, Twisted Wheel and Oya Paya and secured a highly prized opening slot at Confessional Festival in 2019. Their second EP, Fag Ash Lil, was released on 8th January 2021 across all streaming platforms featuring brand new tracks, Internet Queen, Don't Dream of Me and Fag Ash Lil. The EP was recorded during the pandemic between lockdowns and is highly anticipated following the success of their debut EP, Library Dreams.
Tickets
FAQs
What time do I need to arrive?

If you are watching on the release day, you can log on from 7:15pm, the performance will start at 7:30pm.
Do I have to get my tickets online?

As these are online events, online booking is preferable. If you are struggling to book online, you can also book by telephone on 01772 905414. However, you will need to give us a valid email address so that we can send you the link for the online performance.
Can I just book on the day?

Yes, you can book on the day, you will be able to book individual tickets up to the performance time. You can book an 'access all areas' ticket at any time.
What's an access all areas' ticket?
An 'access all areas' ticket gives you access to all of the Harris Live streams/videos. You just need to buy this ticket once and you will receive a link for each performance, you will be able to watch the performances at any time following the premiere date. Please note that Decembers performance, A Brief History of Christmas will only be available on the performance day.
Who else is on?
All the artists are listed above, you can follow the links to each performer's website for more information.
Is this for adults or children?
Performances are suitable for all ages.
Where does the activity take place?
These are online events. Once your ticket is booked, you'll receive a private link to the video. If you don't receive the link, please check your email junk folder. If you still can't see the link, please email theharris@preston.gov.uk or telephone 01772 905414.
Please note the following:
These performances will be broadcast via a private link. It is accessible from any web device, however, a device with a larger screen will give you a better experience. We recommend watching on a smart TV or on a television with a Chromecast or smaller streaming device connected to it.
Please do not take photos/screenshots
If you have any questions about this event, please email us or telephone 01772 905414.