We Are Here
We Are Here – Life through the lens of Black UK female photographers
Description
We Are Here – Life through the lens of black UK female photographers
We Are Here:  Photography from the UKBFTOG Black Female Photographers community
Now online as a virtual tour
The exhibition showcases the photographic artworks of UKBFTOG photographers which as a collective produced a diverse collection which depicted a wide narrative of life through the lens of Black UK female photographers.
Photographer, founder and director of UKBFTOG, Jemella Binns, only knew four other Black female photographers in the UK before she founded the vibrant UKBFTOG community in December 2017. Binns recognised male domination in the photography industry left little room for the representation of Black female photographers and their professional development. Therefore, she was passionate to establish a safe space for Black UK based female photographers to connect socially, and for entrepreneurial and educational purposes.
The exhibition covers a variety of photography genres from portraiture, maternity, fashion, documentary, landscape, conceptual and beauty photography. This allows the viewers to see the world through the Black female perspective.
The artworks of the micro exhibitions including We Are Here sees 16 emerging and experienced, cross-culture UKBFTOG exhibitors, present one common thread: A colourful celebration of life.
See a selection of photographs from each photographer below.
More works can be seen in the Harris.
 Virtual Tour
White-Washed, by Dominique Doesburg-Nok 
Dominique Doesburg-Nok is a Surinamese woman, married and mother of two teenage girls. In 2005 she graduated from the University of Journalism in Utrecht, the Netherlands, and 8 years ago she and her family left Amsterdam to settle in London. As a social documentary and lifestyle portrait photographer, she loves to give her clients timeless images which they can cherish for generations.
'White-Washed' is based on a topic of which Dominique is passionate. On one of the most concerning occasions she unknowingly applied a skin whitening product, the moisturiser of a close family member, on her skin. This made her realise that the darker complexion is not only perceived as 'less' by the white Western society, but also by her own black community. The reality that Black people want to create a more European look (which appears to find its roots in colonialism) by using bleach and brightening products with the risk of burns, scars, and mercury poisoning is alarming. "The colour of one's skin should never be the deciding factor to get a good grade, a job or to even find love, because every shade of black is beautiful."
Grandad, by Naomi Williams
Naomi is a 21-year-old documentary photographer from Nottingham, currently studying photography at the University of the West of England, Bristol. Starting her photography career in 2016 where she studied photography at Nottingham College, Naomi found a passion for photography and began photographing live music and events, which then led to a passion for documentary and portraiture.
In her ongoing project, 'Grandad', she photographs her Grandad's life, communicating his past and present experiences through his unique way of living. She began the project in June 2020, after the first UK lockdown and the images show the reality and loneliness of living alone during a global pandemic. Influenced by Latoya Ruby Frazier's series, 'The Notion of Family', Naomi wanted to create her own personal project by turning the camera towards her family members.
ALMOST FREE, by Zacchia Moore
Zacchia Moore is a 17-year-old emerging photographer who desires to enter the fashion photography industry. She has been honing her skills by taking photos for her friends and family. Zacchia's collection of pieces are of her younger brother suitably called "ALMOST FREE". Zacchia wanted to capture the emotions, thoughts, and journeys of teenagers during a particularly challenging time that restricted freedom. While freedom was mere steps, a slight walk, or even a light jog away. These things, which we all take for granted, seemed so far away. With the country being forced into lockdown. Zacchia wanted to document and present the feelings of her peers as well as her own. Initially, freedom was doing what we wanted with little consideration or consequence. Four weeks into quarantine, Zacchia recognized that freedom measures maturity, responsibility and strength. She aspires this body of work to depict a snippet of teenagers in their COVID-19 journey whilst illustrating their experiences. Zacchia's experience of Quarantine reframed her idea of freedom. Freedom now means the importance of making choices, being intentional and the choice to be spontaneous.
Tobi Sobowale SHOBO London Gaze (2019)
Tobi Sobowale is an artist based in London and currently living in Manchester. Growing up, Tobi battled with insecurities regarding her appearance and began to use photography as a way to repair her relationship with her self-image, and explore ideas around value and self-worth. She wants Black women of all ages to see her work and feel empowered, encouraged and inspired. Her photography showcases the beauty and diversity of black women – they are strong and bold but also soft and vulnerable. This series, Gaze (2019), demonstrates Tobi's skills in creative direction, concept creation, make up and photography. This body of work relies heavily on bold colours, shadows and sharp angles to capture the subject, Abi Kasim. Across her work, outdoor settings and natural light influence the composition and contrasts that give her portraiture their emboldened and vibrant outcomes.These images were chosen for this exhibition specifically, as they fully embody all of the values Tobi aims to communicate.
The Woman, by Musa Bwanali
Musa Bwanali is self-taught portrait photographer living in London. Since picking up the camera as a hobby in 2014, Musa found that portrait sessions became an opportunity for her to empower women using the photos not only to capture the moment but to unpack what being beautiful means and looks like​.
'The Woman'​ is a photo essay on the beauty of the female body. This work was inspired by conversations that Musa has had with different women she has photographed since she picked up the camera in 2014. Recurring comments like 'I'm not photogenic', 'My body isn't young anymore', 'I hope you will photoshop these love handles' made Musa realise how most women, although smartly dressed are insecure of their bodies. These images explore the female body from different angles with emphasis on what most women and society would regard as flaws. To remove any distractions of complexion or color, these photos are presented in the black and white medium to highlight the subject of the essay, the textures, shapes and patterns of the composition. With some funding and collaboration, I am keen to expand this project to women suffering from different diseases or living with disabilities.
Dami Fawehinmi
Black Narratives Matter
Dami shares multidimensional narratives for Black people through photography and projects, so that everyone can see themselves, take up space and exist unapologetically. Her photography business, Visuals By J.OD. and cultural curation platform Journals Of Dami, amplifies Black stories and experiences to create new legacies. Dami believes it is important to not only see yourself on your TV screens and in magazines but also in your homes and safe spaces, allowing art to continue to represent you wherever you are. For this exhibition, Dami selected pieces from her editorials and her ongoing photography campaign 'My Black Hair Memoirs', whereby participants are photographed from behind, like the perspective of our hairdressers and barbers, a relatable safe community space for Black people. Participants give advice to inspire the next generation, telling them they can achieve their dreams as they are, with shaved heads, curls, brightly dyed hair etc, with all our skin tones and magnificent heritages, a reminder to love yourself without an apology.
Dami loves to shoot using natural light to give her images a softer look, a nostalgic memory of when she used disposable film cameras as a child.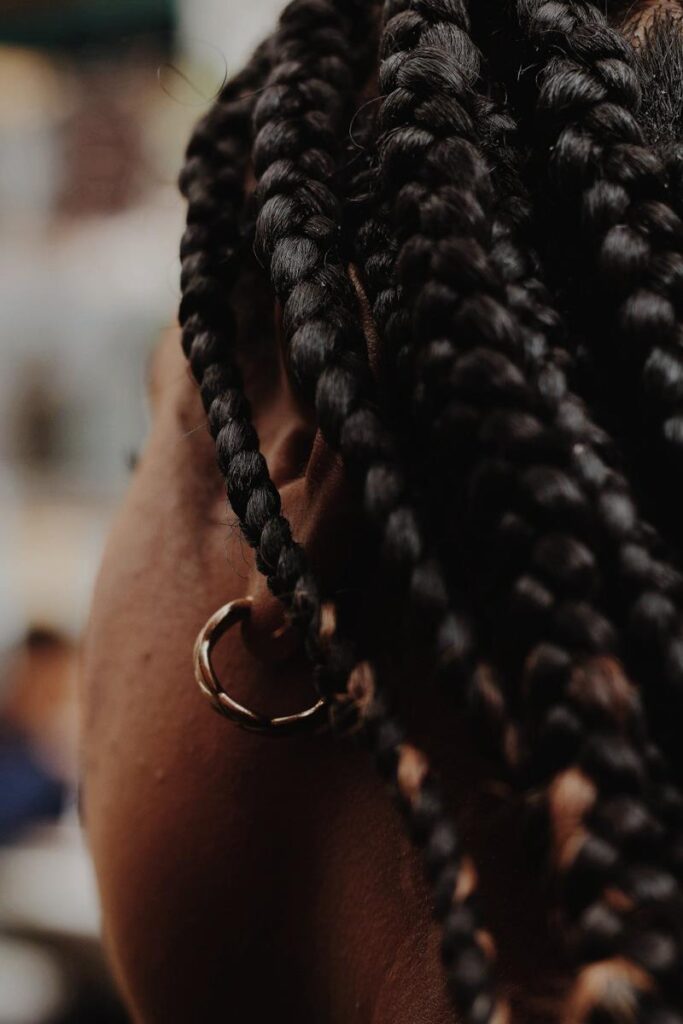 Peace, by Dami Fawehinmi
Shonay
In a landscape where being a Black woman at times can feel synonymous with pain and struggle, these images seek to reconnect the feelings of joy within Black womanhood that I see in my daily life. It speaks to how despite the noise of the world, as Black women we will always find a sense of happiness and love. I want to remind us, myself, that it fuels us and it nourishes our roots. I am a London based fashion and beauty photographer, with over 10 years' experience in the arts and media. My work mainly focuses on beauty images and positive representations of Black women.
Fire and Ice
Carla is an international wedding, portrait and events photographer who, for the past 15+ years, has infused her love of storytelling into all areas of her photography. Initially focusing on travel and landscape photography, she has since trained her lens on a diverse range of subjects including weddings, portraiture and events. As a photographer Carla has always maintained a keen interest in the environment and the spirit and beauty of the natural world. Engaging with nature provides her with a calm and meaningful surrounding in which to live and work.
Iceland has long held a fascination for Carla, her work in this exhibition was chosen to highlight the beautiful colours in nature in the landscape that speak to its nickname of the land of fire and ice. In her photography, she seeks to simultaneously convey the beauty, fragility and calmness of nature. She hopes to communicate a sense of place that transports the viewer into the environment and arouses a deep emotional connection.
Jemella Binns – YOUNG MUMS
 Jemella Binns is the founder of UKBFTOG and an established photographer of 11 years and started running her own photography business 'Mellz Photography LTD' full time for the last 8 years. Binns focuses on capturing special milestones in her clients lives and printing them to last for generations in a digital dominated world.
In 2013 she graduated with a first class degree in Photography at Kingston University, where her passion for portrait and documentary photography began and where here wanting to tell the stories of her loved ones through photography began.
'YOUNG MUMS' is a series that started 9 years ago. While Jemella was on the bus with her baby niece who was crying, she experienced looks of disgust and judgement by passengers on the bus and she couldn't help but think about how her friends, who were young mums, felt on a daily basis. This experience made Jemella realise the stigma about being young mums and being condemned about being too young to raise a child or seen as irresponsible.
This led her to start documenting her friends who were young mums to give them a voice to tell their stories. This has become an ongoing project documenting 4 young mums over the years since 2012.
SUFFOCATION BLUES by, Chiyana Ankhrah
Chiyana Ankhrah is a professional photographer with 2 years of experience doing freelance professional photography and specialises in conceptual and editorial portraiture. She is focused on challenging Eurocentric beauty standards in her editorial work by familiarising the world with Black features in the beauty and fashion industries. By doing this she seeks to uplift and empower Black women with 'non-traditional' features. She has had her work displayed in several exhibitions such as the UK Black Women Photographers as well as being published in newspapers such as The Guardian, KNOW Magazine and Top Posters Magazine. Through the use of conceptual images, Chiyana also aims to challenge the dangerous stereotypes surrounding mental health as well as Black spirituality.
The series 'Suffocation Blues' is about my depression and mania, which are the two push and pulls of my life. They are constantly fighting for my attention. As a result, my moods often swing from one extreme to the other, which often makes me feel overwhelmed, suffocated, and beaten down. Photography is a useful grounding tool for me, so during one of my depressive episodes I decided to physically display what my inner turmoil looks like by using cling film because it's something that I use in everyday life, from preserving food to wrapping my hair when its deep conditioning. So, it was significant because it was representative of something I carry with me every day, which in this case is mental illness.
SHADE O. THOMPSON – SHADE DID THAT
MINIMAL EDITS MAXIMUM EXPERIENCE
Shade is a London-based photographer who uses connection on set, and creative direction to help individuals build confidence, take ownership, freely express their vision and inspire. After 10 years of experimenting with photography techniques, and different concepts, there was a recurring theme of the reaction by each person photographed..
"Is this really me?"
Individuals were shocked yet impressed by their looks despite zero to little editing used in the final pictures. These reactions led to the focus of highlighting the true beauty of people using their stance, and supporting their mindset during the shoot.
"Photography is not just about the product, it's about the journey that creates it, and the emotion that sparks that moment.
From comfort to candid and curated scenes, this series focuses on Confidence with its surrounding areas." – Shade
The portraits showcased have been curated to express identity, empowerment & freedom. Behind each image, a combination of creative direction, and moments of affirmation, aura and personal values contributed to the experience, and the overall image.
"Often, I find that insecurities for people can be layered, and vary from person to person. I want to show people that the images they see of themselves are not so distant from who they are or what they actually look like (not overly airbrushed, not overly exaggerated). Seeing an individual recognise that the picture is a true reflection of themselves or their art is key for me. I want to help people feel represented in a unique way, but also help them feel empowered through their personal nature & emotional strength."
Welcome to the world of 'Minimal Edits & Maximum Experience'.
Gifty Dzenyo
Gifty Dzenyo is a Ghanaian photographer based in London, who is passionate about showing the beauty of skin colour and capturing narratives in a creative way. Having studied photography in college 9 years ago, she discovered her own path. Gifty has an attention to detail and aims to capture people in an authentic and unique approach. As a creative being able to communicate a story and convey a message is something that is important to her. Gifty's work always captures a narrative that is relatable and authentic to different people. Her images are about black women being present and visible in day to day life. Gifty's work explores the attributes of a Black woman, and the beauty of her black features and skin.
She is inspired by the Black women around her, who are successful, radiant, consistent, delicate, and integral. Black women deserve a space at the table, black women deserve respect, and Black women ought to love every inch of themselves and be accepted just as they are.
This body of work is to inspire every Black woman to love their skin, their features and their selves completely. We do not just 'exist' but we thrive.
LA Creativity
Love The Skin You're In
 LA Creativity is a female artist of Caribbean descent who resides in London. After obtaining a degree in Psychology and Media & Cultural studies, she decided to pursue photography as her primary discipline of expression. She began capturing her surroundings in 2012, where her passion for photography blossomed. Her images combine her artistic flair, colours, light and attention to detail to portray the human form in a dynamic way.  'Love The Skin You're In' is a Boudoir Project that attempts to challenge traditional stereotypes of beauty in women alongside celebrating the human body in all different shapes and sizes. As a younger woman LA Creativity also had issues with body confidence and ideas of perfection. Beauty today is still overwhelmingly shown as one particular aesthetic, even though it is slowly changing. Once LA Creativity found her beauty, she wanted to also lead other women to the same destination through her photography. She believes that every woman deserves to have pictures of themselves in this nature and that loving yourself can impact every aspect of an individual's life as well as open them up to new opportunities.
Kevanna Etten
K.E.E Visions
From studying media in high school which became one of my favourite subjects, I have been fascinated by photography & the various styles of capturing and immortalising peculiar moments. My work explores & captures the realness of events & people's lifestyles I've connected with in London & around the world & the images I capture very much resonate with me & my persona. I truly love travelling to experience & learn about new cultures, with this being said Carnival is & has been such a big part of my life, history & lifestyle that capturing it has become a ritual. Now, having earned all the opportunities I have earned, I never imagined in my years of existence that I was able to self teach, explore the world, capture & network with a variety of people within the creative industry & familiarise myself with the technical side of my art form in order to discover my style as a photographer & artist.
Denise Maxwell
Red on Black
Denise Maxwell is an established full time photographer of 11 years, who set up a photography business following a job loss at the time of the austerity cuts a decade ago. Covering a range of genres including sports, fashion, branding, documentary and press (to name some), she decided to expand the editorial side of her work with the series 'Red on Black'.
'Red on Black' is an exploration of red on dark skinned Black models in an editorial style. Maxwell chose to collaborate with dark skinned Black models to challenge a still widely held set of European beauty ideals. Through the application of minimal make-up and the simple styling of the model, she intends to defy the current beauty standards. The colour red symbolically represents the anger which the world felt during all the human rights events in 2020. In addition to engaging with the topics of anger and beauty, 'Red on Black' also explored the creation of fashion editorials on a small budget, which rolled out into this body of work.
RUBY LDN
Generational Racism
The name of this series is Generational Racism. It tells the story of young black people in 2020 still having to fight racism today, 400 years after slavery. Immortalized in the images are the emotions and the mental state of young Black people. These subject matters only scratch the surface that a black person faces daily. Yet the question is still asked, "Why is it only Black Lives Matter?"
RUBY is the founder of RUBYLDN.UK and is a photographer of a plethora of genres such as Still Life, Portraiture, Events, Live Performances, Headshots, Fashion, documentary and Photojournalism. Ruby has had work featured in many outlets such as Standard, Rollingstone, Billboard, Grazia, Mirror, Metro newspaper, ESPN, Yahoo, The Times, The Sun, GQ France, ITV.com, Shortlist, Marie Claire Russia, Guardian, Telegraph, Business Insider and Runners World.
RUBY LDN was also a photography consultant for Channel 4's female-led drama anthology series 'I Am' a collaboration between director Dominic Savage and actor Leticia Wright, which is still to air.
Ruby has a degree in acting and then went onto studying photography. She always incorporates the process and format of a play with her photography work and thus capturing the beauty and moments through dramatic emotion.
Curated by: Jemella Binns, Leeonda Alfred, RUBY LDN, Denise Maxwell and Dominique Nok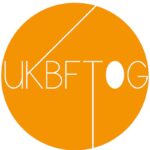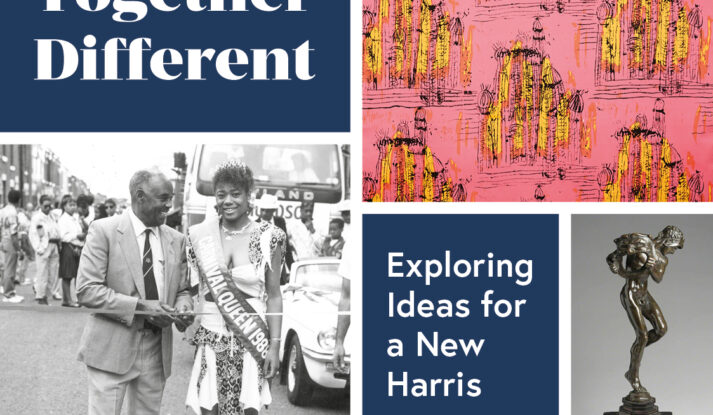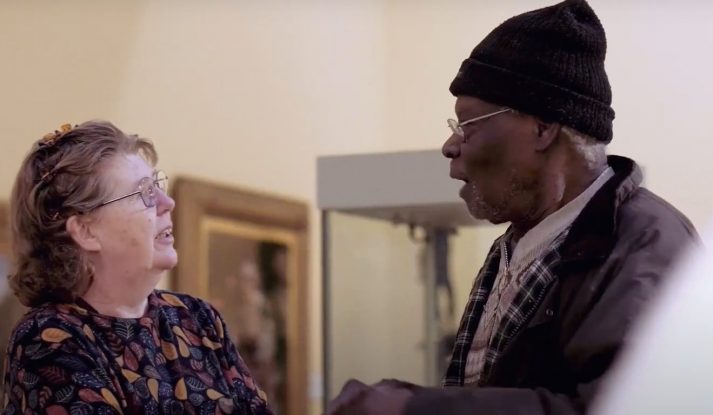 Re-learning the past together
Learn about the Wisdom Trail created by artist Bernie Velvick and Preston Black History Group how it spirals through the Harris.
Discover