Art of the Second World War
A display that brings together Preston War stories, a new sculpture by artist Anthony Padgett, and rarely seen works from the Harris and the Imperial War Museum. 
Art of the Second World War: Commemorating the 80th Anniversary of the Battle of Britain
A display that brings together Preston War stories, a new sculpture by artist Anthony Padgett, and rarely seen works from the Harris and Imperial War Museums 
The War Artists' Advisory Committee was established in 1939 to commission and purchase art that recorded the Second World War. After the War, paintings were distributed to museums across the UK and Commonwealth. The Harris received a number of works including paintings by Official War Artists', Laura Knight, James Bateman, and Stephen Bone.
Laura Knight was one of only a few female war artists, many of her paintings represent women in roles previously carried out by men. Knight's painting In for Repairs, shows members of the Women's Auxiliary Air Force (WAAF) repairing a barrage balloon at RAF Wythall, near Birmingham.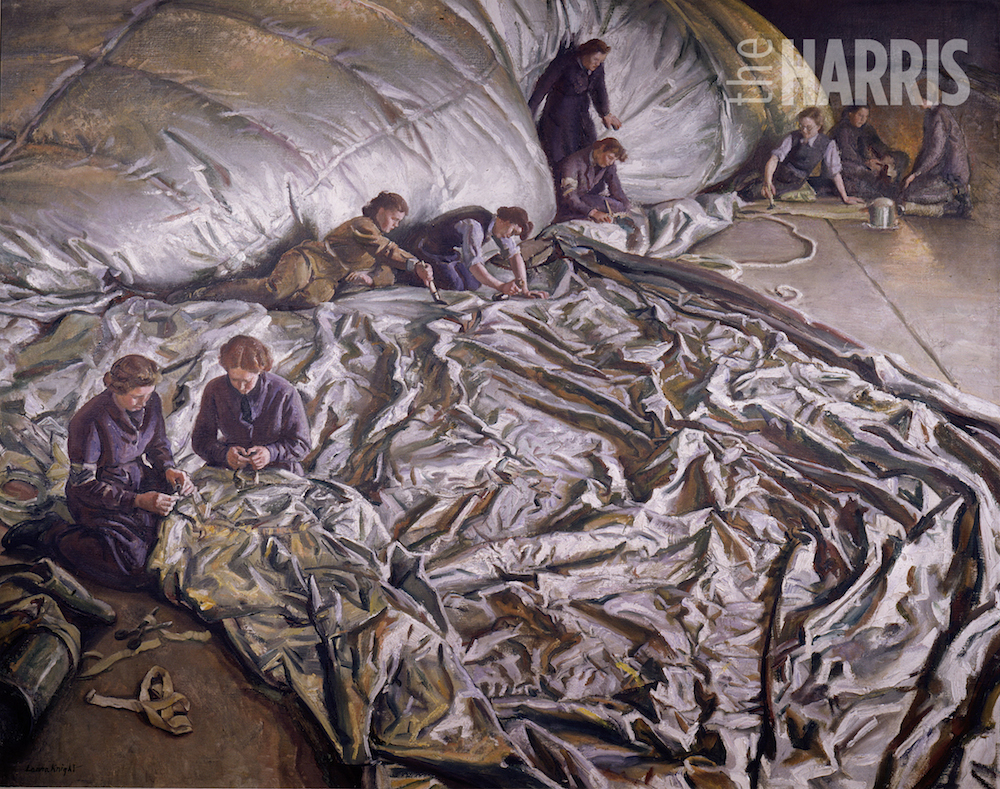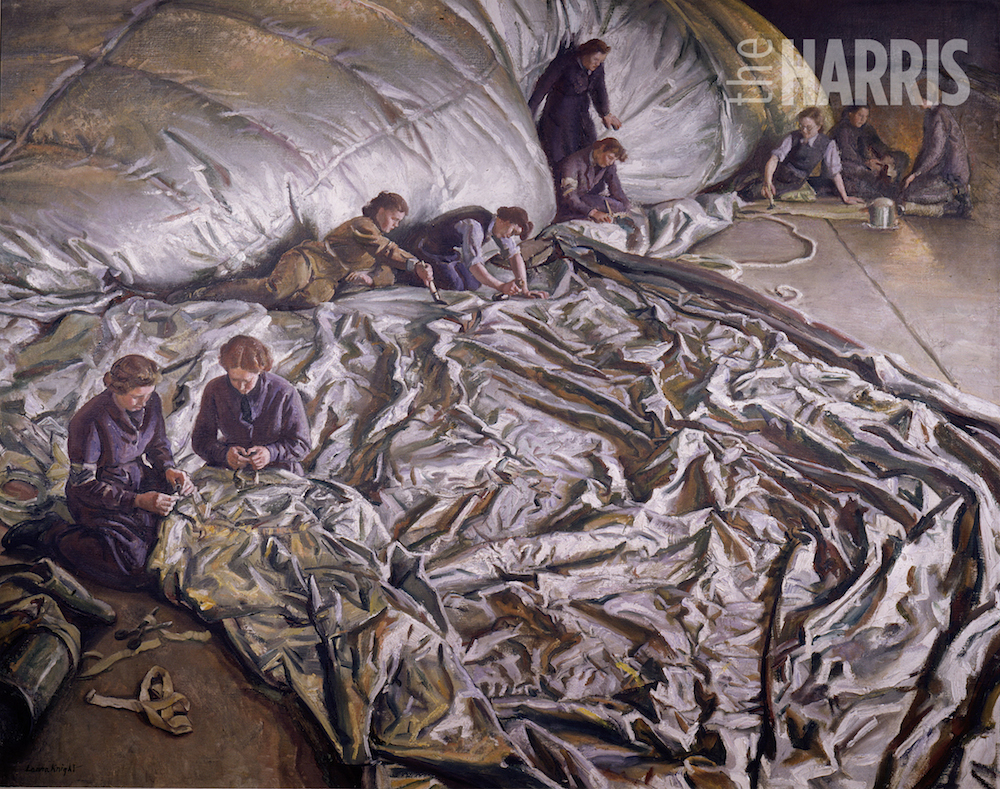 In for Repairs, 1942 (oil on canvas) by Laura Knight / © Reproduced with permission of The Estate of Dame Laura Knight DBE RA 2020. All Rights Reserved / Bridgeman Images
Barrage balloons also feature in one of the paintings on loan from the Imperial War Museums. Francis Dodd's painting An Aerial Battle, captures the aftermath of a 'dog fight' above London. In the distance barrage balloons float above trees and buildings, helping to protect the city from attack by enemy aircraft.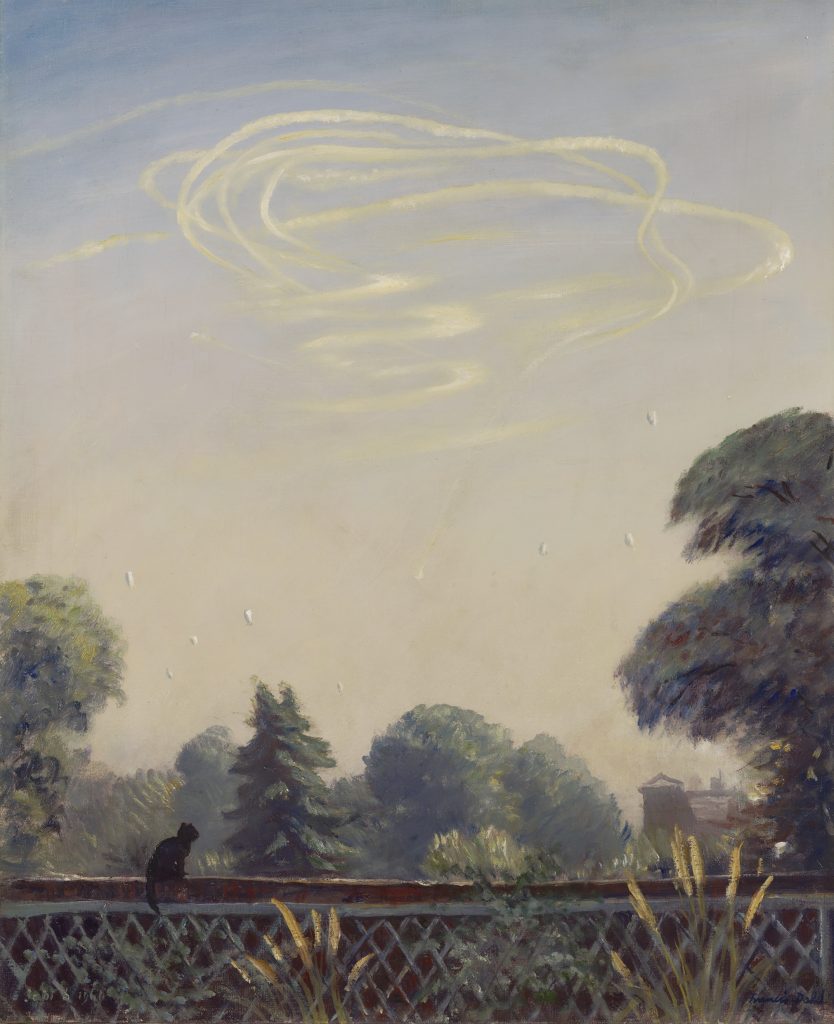 An Aerial Battle, 1940, by Francis Dodd. © IWM (Art.IWM ART LD 485)
This display is currently closed, but we look forward to welcoming visitors back to the museum and gallery as soon as current Covid-19 restrictions are lifted.
In the meantime, find out more about the exhibition and all the paintings on display at Art UK Curations.
Preston's Second World War Stories
Twelve people from the Preston area responded to a Harris call out for Second World War stories for the exhibition
Artist Anthony Padgett  took a portrait photograph of each participant with objects that help to tell their story. The photographs have been printed on panels and made into a large sculpture of a Spitfire. A fighter plane that was critical to the success of the Battle of Britain, and has since become an iconic symbol of the Second World War.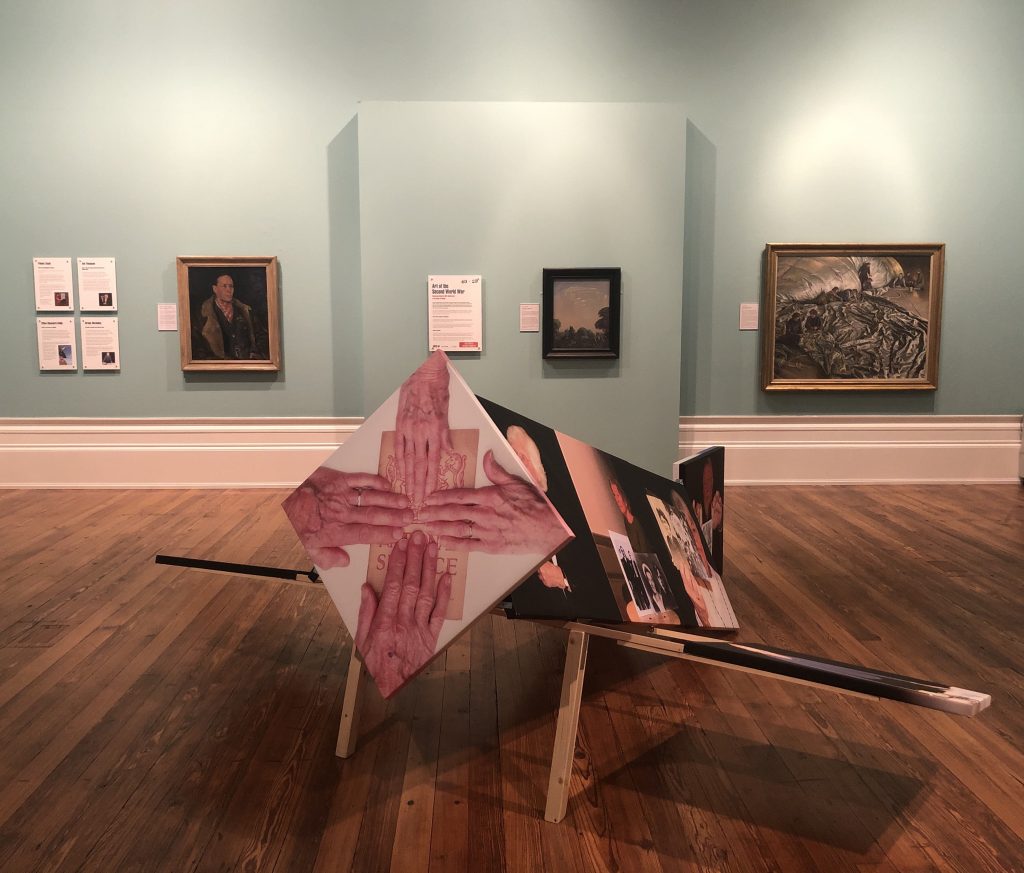 Anthony Padgett said;
'The display brings together stories about being a child in the war, about sisters, brothers, mothers and fathers and about meeting partners. About working at Preston station, serving in Germany and Burma, and in the Army, Navy and Air force. Many of these stories have not been heard outside the circles of family and friends. They are part of the vast history of the pains and joys of Preston and Britain in Wartime.'
When displayed in the exhibition with paintings made during that time, they create an important and powerful record of some of the many experiences of the War, both at home and overseas. We would like to thank everyone who took part. Just follow the button link below to read all their stories.
Imperial War Talk by Paris Agar, Senior Curator, Cold War and late twentieth-century conflict​
Paintings from the Imperial War Museum's rich collection will be  on display during 2020-21 at the Harris, Russell-Cotes Art Gallery & Museum in Bournemouth, The Collection in Lincoln and Touchstones Rochdale, thanks to the generous support of the Art Fund.
Learn how to make a Spitfire model
Follow along at home and learn how to make your own WW2 Spitfire plane model.
Dance like they did in the 40s!
Learn the Blackpool Walk and Lambeth Walk with artist and dancer Anthony Padgett and his dance partner Stephanie Sturgess.
Anthony Padgett reflections on working on the project for Battle of Britain day, 15 September 2021
With Art Fund support, IWM is working with four partners to share art from their collections and explore different perspectives on the Second World War, to mark the 80th anniversary of the Battle of Britain. Art of the Second World War: Commemorating 80 years since the Battle of Britain at The Harris, Preston, brings together rarely seen art, Preston war stories, and a new sculpture by artist Anthony Padgett. Here, Anthony shares his reflections on working on the project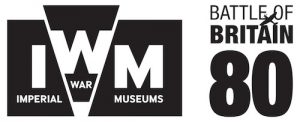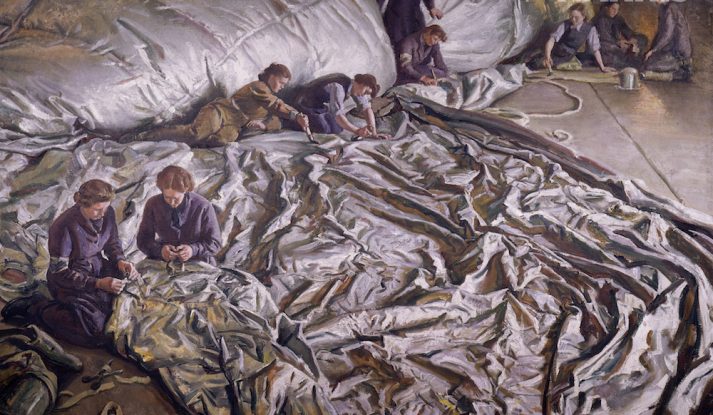 A film by Lily Ford
When women operated barrage balloons during the Second World War
Free activity
Location: Fine Art Gallery
Cost: free
This exhibition is free to view