taxonomy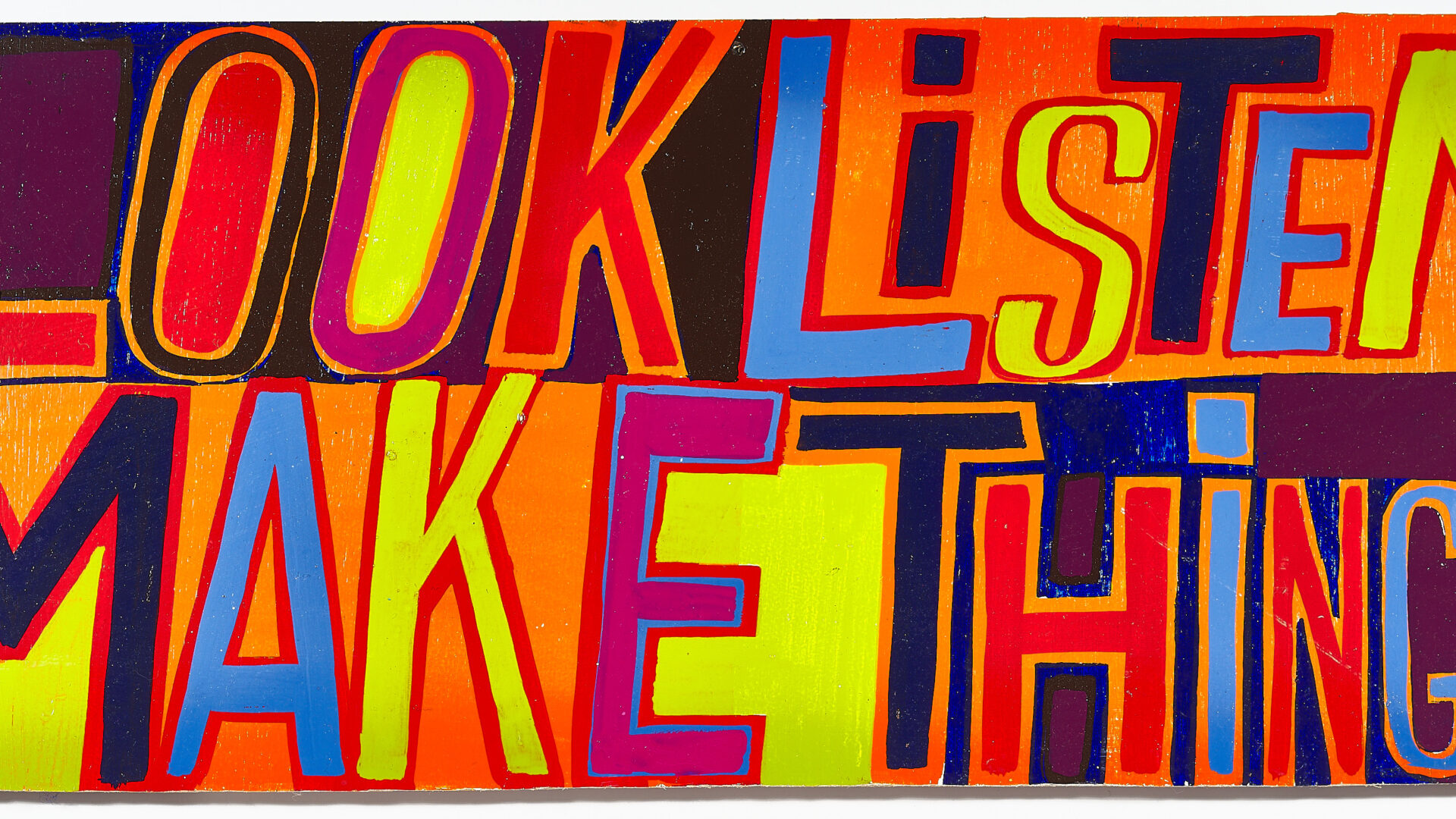 Look, Listen, Make Things
by Bob and Roberta Smith
From 4 June – 2 October 2021 
A major exhibition by acclaimed artist Bob and Roberta Smith featuring an exciting new commission for the Harris.
Bob and Roberta Smith is actually one man, an artist, activist, art education advocate, writer and musician who assumed the pseudonym while he was living and working with his sister, Roberta. After going to Art College he went to New York to train as a sign painter and now uses text as an art form, often creating colourful slogans on banners and placards using sign writers' paint.
Virtual Tour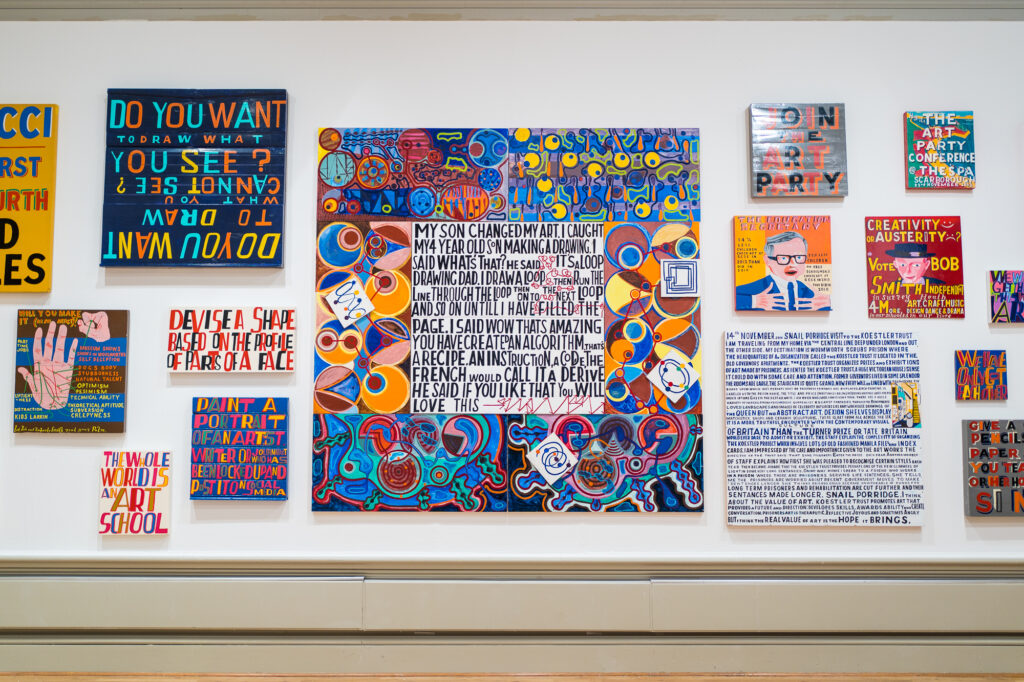 Artist Statement
"'Look Listen Make Things' is a huge brightly coloured banner with an image of a hand painted sign conceived to Joyously ask people to consider how we act and behave in relation to the world we live in. In artistic terms, of-course, Artists look at the world and then make images of it but what I have been interested in is how this process is not just confined to artists.
Enter the Harris Museum or join the online portal and visitors are invited to engage with a series of works which explore this idea of 'Art for all' …. 'made by all' in more detail. Visitors will greeted by sculptures of Key figures in Art and Art education accompanied by Banners which are emblazoned large letter slogans.
It's very exciting to see my work brought together in a major Museum in the UK for the first time. It's almost unimaginably mind boggling to think we have made an art work so large it engulfs the museum it was made for. It's a kind of Christo but with lettering.
Museums have been closed for along time now, I hope 'Look listen make things' is part of reestablishing art as a focal point not just for conversation but as a call for action to everyone. We are all creative, art is our human right."
Bob and Roberta Smith
In the galleries
On show will be some of his most well-known works such as the paintings 'A Letter to Michael Gove'; 'Art Makes Children Powerful'; 'Make Art Not War' and a selection of his interpretive sculptural works including 'This Is Amy Winehouse'.
The exhibition will include several new pieces including a series of fabric banners made by Elizabeth Cake with key texts from Smith, and this will be the first time that all of his sculptures of key figures in art education will be shown together.
During lockdown, Smith posted daily Art Tasks on Instagram for people to 'Look, Listen and Make Things' and get creative over 100 days. The exhibition will also reveal the 'Secret to a Good Life'.
Click on the links below to watch behind the scenes footage of Bob and Roberta Smith talking about a selection of works in the exhibition.
LET ME INTRODUCE YOU TO MY MOTHER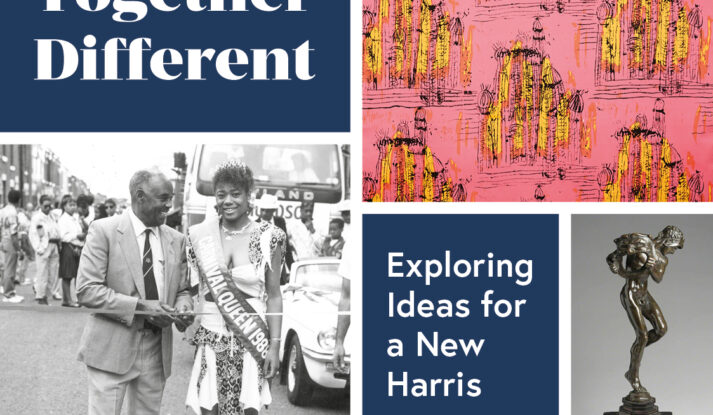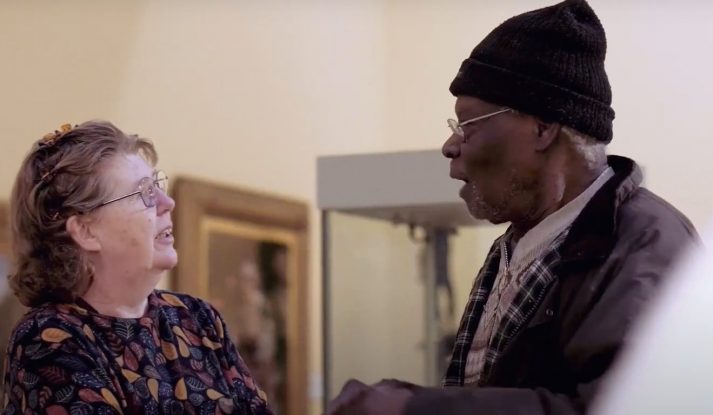 Re-learning the past together
Learn about the Wisdom Trail created by artist Bernie Velvick and Preston Black History Group how it spirals through the Harris.
Discover