A Harris Christmas
Five unique and eye catching decorations commissioned from local artists to brighten up The Harris.
A Harris Christmas
This year we commissioned 5 local artists to brighten
up The Harris this Christmas with unique and eye catching decorations.
These decorations were installed in November and we hoped that our visitors would have the chance enjoy these stunning pieces of work, however due to government restrictions The Harris has not been properly open for these decorations to be fully appreciated. Instead, we have created a small digital exhibition where you can watch a video of the decorations, browse some photographs and learn about the inspiration behind these unique pieces.
Fabric
by Stephanie Wilson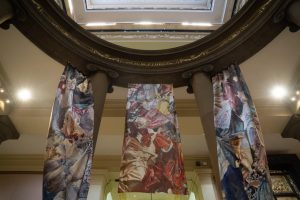 Stephanie has created abstract collages by layering images of garments, clothing and drapery taken from the Harris collection and Preston's history. She has mainly drawn upon the way in which garments and bodies are depicted.
During the lockdown period there was more of a direct focus upon touch and texture, due to social distancing preventing direct contact. What we handle, touch, and feel is important and demands our attention. Because of this the fabric selected for the print became a more focused choice. Stephanie selected silk and velvet to invite the desire to touch and feel.
The piece also considers the ways that fashion evolves, earlier images featuring more functional, structured and hardwearing clothing are replaced with much more ornate period detailing, or much more exaggerated and revealing cuts and shapes. In both cases, sexualised imagery often features impractical clothing.
Depictions of drapery were often featured within religious imagery. Fabric was used to convey position, power and emotion. For example, Christ would be seen in pure, white, softly draped fabrics. Rich textures, patterns, embellishments would indicate social standing and wealth and even proximity to God.
Christmas is a time for giving and receiving and in doing so we also engage in wrapping. The idea of creating suspense and drama from the unknown. From concealing to the revealing. Christmas decorations are often associated with rich textures and layers, building up a dramatic sense of luxury, with dramatic swags and large swathes tied and gathered to exaggerate the rich artifice and impact of such techniques as both decoration within the Harris but also as decoration from the image sources which make up the printed image on the surface.
Candy Cane Tree of Life
by Anthony Padgett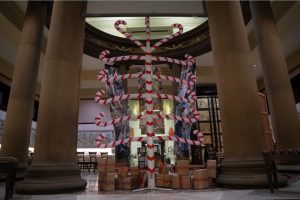 Anthony has created a multiple branched tree based on ancient designs, but by turning the tree into candy canes it given the image a playful and contemporary feel.
The candy cane originates to the 19th century and has theological symbolism of white (purity) and red (sacrifice).
Anthony has taken idea back to a universal starting point of the Christmas tree and taken it past the standard symbolism of the Christmas tree as a symbolic celebration of the birth of Jesus Christ and to the idea of the Tree of Life at the Garden of Eden. Theologically the death on the cross is a salvation from the Fall and a return to a new Eden and to the Tree of (Eternal) Life. This expands beyond just a Christian symbol as the Tree of Life is shared by the Abrahamic Faiths (Jewish, Christian and Muslim) and also universal in the Tree as a symbol in world cultures and religions. Looking at the Mesopotamian influences on the origins of the Old Testament we can see various designs on Cuneiform tablets and seals. It is one of these designs I'd like to create in a modern celebratory form. The shape of this tree is inspired by the design of Assyrian Tree of Life by William Morris.
Stories of Christmas
by Christine Stanford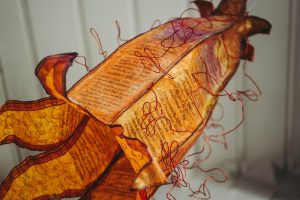 Christine has created six large baubles using a range of techniques which involves layering paper, fabrics and images then fusing them together with hot wax. The materials are then embellished with free machine embroidery, lace, ribbons, wire and buttons to create a rich mix of influences from the past. The baubles are a mix of organic shapes influenced by the whimsical fun of pantomime. They have been crafted using a palette of rich colours including reds, plums and golds to create intriguing and exciting sculpture pieces. Each bauble has a theme based around Christmas, including traditions from around the world, stories and a selection of 'What Christmas means to me', written by friends and family of Christine.  There are some examples below of the stories featured on the baubles.
Traditions 
Mistletoe Celtic and Teutonic people had long considered mistletoe to have magic powers. It was said to have the ability to heal wounds and increase fertility. Celts hung mistletoe in their homes in order to bring themselves good luck and to ward off evil spirits. In the Victorian era the English would hand sprigs of mistletoe from ceilings and in doorways . If someone was found standing under the mistletoe, they would be kissed by someone else in the room.
Christmas pudding also known as 'figgy pudding' or 'plum pudding' is an English dish dating back to the middle ages. Suet, flour, sugar, raisins, nuts and spices are tied loosely in cloth and boiled until the ingredients have become 'plum' meaning they had enlarged enough to fill the cloth. It is then unwrapped sliced like cake and topped with cream.
Caroling also began in England. Wandering musicians would travel from town to town visiting castles and homes of the rich. In return of their performance the musicians hoped to receive a hot meal or money.
Christmas Around the World 
In Italy many children get two sets of gifts, one on the 24th December and one on the 6th January. On this day Italians celebrate Epiphany Day and according to popular belief a witch called La Befana arrives in the night to fill good children's stocking with sweets, while naughty ones get chunks of black coal.
In Japan Christmas is considered a festival of love. It is common to see couples spending a romantic evening together while singles will be out partying and looking for the love of their life.
What Christmas means to me
Memories of a magical Christmas. The excitement of putting up the decorations and looking forward to seeing family and friends. This may be Christmas past, but we can still celebrate even if it is going to be different, some might say strange but maybe this is a time to find creative ways to celebrate.
Family, excitement, glitter, lights, wrapping paper, digging up the Christmas tree, making the Christmas cake. Christmas has it's own smell.
No beginning or End
by Sandra Bouguerch & Sally Hayes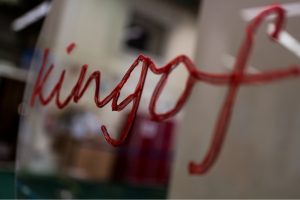 This piece was created collaboratively by two Bolton based artists, the concept was inspired by the book Christmas: Making the Perfect Celebration, by C. Bell (2006) which is available in the Harris Library.
The text reads: The making of celebration (Thema king of celebration)
The artwork is an animated version of the text, redefining the space as it moves and responds to air currents generated by visitors. Shadows are momentarily cast, distorting words and creating abstract shapes.
The red ribbon text can be linked to the practice of 'gift-wrapping' for any celebration; no matter a person's cultural beliefs. The circular discs reference contemporary Christmas tree baubles and represent the idea of a 'whole world' view; the circle reflecting a continuing cycle.
The text layout invites the viewer to interact with the piece figuring out the disjointed sentence or creating their own interpretation.
'Perfect' has been deliberately omitted because not everyone has the 'perfect' celebration. Over the past few years, people increasingly feel pressure to make their Christmas 'perfect'. This is often unattainable especially with the current mental health challenges, social and financial strains of the coronavirus pandemic. Incorporating the possibilities of movement and time within the decoration is fitting when the majority of the people living in lockdown have restricted free movement.
Veil
by Guild Lodge & Lancashire Recovery College, Lancashire & Cumbria NHS Foundation Trust 

Veil has been created by the staff and service users of Lancashire and South Cumbria NHS Foundation Trust as part of their occupational therapy sessions. These sessions form part of a service users care plan and therapeutic intervention in their recovery from mental illness. This project provides a bridge between the community and those in services at Guild Lodge and therefore promotes discourse about mental health within society.
This piece is made up of around 6000 keys and invites you to unlock dreams and the potential to contemplate and explore a mindful narrative imagery. Our dreams can open up and lay the foundation for opportunity and growth on our journey through life. Most of the keys in Veil are white with a touch of gold for a Christmas 'feel'. While some are painted black, yellow, orange, blue, green, red and pink to encompass and encourage equality and unity within the world.
This touch of gold also represents the Japanese art of 'Kintsugi' which is the art of putting broken pottery pieces back together with gold, built on the idea that in embracing flaws and imperfections and that you can create an even stronger, more beautiful piece of art. Kintsugi reveals how to heal and shows you that you are better with your golden cracks. The philosophy of Kintsugi is echoed in the care approach to mental health and wellbeing, and the acceptance of nature and the human condition. You can see an example of this gold repair here, on our ceramics collection page.
The key is a symbol of both freedom and security simultaneously. At Guild Lodge NHS hospital, service users are cared for within a locked environment with a focus on recovery from mental illness. The key is a symbol of a service user's life. Philosophically, a key is a dream-like object, one of wonder, possibility and chance. The key is also a relevant metaphor for the current global lockdown restrictions of the coronavirus pandemic.
There is a selection of keys in gift boxes for sale in the Harris Shop which were produced by Michelle Cowburn and Dylan Stewart of the Project Enterprise Group initiative at Guild Lodge NHS Hospital.