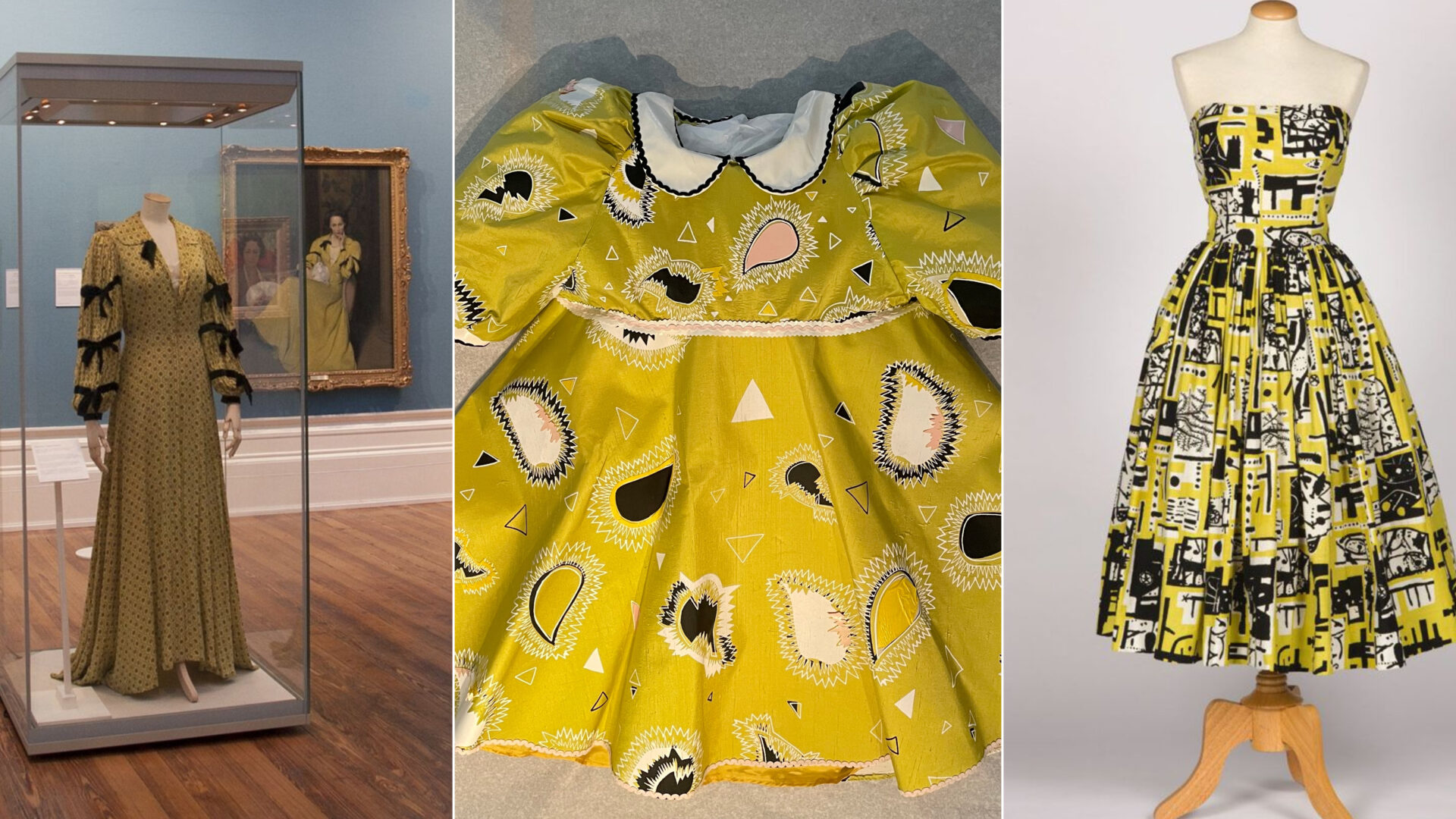 Three Yellow Dresses: The Muse, The Artist and The Alter Ego
Three Yellow Dresses: The Muse, The Artist and The Alter Ego: Scott Schiavone
In February 2023, The Harris acquired two significant pieces for its fashion and textile collection – a yellow dress and bra worn by Claire, the alter ego of one of Britain's most celebrated contemporary artists, Grayson Perry.
Grayson Perry, who exhibited at the Harris as part of a group exhibition in 2008, is an internationally renowned artist who explores themes of gender, sexuality and identity in his ceramic pots and tapestries. In fact, his alter ego Claire has become one of his most famous creations. Perry doesn't identify as transgender but his attitude towards gender shows us we can choose different ways to present ourselves to the world.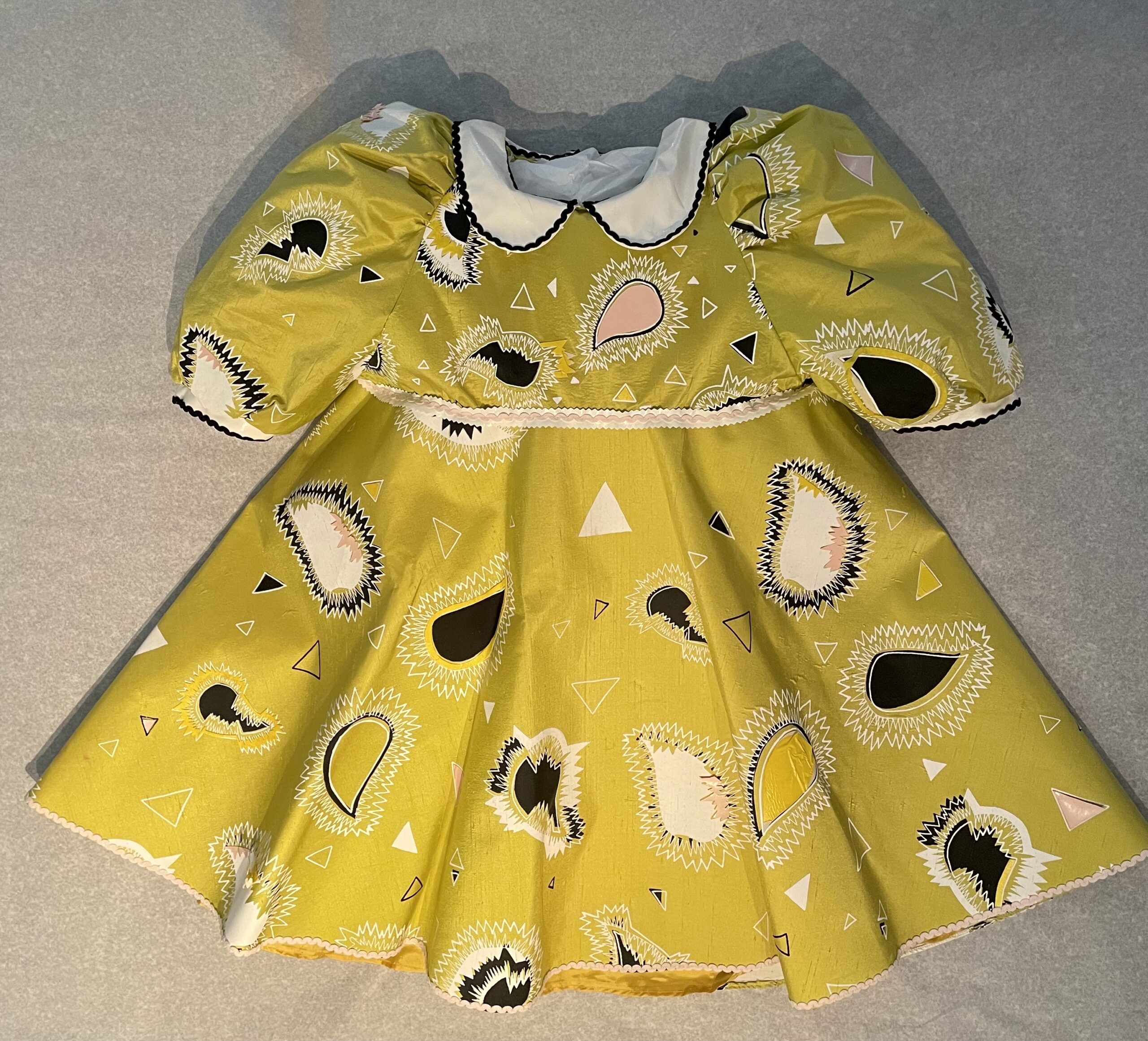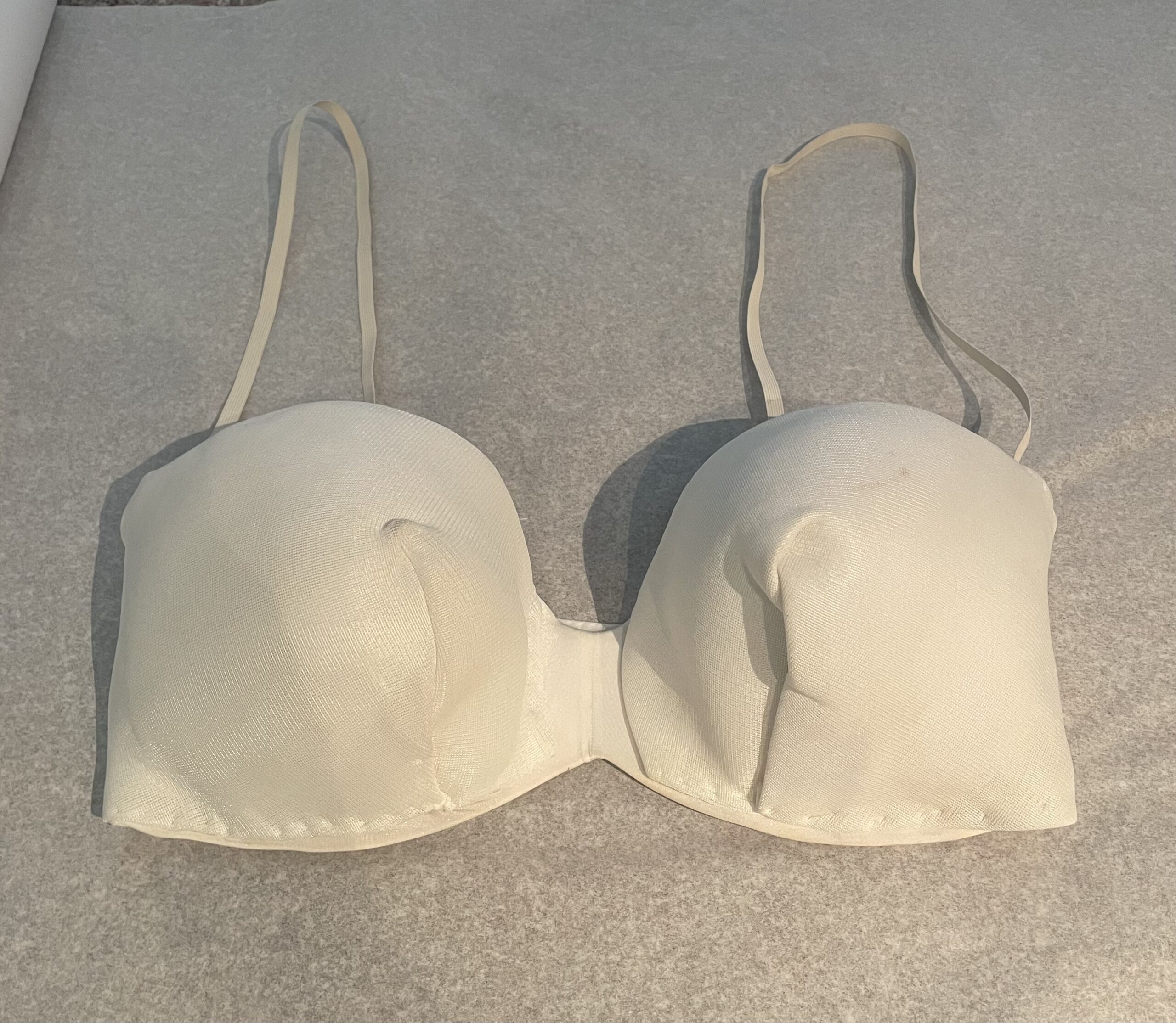 Claire's dress is in her signature baby-doll style with a high waist and an above-the-knee length skirt. The raw slubbed yellow silk is printed with an abstract black and white pattern and applied with colourful vinyl shapes. The peter pan collar is made from white vinyl, edged with a black border. Claire's bra has exaggerated cups made from polyester wadding and elastic straps.
Perry has designed many of Claire's dresses himself however, this dress was designed by a student at Central Saint Martins (CSM), a prestigious art school in London. It was designed as part of a collaborative project launched in 2005 between Grayson Perry and 2nd-year BA Fashion Print students.
Grayson briefs the students on how he wants Claire to look and feel from a comfort and practicality point of view. Grayson then visits each week to track their progress. The project usually lasts about six weeks and at the end, Grayson tries everything on and awards students with a gold, silver and bronze Claire award. He also purchases many of the looks too.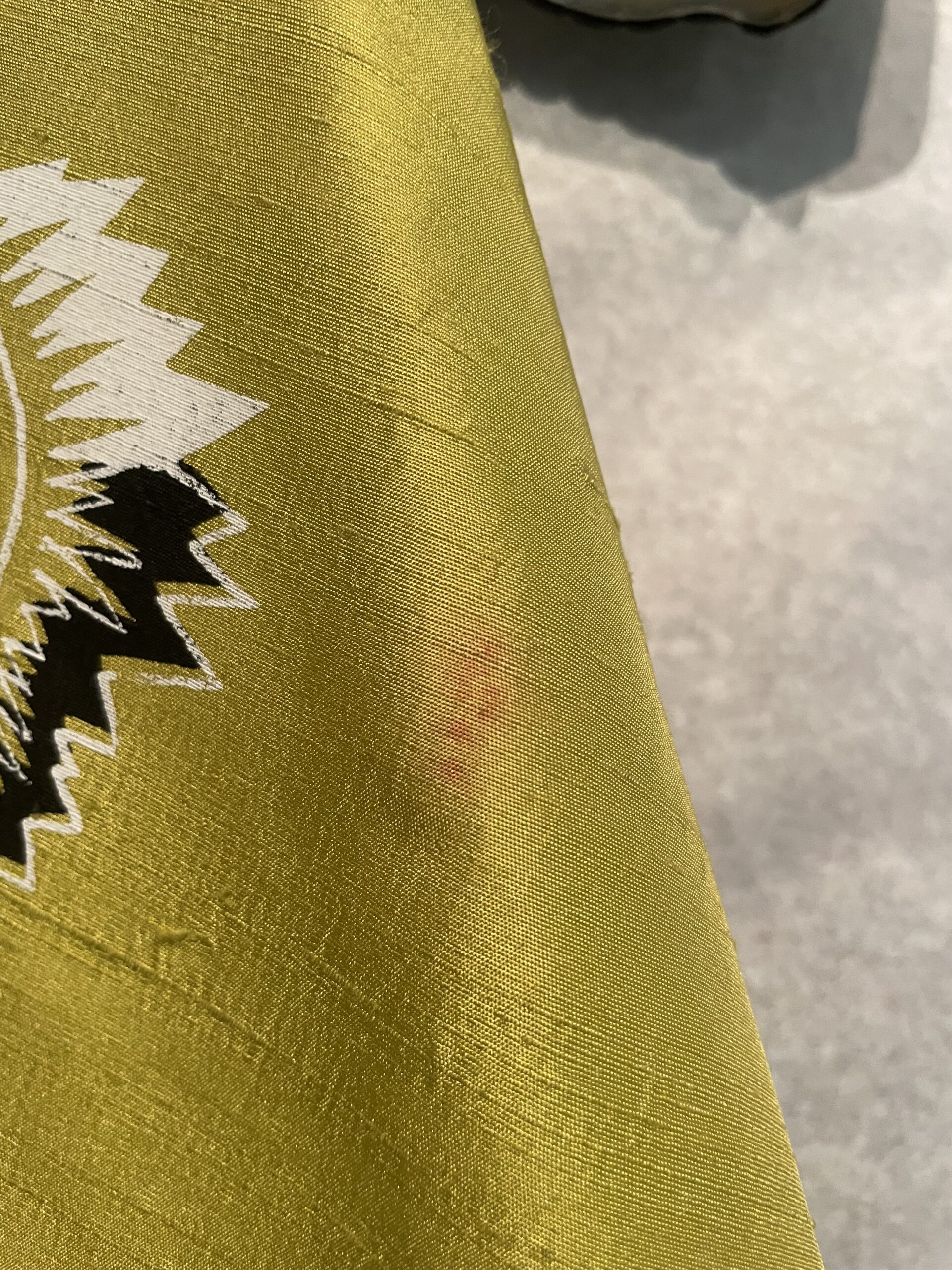 Most excitingly, it appears that Perry purchased this dress for Claire as not only does it show signs of wear, but there are also makeup stains, possible lipstick or blusher, on areas of the skirt. This strengthens the dress' provenance and increases its cultural significance. Further research is needed and we have contacted both CSM and Grayson Perry to find out more about these special pieces.

Harris Curator Scott said: "I was attracted to this dress because of its contemporary connection to two other very famous yellow dresses already in the Harris' collection; I am of course referring to Pauline's yellow dress and our Horrockses Fashions Paolozzi cocktail dress".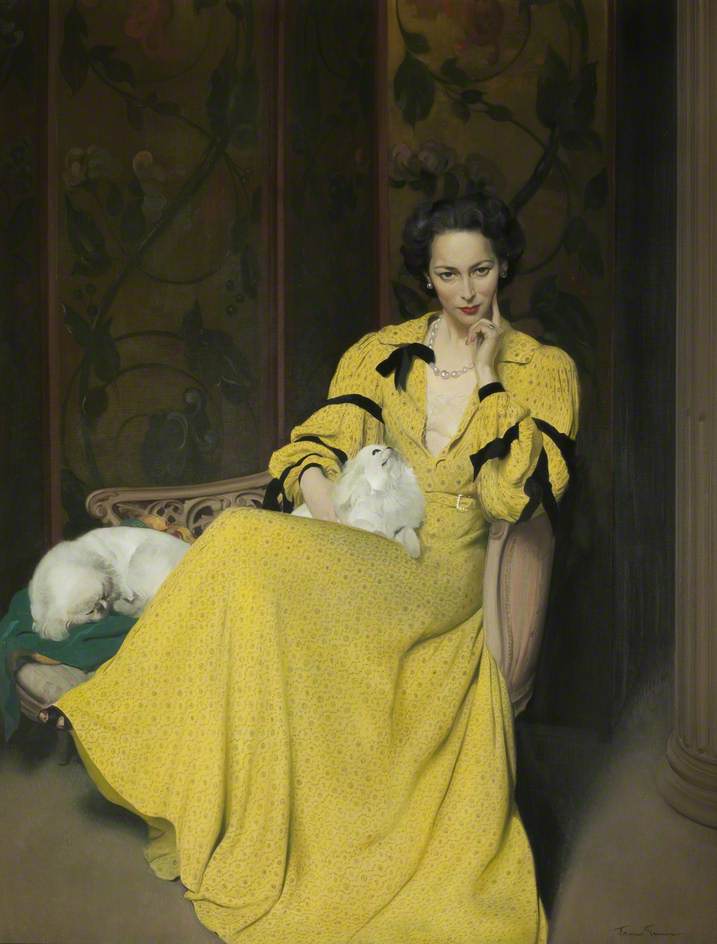 Herbert James Gunn's Pauline in the Yellow Dress was originally exhibited at the Royal Academy in 1944 and subsequently purchased by the Harris. When the painting was unveiled in Preston the same year, queues of people surrounded the building to catch a glimpse of what was hailed as the Mona Lisa of 1944.
Pauline was Gunn's partner and, whilst working at Elizabeth Arden, learnt how to create glamourous and fashionable looks on a budget. This would explain one of the most striking features of this painting, Pauline's vibrant full length yellow dress. Trimmed with black velvet, the cascading yellow fabric spills out of the foreground of the painting, a technique used by the artists to make the connection between the viewer and his muse more intimate.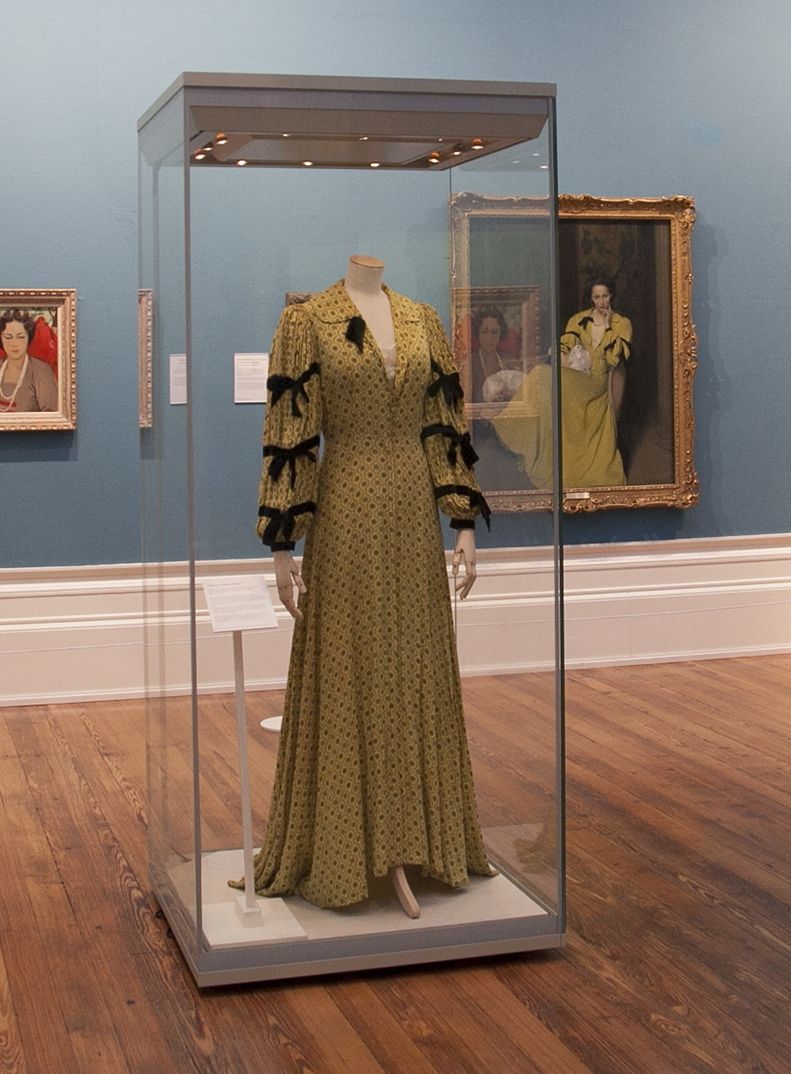 The dress itself cause much controversy as its luxurious use of material, particularly in the full skirt and sleeves, created a stir at a time when fabric was rationed because of World War II. The dress was in fact repurposed from an earlier 1930s dress and so fitted perfectly with the war time 'make do and mend' mentality. Pauline's dress was presented as a gift to the Harris in 2006 by the Gunn family.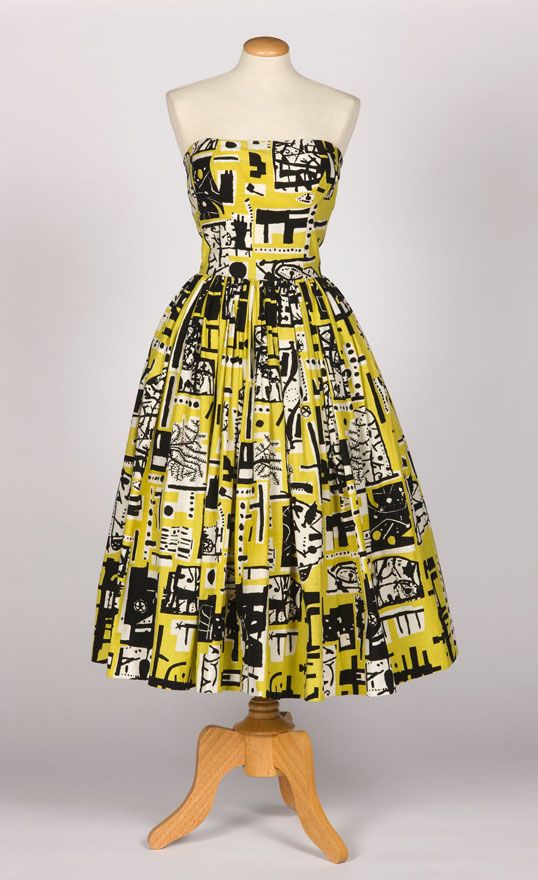 Made from printed cotton in a yellow, black and white abstract design, our other dress was made by Preston's own Horrockses Fashions, launched in 1946. Dating from the 1950s, the fabric design of this stunning strapless dress with full skirt was taken from a painting by Eduardo Paolozzi, an influential artist in the post-war era who worked as a painter, sculptor, print maker and designer.
The painting featured in an exhibition called 'Paintings into Textiles' held in 1953 at the Institute of Contemporary Art in London. Horrockses Fashions often bought patterns from famous artists and this exhibition was an important milestone in the developing concept of textile design as a credible artists' medium in post-war Britain.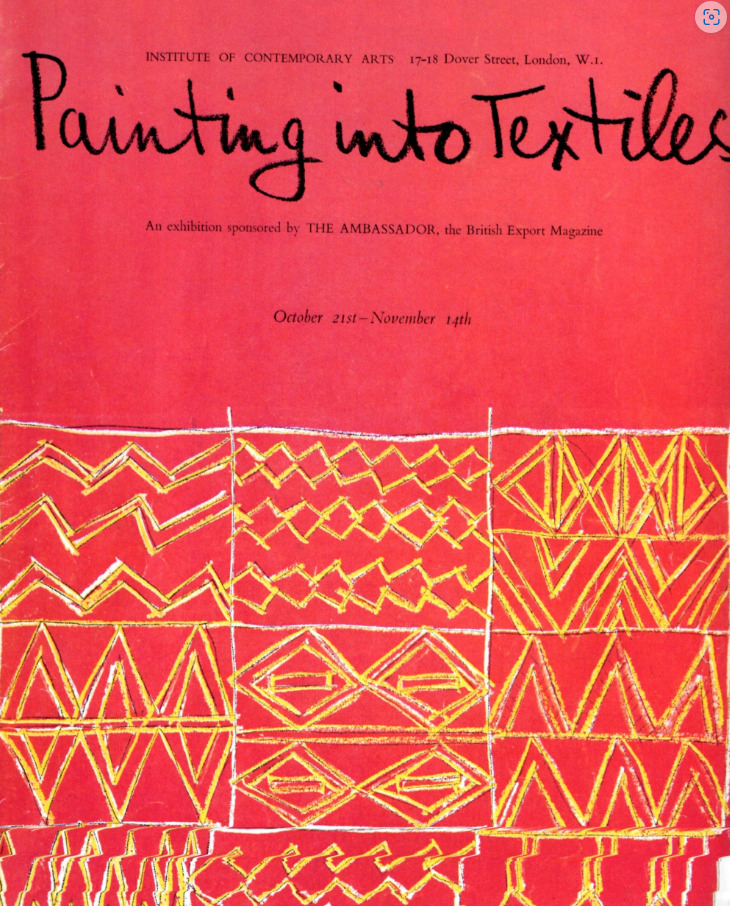 This dress was purchased with 4 other Horrockses Fashions items from an exhibition of British Textile Design, held at the Fine Art Society in 2003 with a grant from Resource/V&A Purchase Grant Fund, the NACF and the Friends of the Harris.
The obvious thing that connects all three dresses is the colour yellow.
Harris curator Scott said "I was especially drawn to the colour of Claire's yellow dress because of its positive connotations and the role the colour yellow plays today in expressing gender identity."

Yellow captures our attention more than any other colour. Yellow is associated with happiness, optimism, enlightenment, creativity and sunshine but also has a darker side and can be confrontational and deceitful. Yellow is the colour most often associated with deities in Ancient Egyptian culture – think of the golden glow of the Harris' Egyptian Balcony.
More recently, the LBGTQ+ community has used the colour yellow within the non-binary flag to represent those people whose gender exists outside the binary. This makes sense as modern gendered colours are normally defined as pink for a girl and blue for a boy. Since yellow is neither, it can be seen as gender neutral and therefore a safe colour for people on the non-binary spectrum of gender identity.
All three dresses also connect through the concept of identity. Whether a muse, an artist or an alter ego, the identity of the wearer or creator is radically different from the next and ignites discussions over how we define ourselves. This dialogue connects perfectly with the Harris' new first floor displays, opening in 2025, which will explore identity and what makes us look and feel good.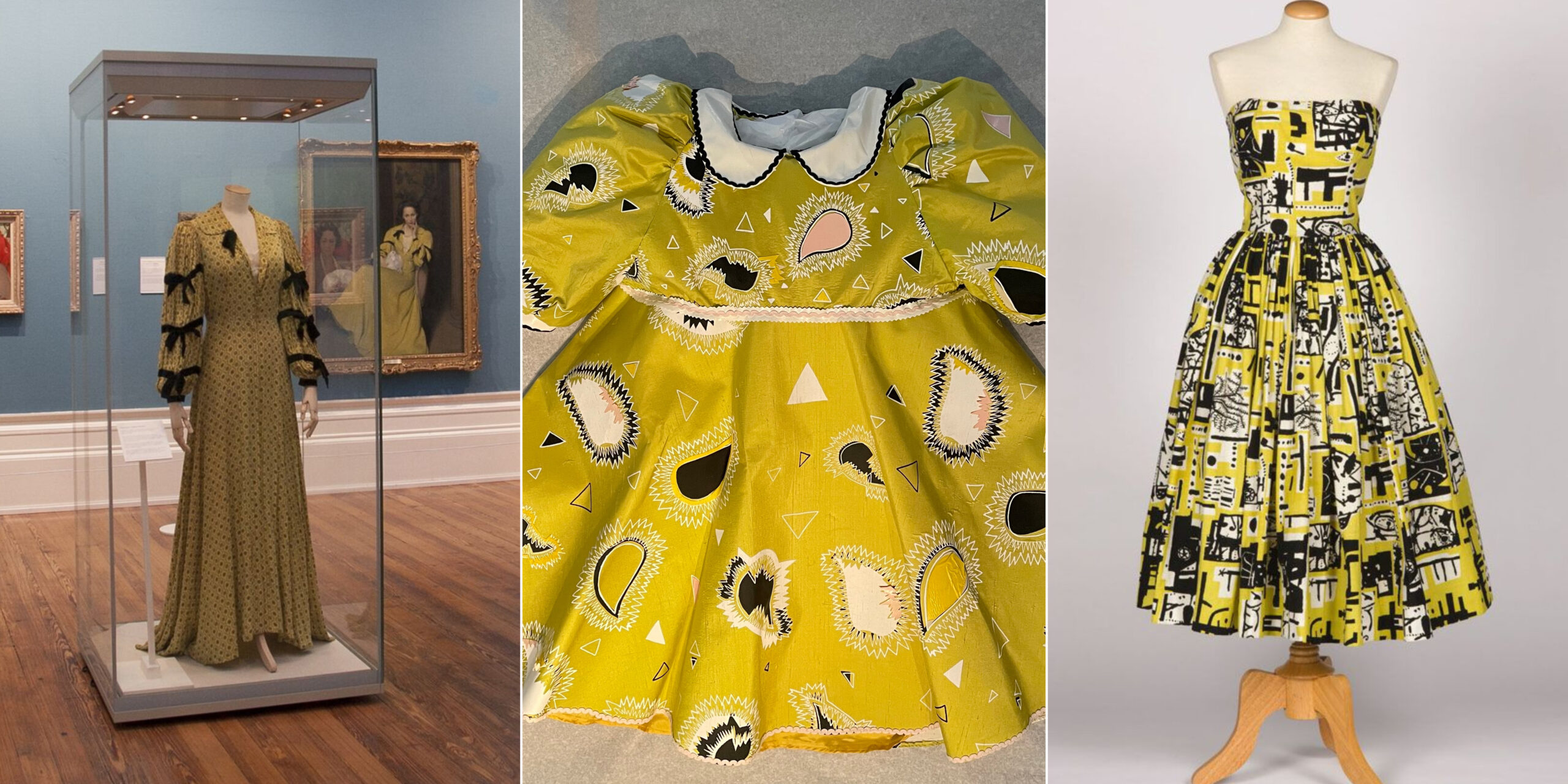 Enjoyed this blog? Keep up to date with Scott Schiavone on YouTube and Instagram.
April 2023
Written by Scott Schiavone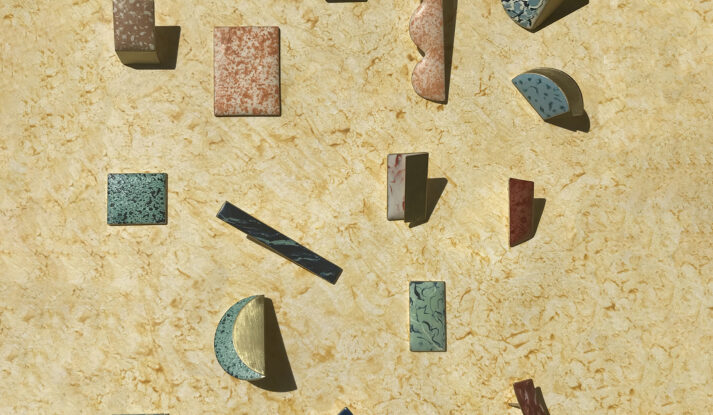 At the end of their residency, Hannah Sabapathy will produce a commissioned artwork that will become a permanent piece in the Harris collection.
READ MORE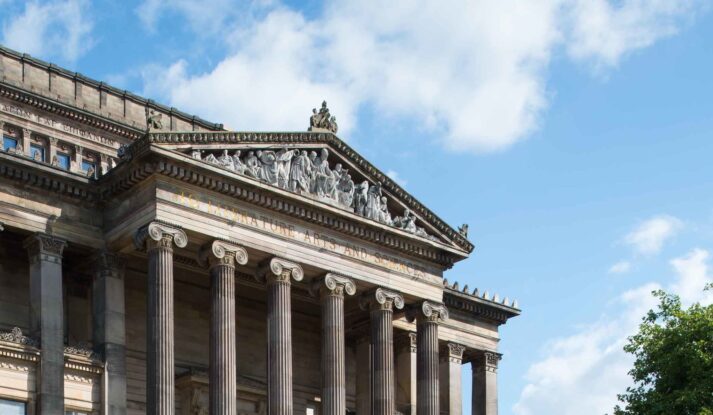 We're creating a better Harris for everyone!
Find out the latest updates on the
Harris Your Place project.
READ MORE