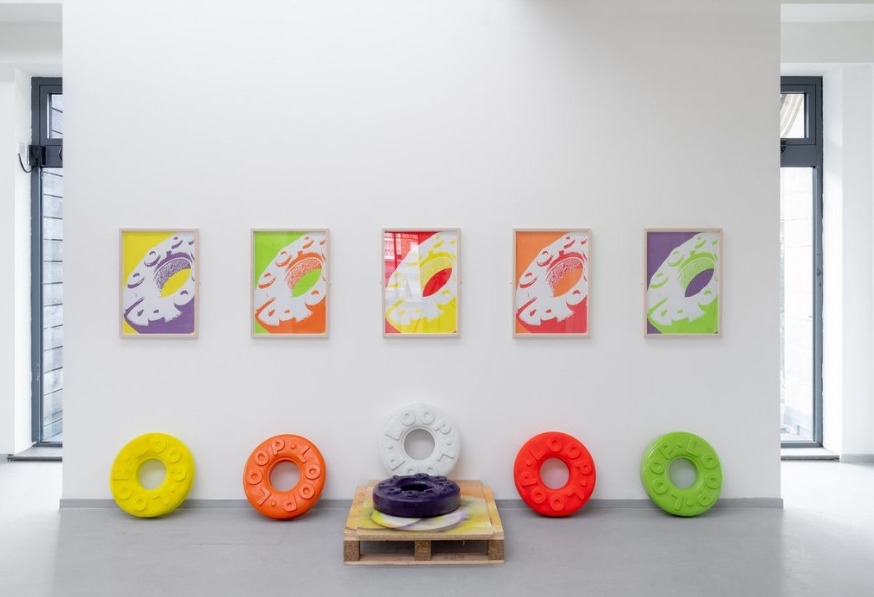 13 New Acquisitions to Mark The Harris' 130th Birthday
13 New Acquisitions to Mark The Harris' 130th Birthday 
Since we have been closed, we have acquired a number of exciting items that we can't wait to share with you. So let's take a closer look…
Acquisitions 1 & 2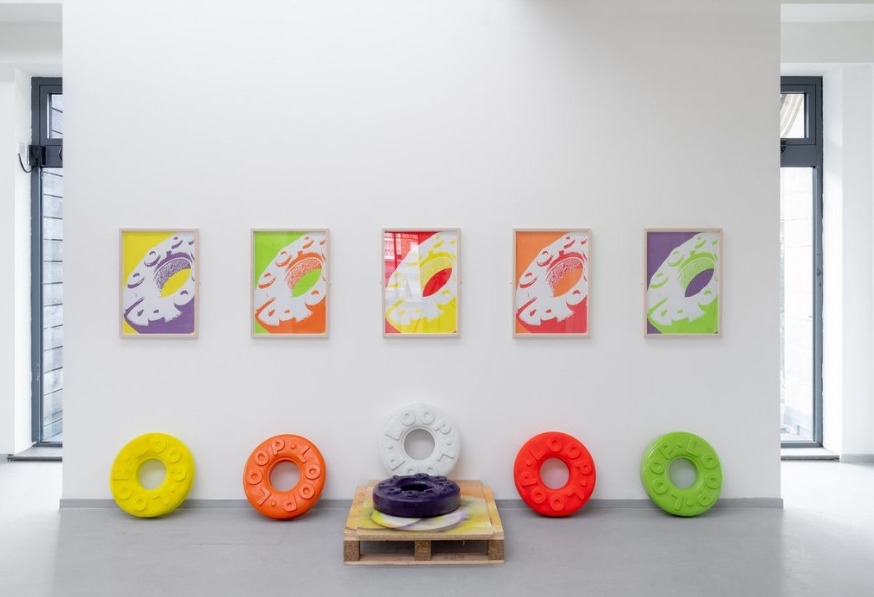 Photo copyright: Jules Lister
We love this set of 5 prints by artist Tony Heaton. The prints, SUITE: FRUITS 2019, have been acquired alongside Green Loop, pictured here below the print on the right.
Acquisitions 3 & 4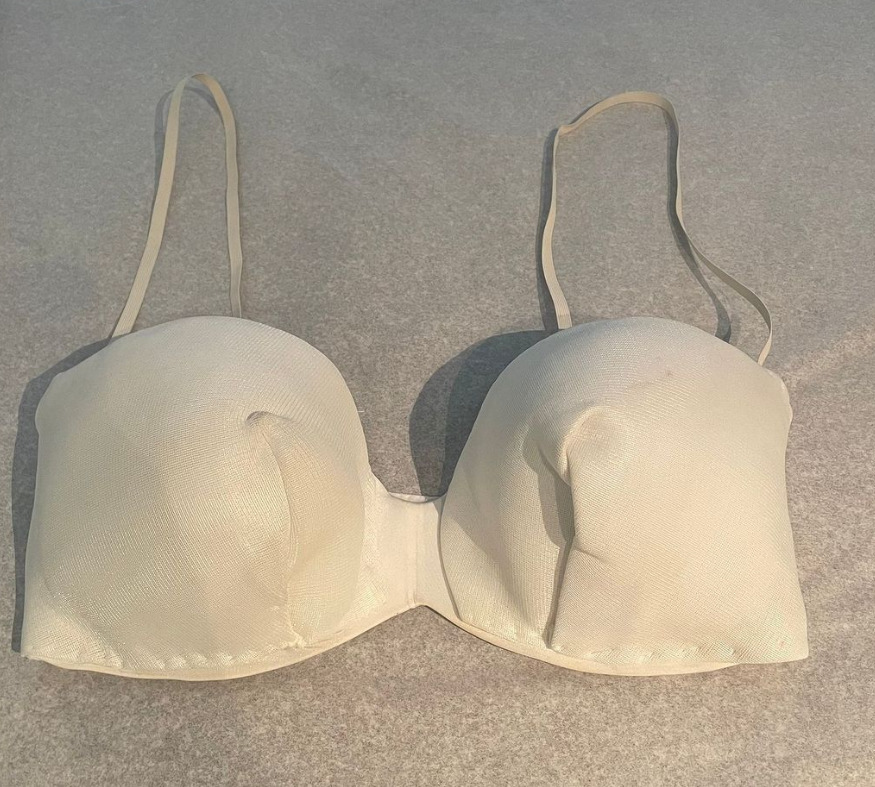 We are excited to announce that we acquired two significant pieces for our fashion and textile collection – a yellow dress and bra worn by Claire, the alter ego of one of Britain's most celebrated contemporary artists, Grayson Perry.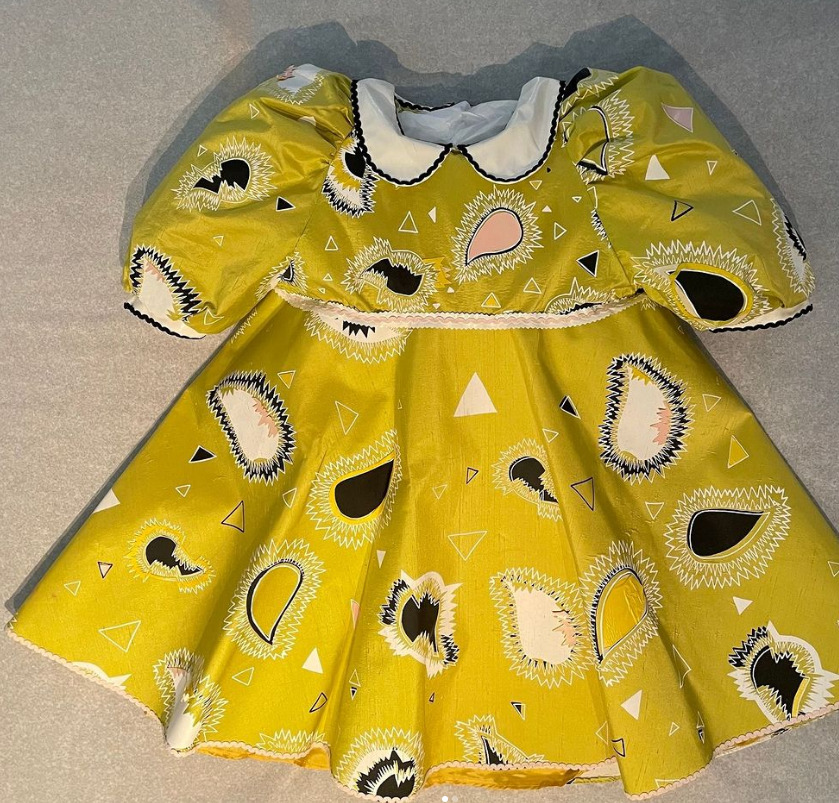 Claire's dress is in her signature baby-doll style with a high waist and an above-the-knee length skirt. The raw slubbed yellow silk is printed with an abstract black and white pattern and applied with colourful vinyl shapes. The Peter Pan collar is made from white vinyl, edged with a black border. Claire's bra has exaggerated cups made from polyester wadding and elastic straps.
Acquisition 5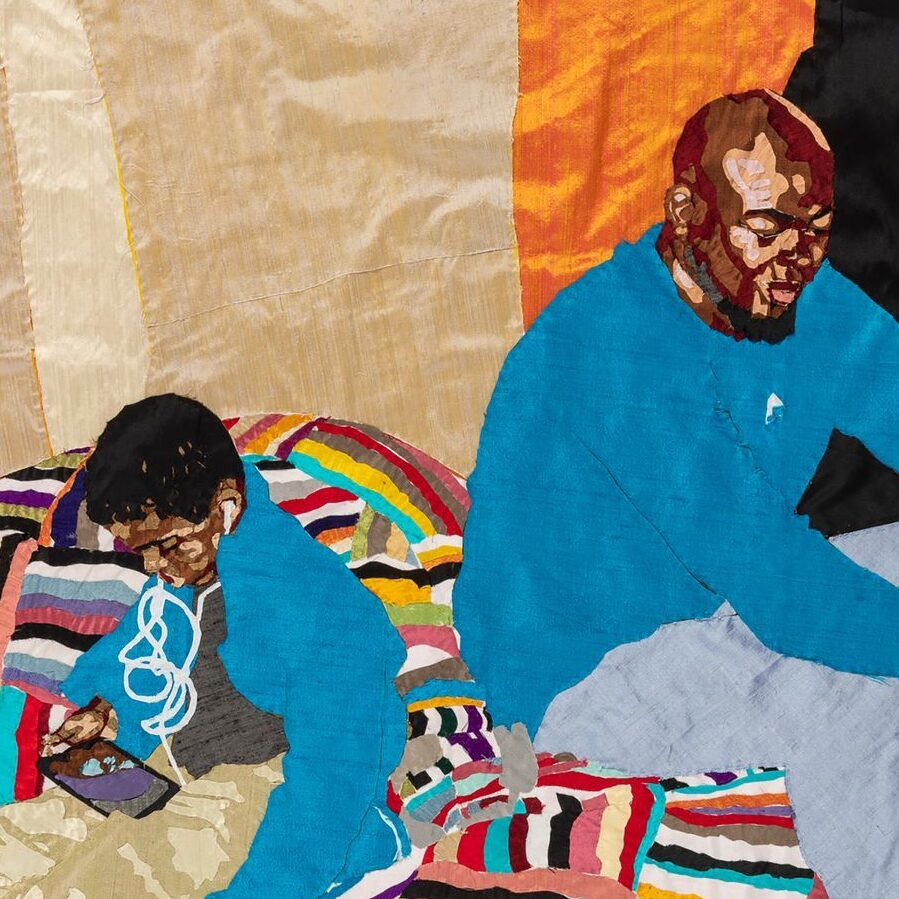 Textile Artwork 'Sweetest Devotion', 2020. Credit: Presented by the Contemporary Art Society through the Collections Fund at Frieze, 2021/22
We have acquired a contemporary art piece 'Sweetest Devotion', an art piece by Billie Zangewa. Marvel at the hand-stitched silk collage created by Malawi-born, Johannesburg-based artist. Billie Zangewa captures a touching moment of a child and his uncle during the pandemic.
This art is part of a new collection of works that explore the many facets of family life, chosen because of your feedback through the #HarrisYourPlace project.
Acquisitions 6 & 7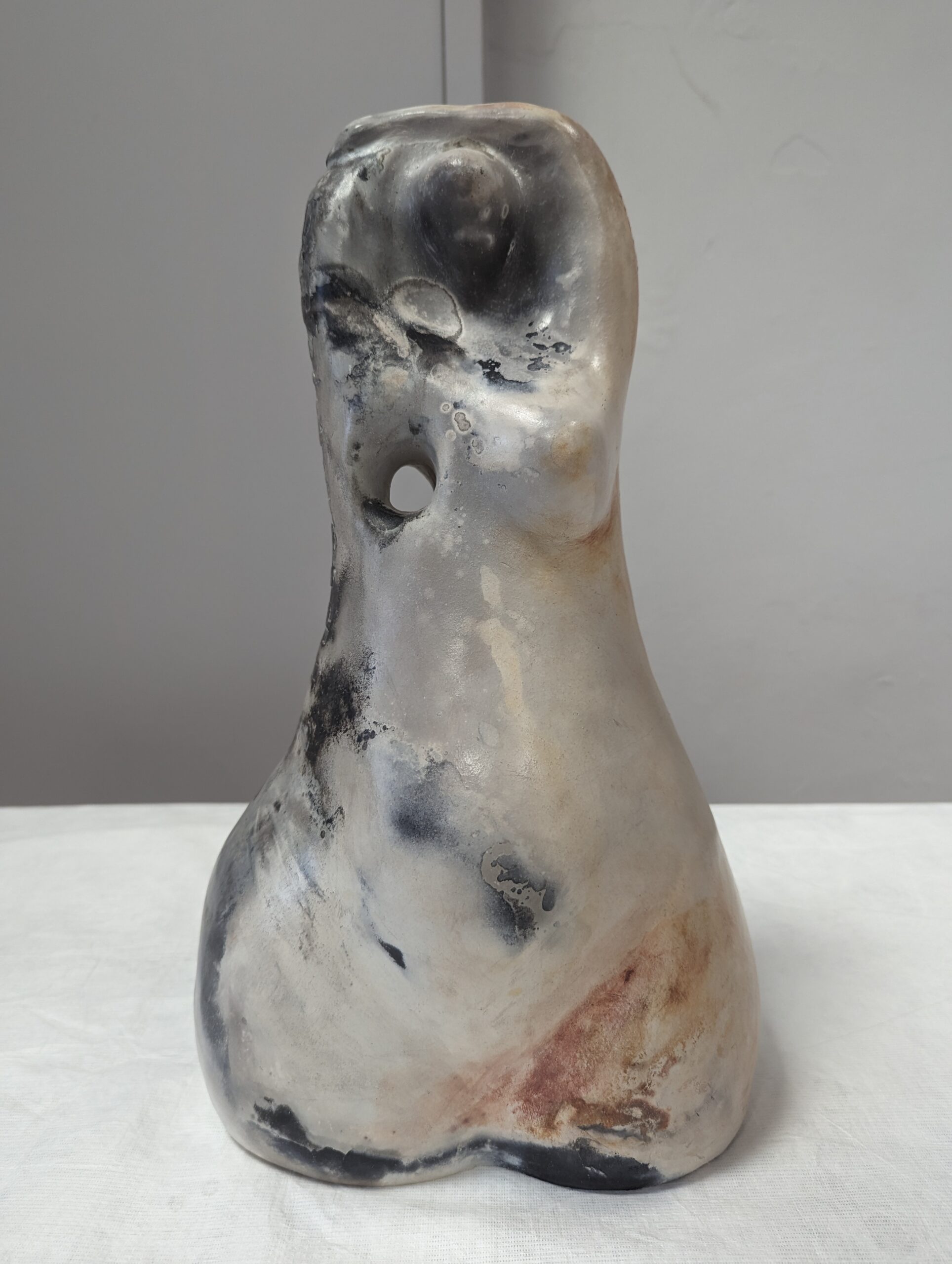 Introducing our latest acquisition – 'Strength' by Christine Cherry. 
As seen on Channel 4's Great Pottery Throwdown, Christine created the self-sculpture to represent her battle with breast cancer, in what she described as a truly cathartic experience. Christine's sculpture will be on display at The Harris when we reopen in 2025.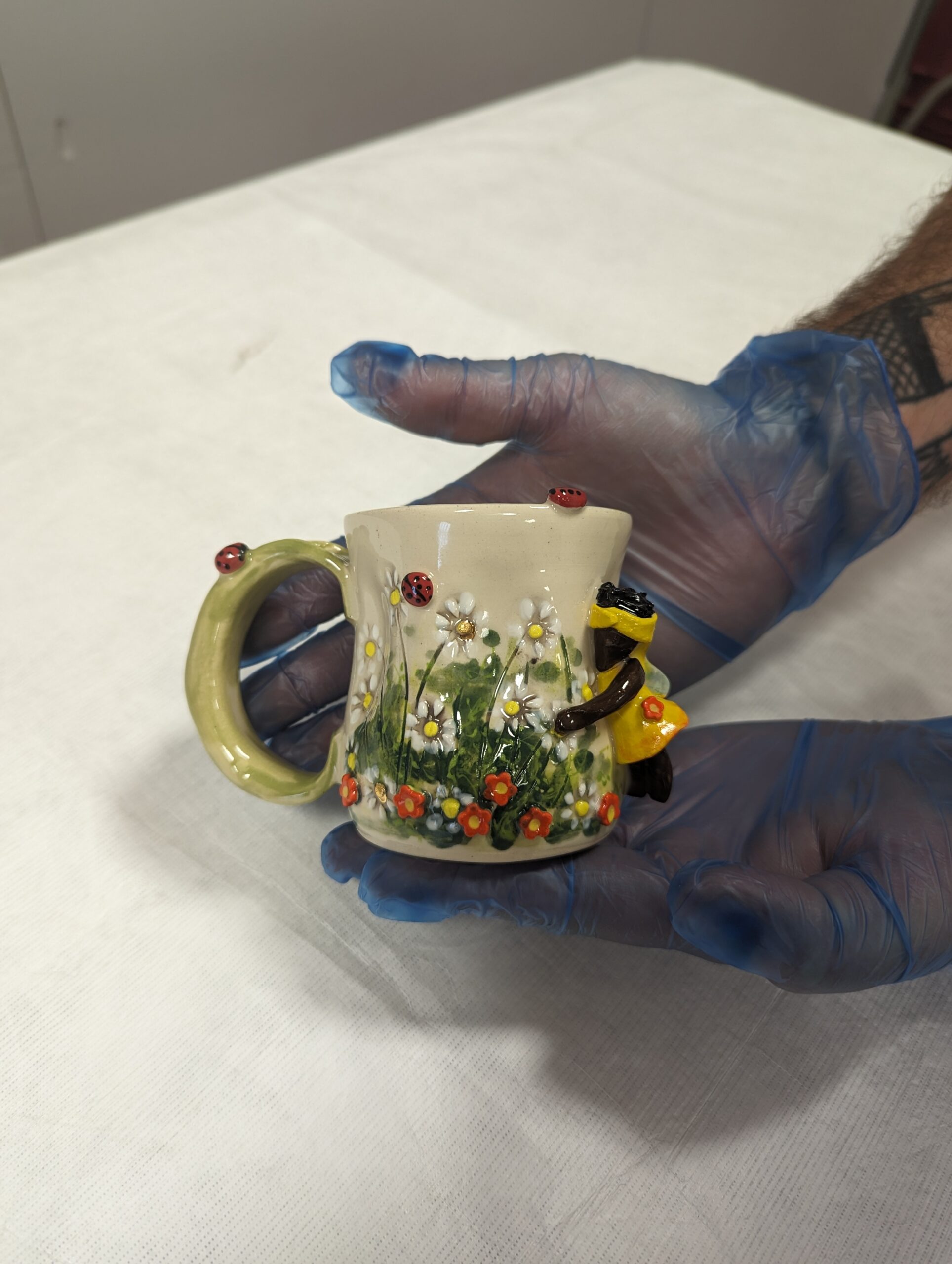 Our second acquisition from Christine Cherry is this Ceramic Fairy Mug. Inspired by a ceramic tea set that she created during her time on the Channel 4 programme, this beautiful mug features a small fairy frolicking amongst delightful flowers and ladybugs. The mug will be displayed alongside Christine's self-sculpture when we reopen. 
We recently caught up with Christine to discuss the newly acquired items and the inspiration behind them. Click here to see what she had to say!
Acquisition 8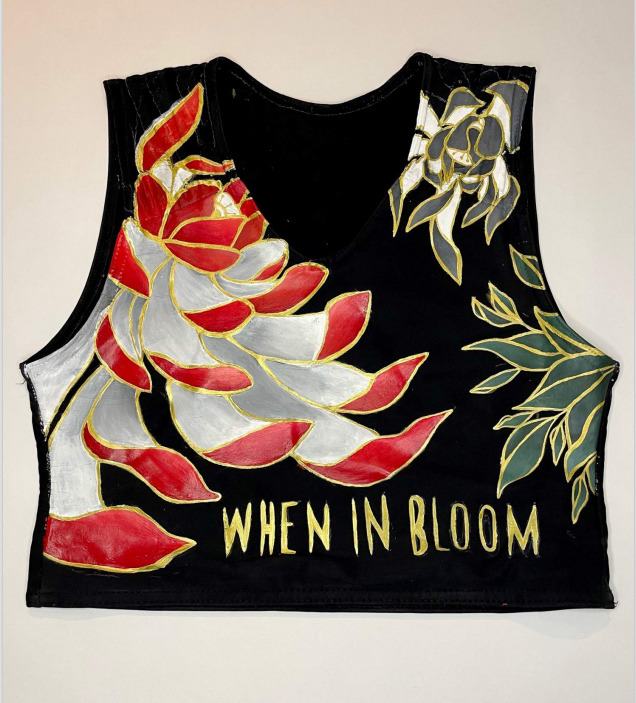 We have acquired this black lycra binder, hand painted with flowers and the words 'When in Bloom'. The binder was created by Ollie Coles, a tattoo artist based here in Preston. Ollie painted the binder as a reaction to the transphobia he experienced, but in a positive way.

'When in Bloom' refers to coming into yourself, progress, growth and becoming the person you truly are. The Harris acquired Ollie's binder so we can share and preserve his story with our communities and for future generations.
Acquisition 9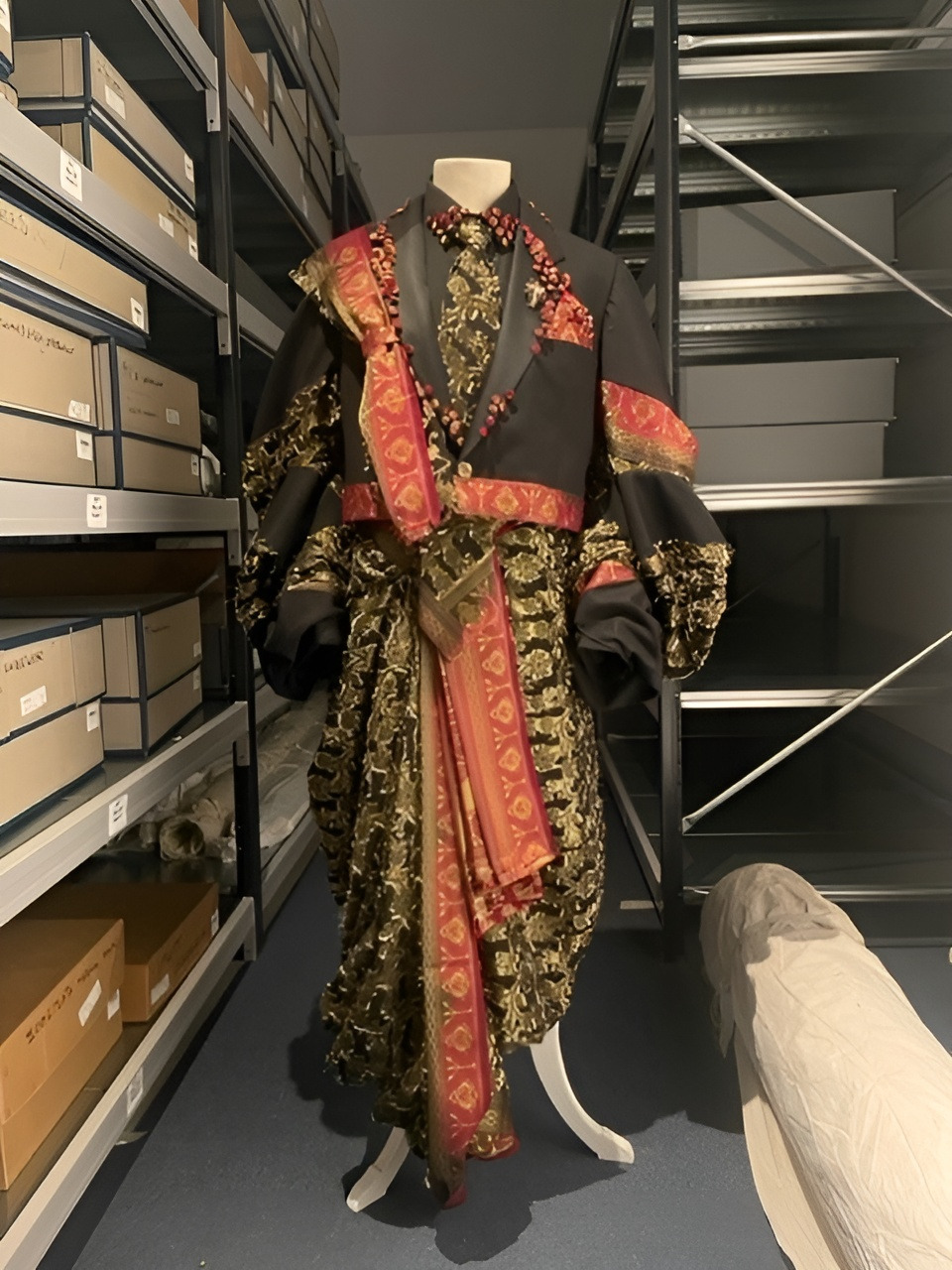 This Saree Suit designed by Felix Roche, BA Fashion Design student at UCLan (University of Central Lancashire), showed as part of his graduate collection 'Saree Not Sorry', June 2023. Felix is from London and is of Sri Lankan Tamil heritage. This design symbolises a mixture of eastern and western cultures and traditional tailoring with traditional South Asian dress.

Felix achieved this through using knots on the sleeves to symbolise the marriage of both his cultures but also to symbolise the Hindu wedding tradition of tying the newlyweds garments together – typically the bride's veil and the groom's sash. Alongside combining the fluidity of draping and pleating from traditional sarees to a Western suit, Felix hopes to emasculate the common perception attached to it and instead allow the garments to exist as gender-neutral pieces.
Acquisition 10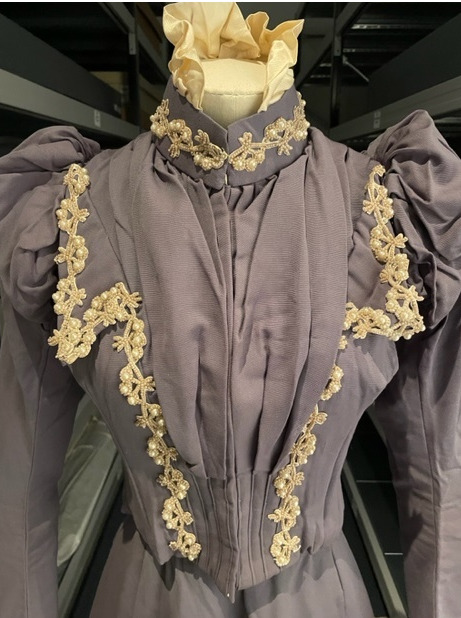 We have acquired this wedding dress from a Preston dressmaker, Hatfield and Butler, in purple grosgrain silk with ruffled cream silk collar and cuffs and pearl border trim. The wedding dress was made by a Preston dressmaker and has their label on the inside waist tape, which reads Butler & Hatfield, Costumier & Milliners, Preston.

In the 19th century, there was a fashion for British dressmakers to style themselves as 'costumiers' to sound more attractive to the fashionable elite. This dress was worn by the great grandmother of the donor's husband and the wedding took place on 20th May 1899.
Acquisition 11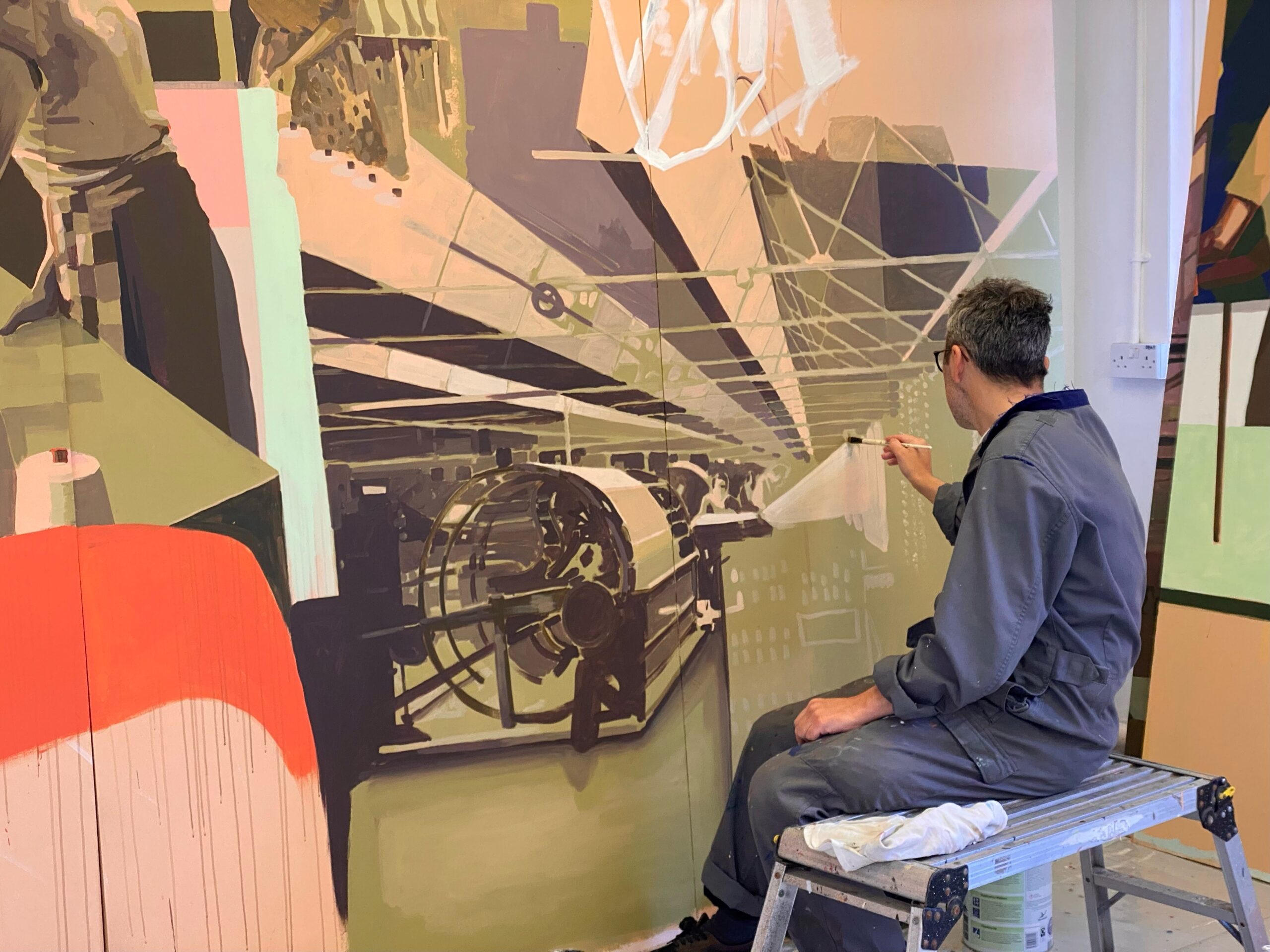 In 2019, local Preston artist Gavin Renshaw flew in a light aircraft above Preston. He created a bird's-eye view drawing looking down on the city during the Covid-19 pandemic. The detailed line drawing is titled 'Corona' and is 1.5 metres long.
The drawing depicts the university buildings, and student houses are in the foreground. The public buildings and high-rise towers sit in front of the Higher Walton's hill. This will be displayed on a light box on the ground floor in the 'Heart of Preston' display when we reopen. 
Gavin is currently re-inking the drawing in preparation for the light box and we interviewed him to see what we can expect from his work. Click here to see what he had to say. 
Acquisition 12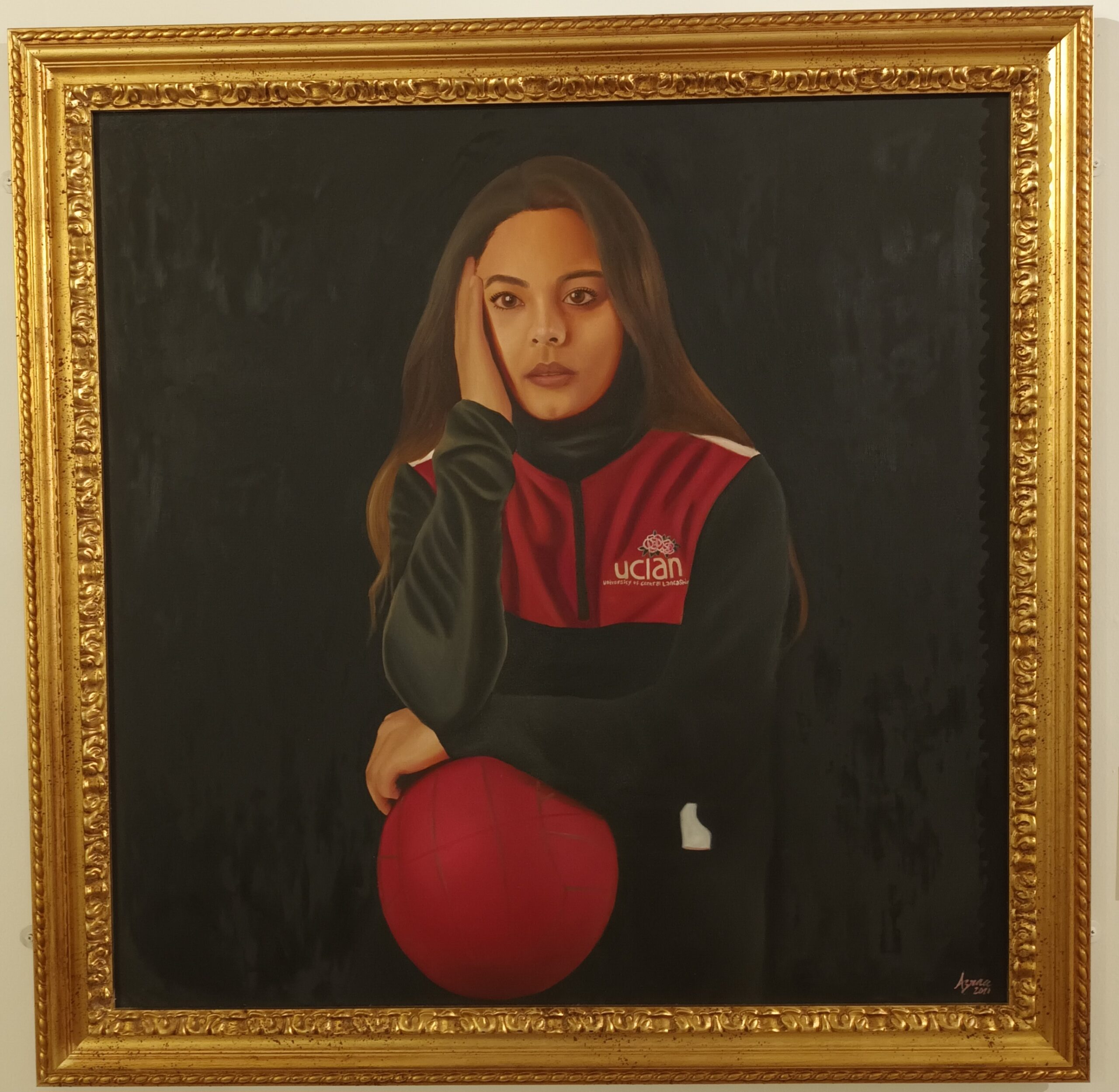 Credit: Unapologetic is a co-commission with The Harris, Preston. Photo: Azraa Motala
We have acquired a new contemporary portrait painting created by Azraa Motala. Azraa has visited the Harris since she was a child, and recognised that she could not see herself represented in the collections. She worked with us to develop a new project called 'Unapologetic' in 2021.
Motala created a call out through South Asian women's network and groups, her own contacts and social media to invite women to participate as collaborators and subjects in the series of portraits. Once selected the women spent time with her in facilitated conversations about their experiences of identity, culture, misrepresentation and self-representation. The group worked with curators at the Harris to investigate the collections in order to interrogate the representation of women and the lack of representation of women like them.
Azraa's painting will be displayed in the Art Gallery alongside a portrait of her choice from the Fine Art Collection. This portrait is of local UCLan graduate Samiya who previously represented Lancashire in Cricket. 'A big part of my life is to do with sports and being a girl from the BAME community where there isn't much representation in sports teams I feel it is important to be a role model for others and myself'.
The portrait was part of the exhibition titled Unapologetic at Blackburn Museum as part of the British Textile Biennial in 2021.
Acquisition 13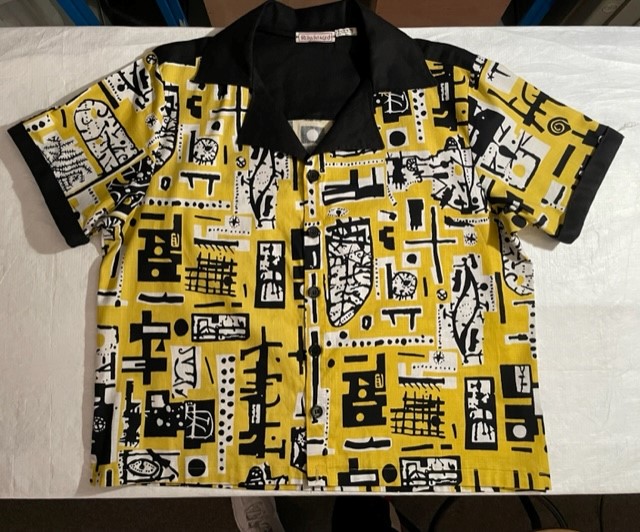 On the 27th August 2022 we hosted Harris in the City, celebrating Preston's textile heritage with a catwalk showcasing the Horrockses Fashions x Joanie clothing collection. The show was hosted by Harris Decorative Art curator, Scott who wore this men's shirt made using the Horrockes Edwardo Paolozzi print fabric with black linen using a Horrockses Fashions x Joanie clothing collection dress which was later ascended into our collection as a great reminder of the fabulous event! 
Harris Your Place

Harris Your Place is a £16 million project set to restore and reimagine the Harris for 21st-century audiences as a cultural learning space. The aim of this project is to protect the building and the architecture for future generations whilst enhancing accessibility options and positioning the Harris as a community hub for Preston and Lancashire.
The capital project is more than simply preserving this much-loved building; Harris wants to ensure that it remains a vibrant heart of the community. A place where people want to spend their time.