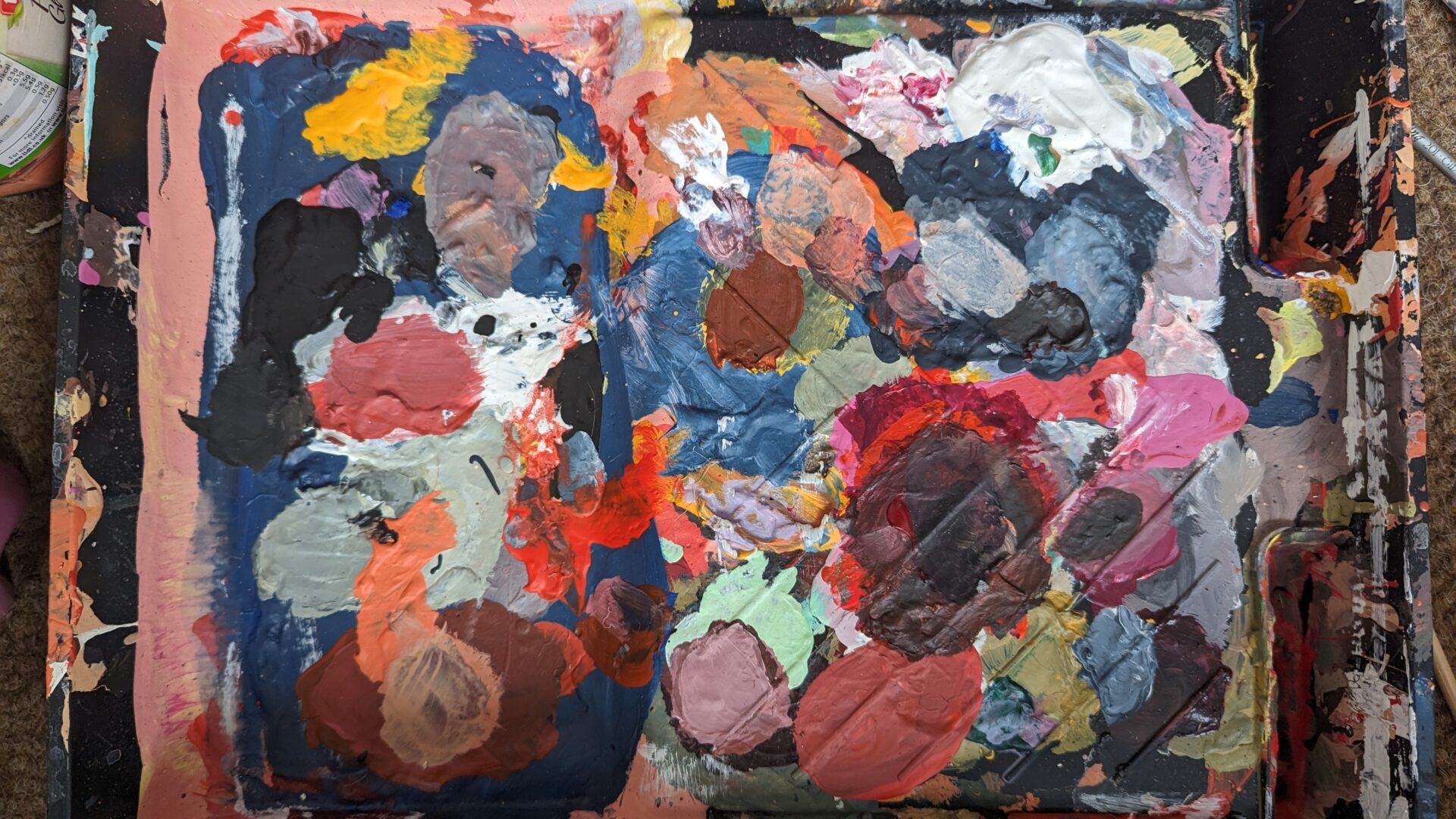 Q&A with Gavin Renshaw
We caught up with Preston-based artist Gavin Renshaw at his Birley studio space to ask him about the piece he's working on for The Harris.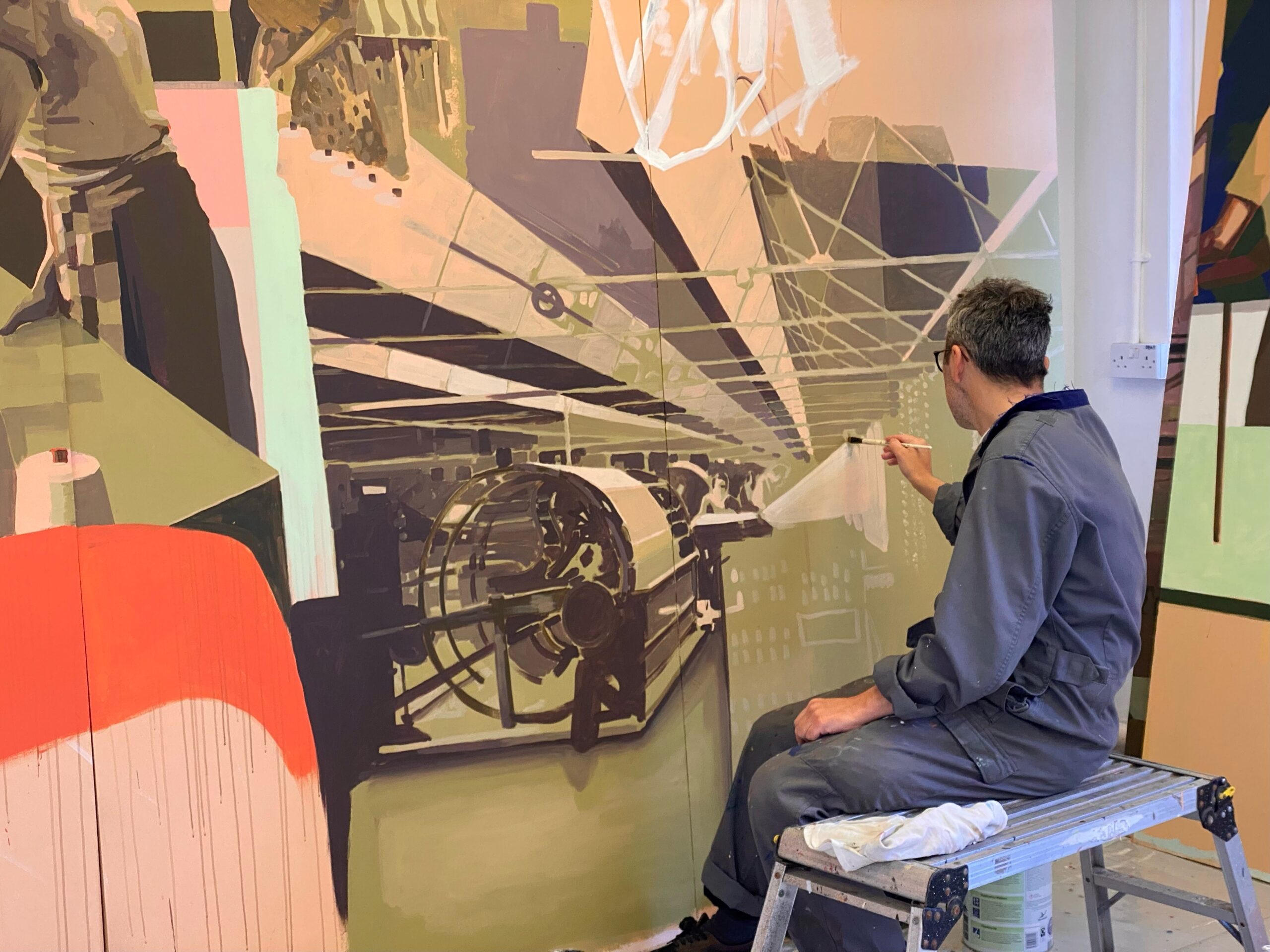 Gavin Renshaw painting a mural
Could you share some background about the inspiration behind the artwork you are currently creating for The Harris?
For some time I have wanted to do a larger study to follow on from the Expanded City body of work which included numerous small studies of Preston from afar capturing the centre at a particular moment: a phase of expansion and redevelopment. The issue I had was finding the time to commit to such a large piece. In the first few months of 2020 the world came to a standstill with the coronavirus outbreak and lockdown ensued which inadvertently gave me the opportunity to devote the time I knew the piece demanded.
Can you tell us what aspects of The Harris' art spaces made you consider it the perfect venue to display your art when we reopen in 2025?
Well I think we eagerly await the new spaces at the Harris and it is probably difficult to realise just how they might look but what was a driving factor was looking into the Harris Collection and notably two works: John P. Jenkinson View of Preston from Penwortham Hill and Charles Ernest Cundall, Preston. Both of these large pieces will be on public display again with the reopening. They span both Pre-industrial Preston (or at least its initial inception) and post-industrial in regard to the Cundall. The piece of work to be displayed represents a contemporary impression of the city, which has always been shaped by its prevalent industries, something that I think is echoed in both the historic works.
Could you take us through the challenges you encountered during the process of capturing aerial footage of Preston from a plane? How did you manage to achieve those shots?
Well, I really dislike flying, so it was quite the challenge! I had the opportunity to join some friends in a flight over the lake district and I thought I would distract myself by taking my camera. I was hoping we would swing back over Preston before landing at Blackpool and luckily, we managed to convince the pilot on the short detour. I rattled off so many photos, but it was quite turbulent so was unsure what I had captured, I knew I had a few good angles which took in all the key landmarks I was hoping to depict. So to a certain degree, there was a huge element of luck that I managed to get the aspect I was looking for. I used these shots as reference for the drawing.
Your ability to work on various scales, from small paintings to huge murals, is truly remarkable. Can you tell us more about how you adapt your artistic approach to match the scale of each project?
It would be simple to answer that there isn't much difference- and in a way that is true but also not quite right. There are lots of micro-adjustments I think that are integral to the success of scaling up work. There is a bit of a mental checklist that you go through and I'm sure every artist does this to some degree, an assessment of sorts. Parameters change when you work on a very large scale but on the whole, it is quite forgiving. Large paintings instantly have an impact, unlike small paintings which are easily overlooked. Working at a small scale is more unforgiving which is why it is such a good practice, not solely of course but it is difficult to make small-scale pieces sing: real estate is at a premium so space/composition hangs in the balance of its success.
Could you share your approach to staying focused and creative while working on various artworks at once?
I have no idea! If you come up with a solution please share it with me, I am very easily distracted! One thing I will say is for me creativity is linked to how you feel, maybe that's obvious but it comes in waves like mood swings. When you are up it's a joy and everything happens easily, if not then it is like wading through soup. At those times it's best to snap yourself into a different mood by changing habits. Reading a book, taking a trip, listening to music, something to change the wallpaper!
How has your experience working at The Birley influenced and shaped the art you create today?
I am very fortunate to be able to share the space with a very diverse bunch of artists all at different stages in their careers and with very different practices. It is great for developing new ways of working and for bouncing ideas off other creatives. I am a big believer in cross-pollination and in looking for inspiration outside of your chosen practice whether that be fashion, film or sculpture, architecture etc.
As an artist constantly evolving, we're eager to learn more about your latest project or work-in-progress. Could you give us a glimpse into the themes or ideas you're currently exploring?
I have a number of projects on at the minute, it is a busy time of year. I am working with Super Slow Way on a large outdoor wall 120 metres long along the Leeds & Liverpool Canal with themes around industrial heritage of inland waterways. I am also involved in a wonderful project which celebrates the unsung story of the Manchester Corinthians, a historic women's football team, shunned by the FA despite having huge success winning tournaments overseas. That will be happening later this year in Manchester.
Harris Your Place

Harris Your Place is a £16 million project set to restore and reimagine the Harris for 21st-century audiences as a cultural learning space. The aim of this project is to protect the building and the architecture for future generations whilst enhancing accessibility options and positioning the Harris as a community hub for Preston and Lancashire.
The capital project is more than simply preserving this much-loved building; Harris wants to ensure that it remains a vibrant heart of the community. A place where people want to spend their time.