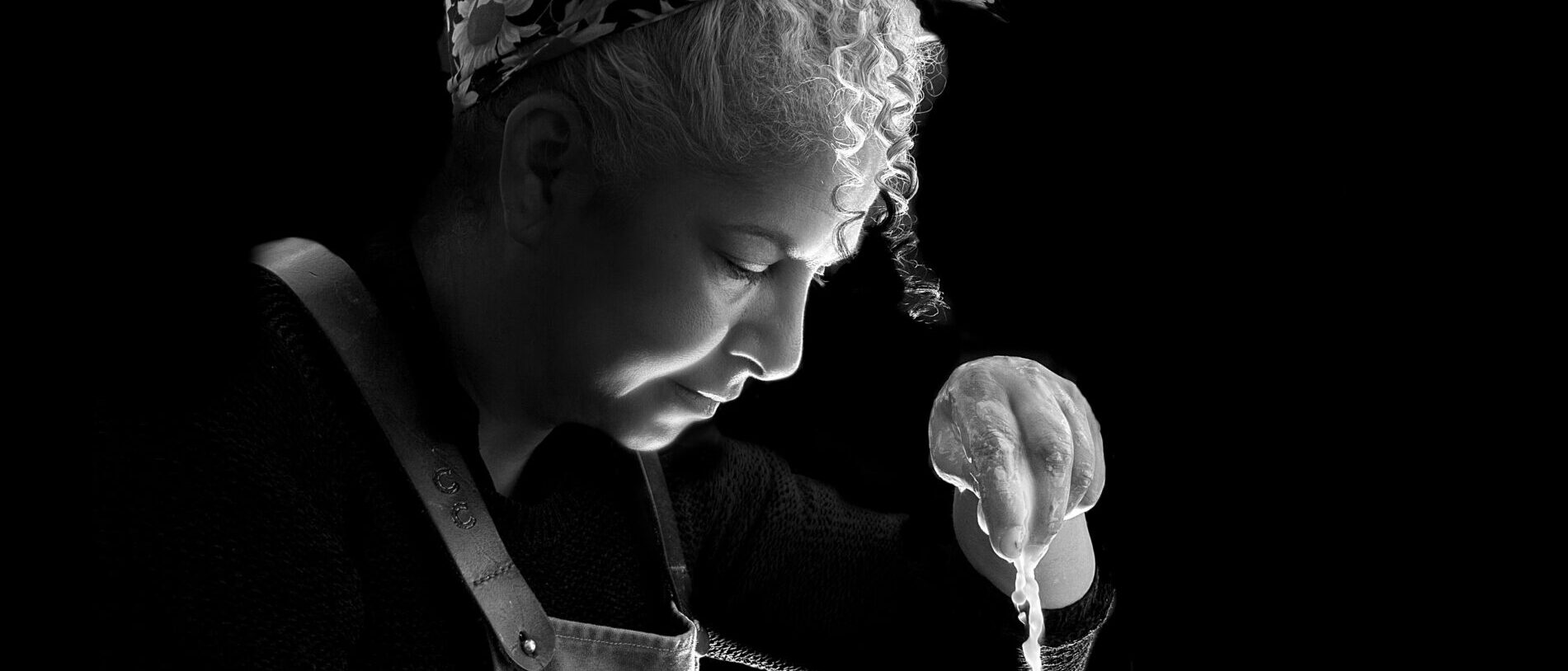 Q&A with Christine Cherry
Q&A with Christine Cherry
We caught up with Christine Cherry, a local potter and finalist in series 5 of the Great Pottery Thrown Down, to discuss the pieces we have recently acquired from her, and the inspiration behind them.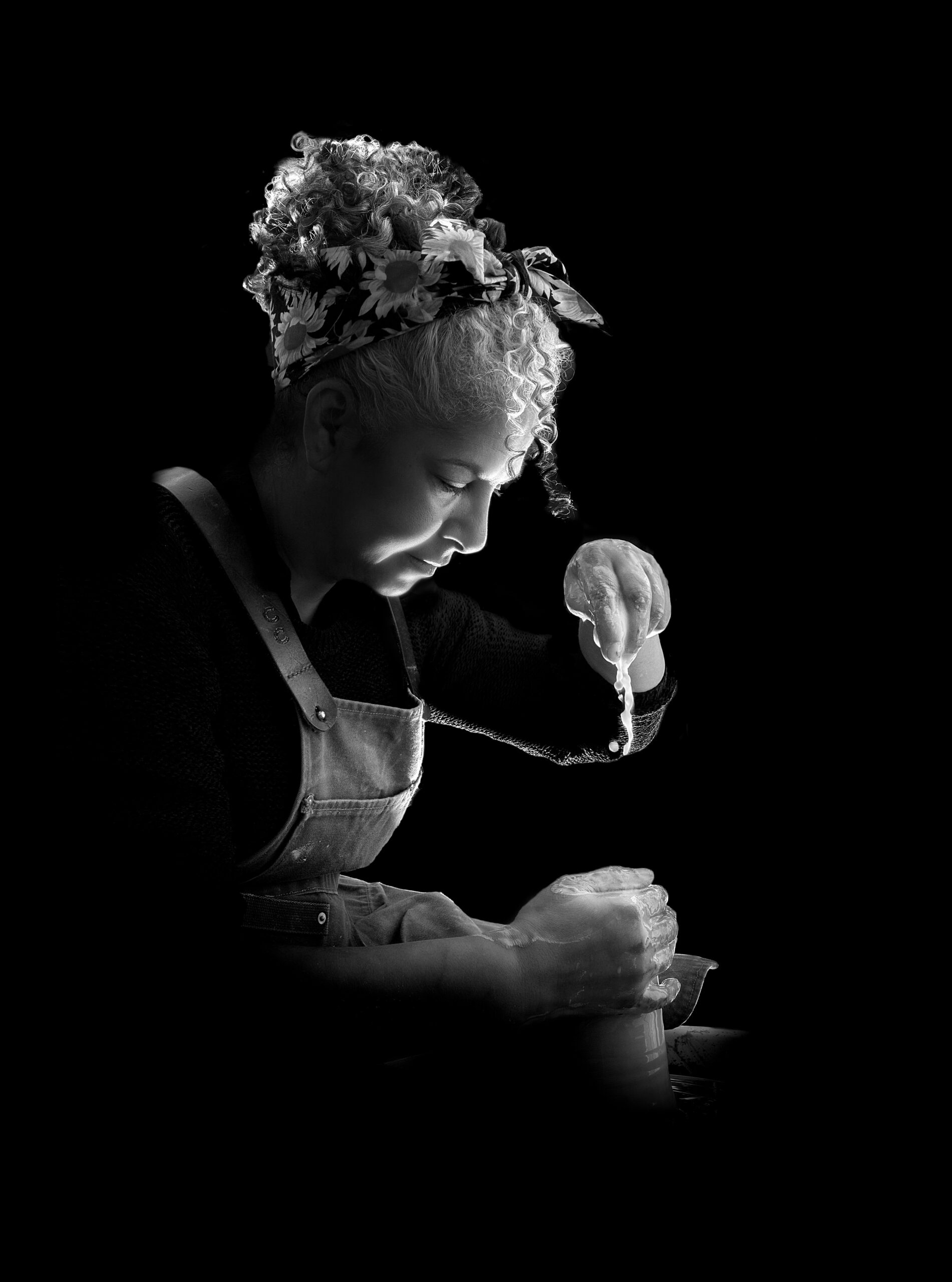 Christine Cherry
Your studio work showcases an impressive array of techniques, each contributing to a diverse collection of art pieces. Is there a particular method which is your favourite?
My favourite way of working with clay is the slip-casting method. I paint layers of coloured Parian Porcelain into plaster moulds until I have built up walls thick enough to hold their form. I then remove the piece from the mould, draw a grid on it and carve back to layers to reveal a controlled, organised pattern within the vessel body. I love using this inherently industrial process in a studio potters setting.
For me carving is a meditative process. I prefer to be alone in my studio whilst carving, without interruptions, I can fully relax.
We've heard that you often travel with a small potter's wheel. Could you share with us the story behind this unique approach to your artistic process?
I bought my first mini wheel in 2019 but it was crafted out of wood and so was quite bulky and heavy. I recently bought another one which is 3D printed. It's much smaller and a lot lighter. This difference allows me the chance to take it with me when I travel.
Making miniature wheel thrown pots is fun, it keeps my 'need' to create satisfied, even when on holiday. I only need to take a little clay with me too, yet with the pieces being so small I can make many and they dry quickly, so they're easy to transport back to my studio to be fired.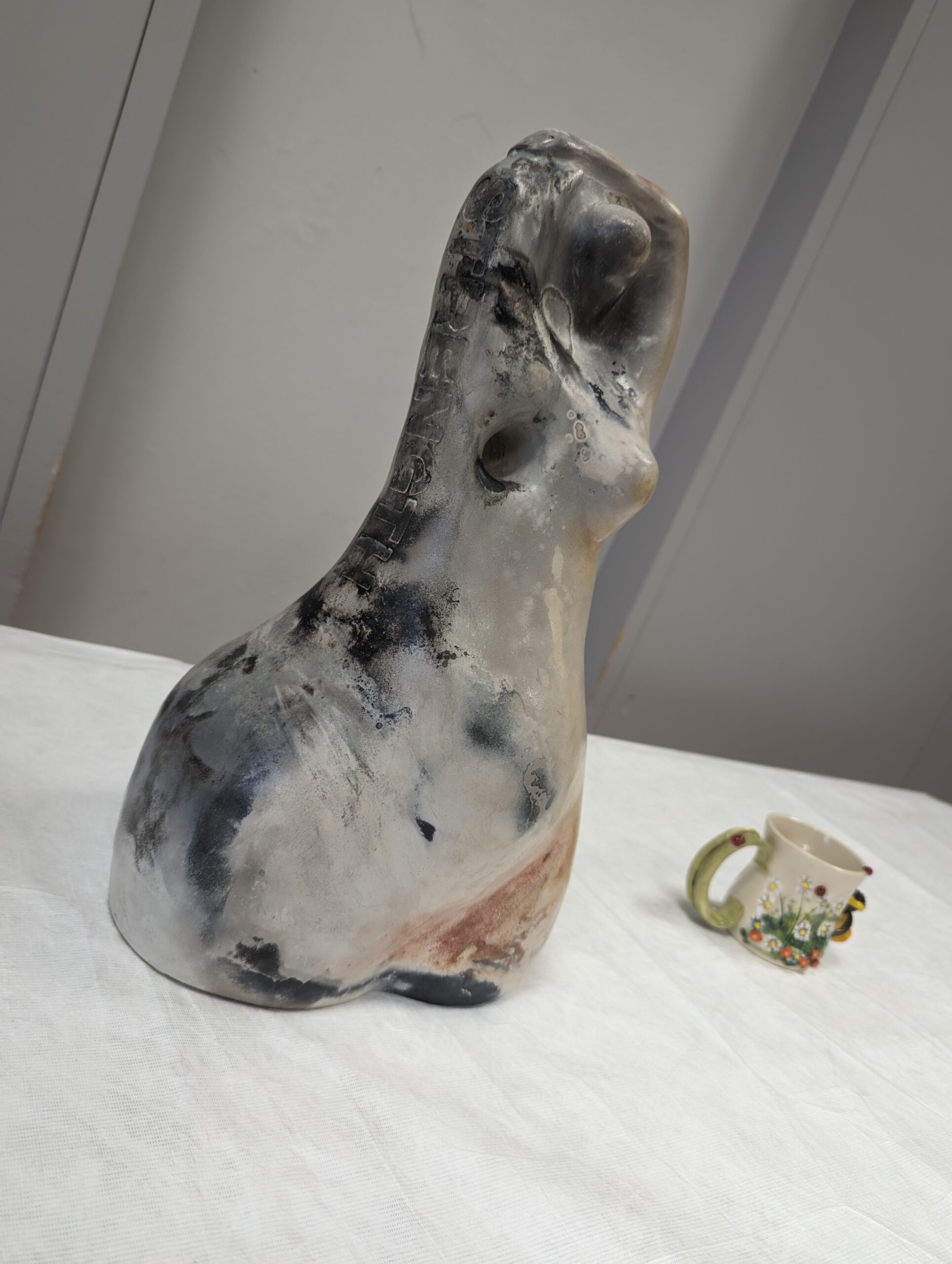 'Strength' and 'Ceramic Fairy Mug'
Channel 4's Great Pottery Throwdown must have been an incredible journey for you. Could you tell us about your experience as a contestant and describe how it felt when you made it to the final?
The 'Throwdown' experience was a very intense, but special journey for me. Initially I was quite intimidated by the whole thing, the cameras and the skills of the other potters. However as the episodes progressed I was able to settle my nerves and began to really enjoy my time in the studio at Gladstone Pottery Museum.
I didn't expect to make it to the final, does anyone? I just tried my best with each challenge and learnt so much along the way. Each time we were presented with a new brief I would research anything that I didn't already know or understand. The teacher in me made sure I was fully prepared before filming a new episode began. By the end of filming, 10 weeks in total, I was totally exhausted, I had given my all and was relieved when the final 'cut' was called!
4. Our collection proudly includes two of your remarkable works, with one reminiscent of the captivating 'Brown Fairy Mug' you crafted during the children's tea set challenge on the show. We'd love to gain insight into the inspiration behind this particular creation.
Since the show and as a direct result of the response that my nature themed, children's breakfast set received, I now make a range of mugs that feature a brown fairy. I also include a stamped on quote of the comment I had said to Rich Miller when he talked about my diverse fairy… 'She had to have brown skin'.
The brief was to create a set based around a childhood memory. My theme was based around the flower fairies by Mabel Lucie Attwell, my mum loved them and would read the poems and show myself and my siblings the pictures. I loved them but was acutely aware, even then, that all of the fairies in the pictures were white. So I knew from the start of creating my design that my set would feature a brown fairy. After the show I had hundreds of requests  for something similar and comments in support of what I'd done. I already loved making mugs so, I thought, why not put a brown fairy onto them?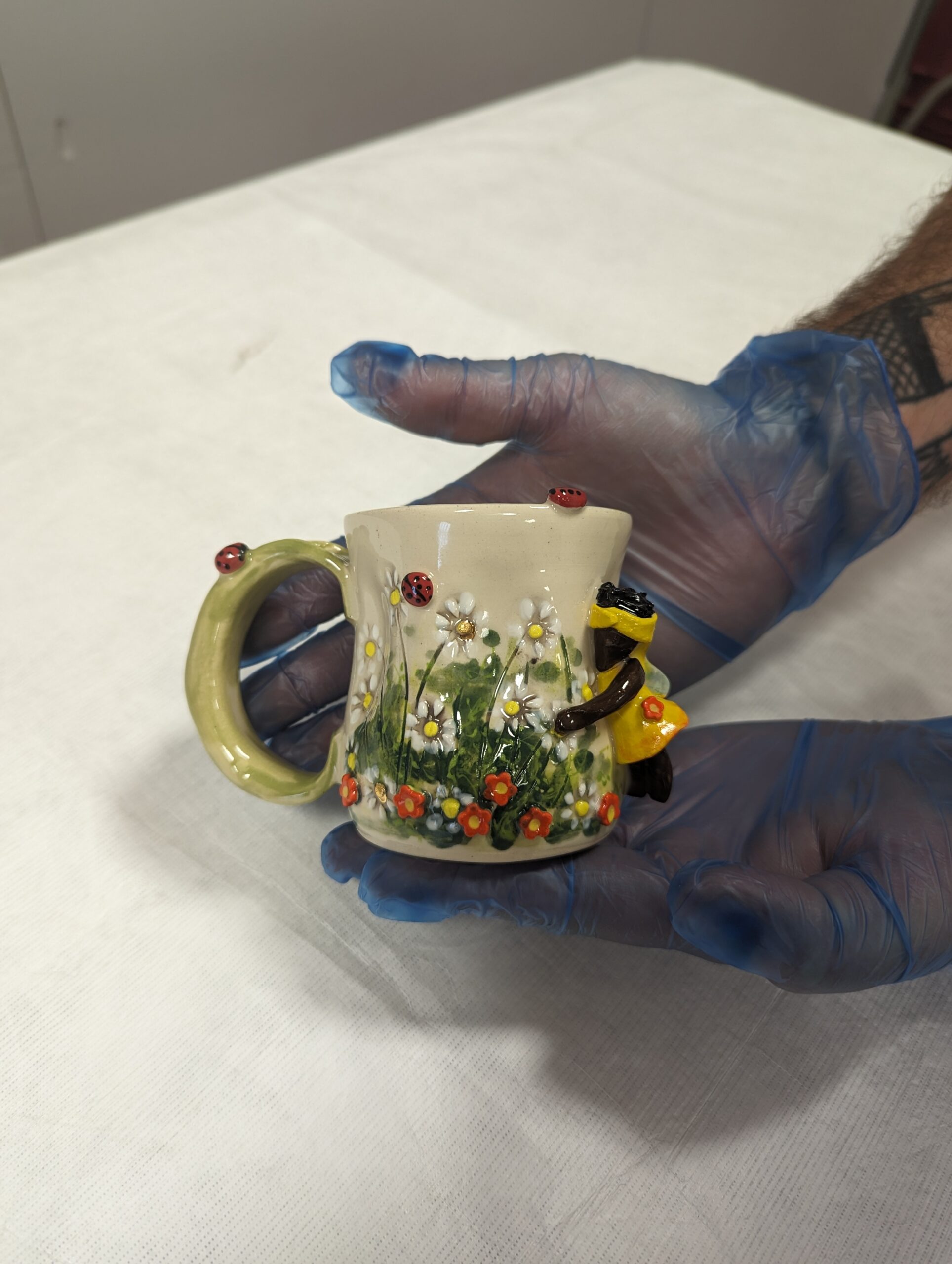 Ceramic Fairy Mug
One of your standout pieces, 'Strength,' was a powerful reflection of your personal journey with breast cancer during the abstract art challenge on the show. We feel incredibly privileged to have this piece in the Harris collection. Could you share your thoughts on the creation of this artwork and the fascinating pit firing process involved?
One of my standout pieces was the sculptural piece I named 'Strength'. We were set a challenge to create an abstract piece based on our own bodies. I initially didn't want to do the challenge. I had struggled for many years to come to terms with how my body looked.
I felt quite negatively about it and how my body had been scarred during my journey with breast cancer aged only 32 years. But then I thought, if I could make a piece of work based around those feelings, and make it beautiful –something I could be proud of, instead of something I felt had to be hidden away –that could only be a good thing!
I also thought that to be able to talk openly about breast cancer would allow others, who had journeyed on that same path, or were going through it now, would hopefully be able to connect with it too. And that's exactly what happened! The response I received, and still receive, was enormous and so positive.
I became so emotional on the show, especially when I opened the kiln to see if it had survived the firing. It was so important to me that the piece was as beautiful as I had imagined it to be, it was even better! The sawdust firing process we used on the show for this piece of work was the perfect process. I love this way of firing and now create some sculptural work using this same process.
Your art continues to captivate audiences, and we're curious about your current projects. Do you have any upcoming exhibitions that we can look forward to?
I now work in my little studio and continue to create a variety of work that includes hand built sculptural pieces and pieces that are more functional and fun. I also still love to teach and have equipped myself with several tabletop pottery wheels so that I can teach in my local community centre whilst I look for a bigger studio space. I am also continuing to develop my sculptural work and aim to exhibit it further in 2025.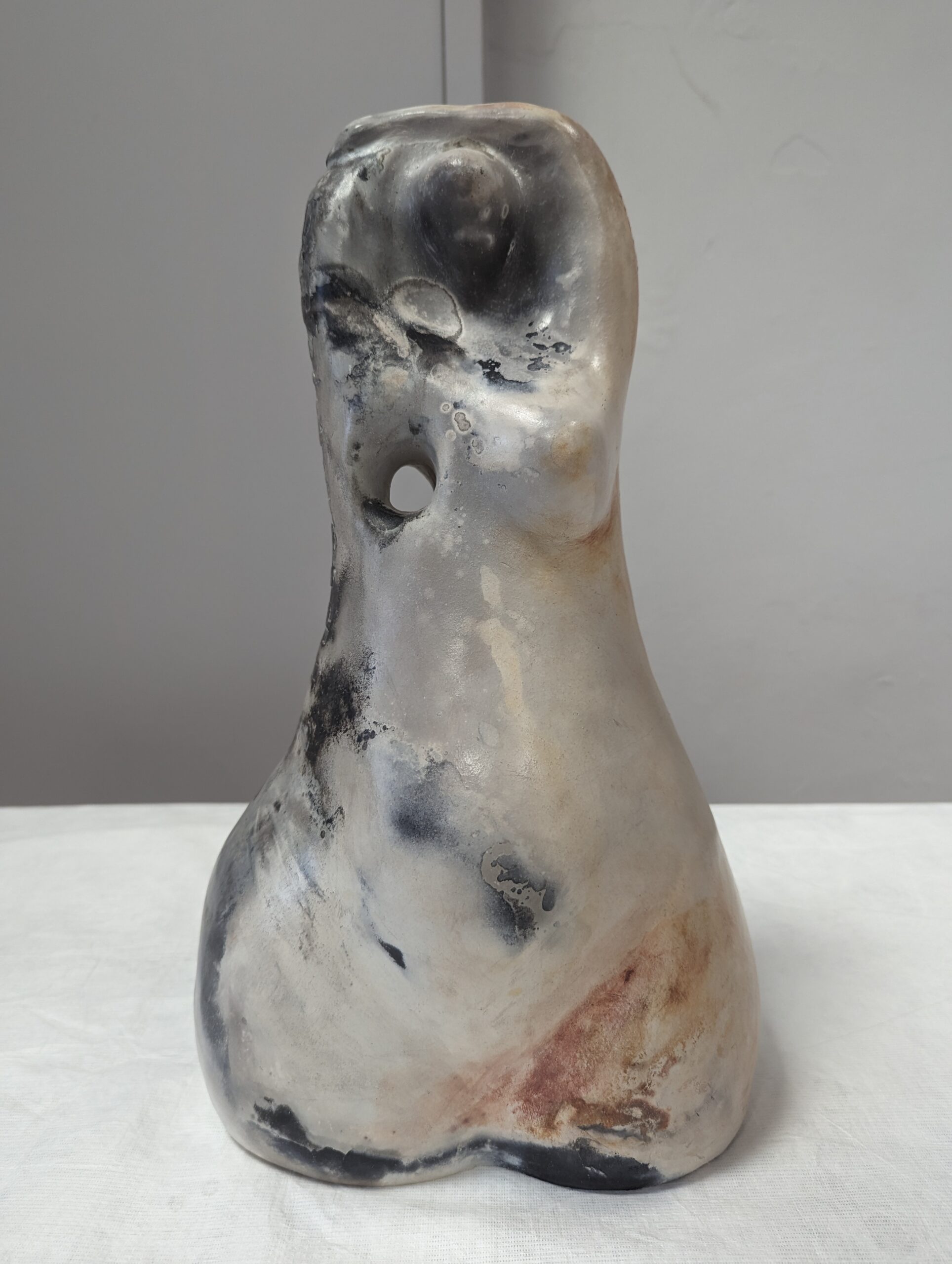 Strength Self – Sculpture
If you'd like to see more of Christine's fantastic work, check out her website, or visit her Etsy page.
Harris Your Place

Harris Your Place is a £16 million project set to restore and reimagine the Harris for 21st-century audiences as a cultural learning space. The aim of this project is to protect the building and the architecture for future generations whilst enhancing accessibility options and positioning the Harris as a community hub for Preston and Lancashire.
The capital project is more than simply preserving this much-loved building; Harris wants to ensure that it remains a vibrant heart of the community. A place where people want to spend their time.