Dance First, Think Later – Art from Elsewhere: International Contemporary Art from UK Galleries
We are delighted to welcome the curator of Art from Elsewhere, David Elliott, who will talk about the ideas arising from the exhibition: What and where is elsewhere? Does art have a role to play other than being art itself? What are art museums for?
Related products
Dance First, Think Later – Nathaniel Mellors and Guests: Focus On Panel Discussion

Read more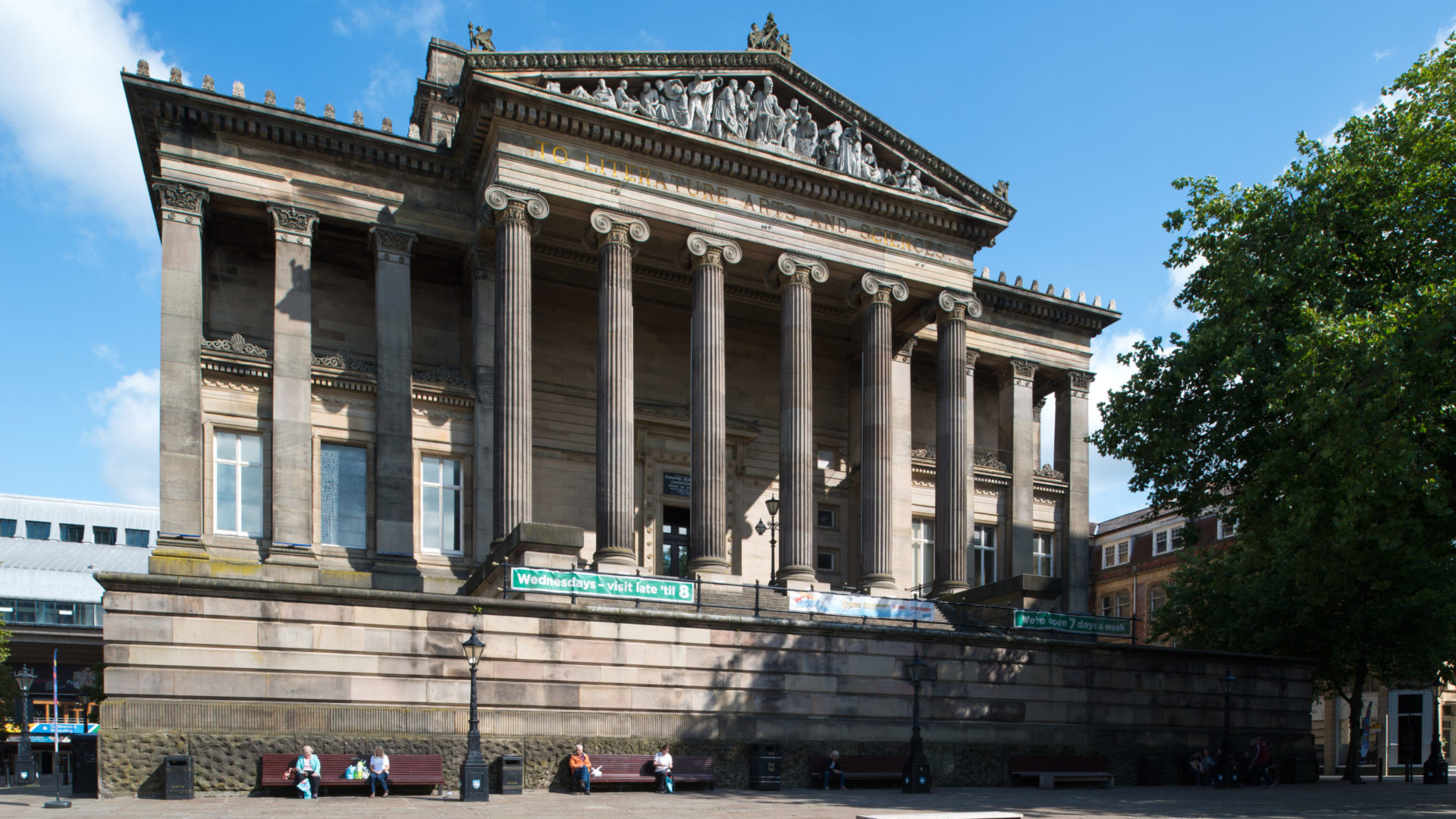 Archived Events
//
Dance First, Think Later – Art from Elsewhere: International Contemporary Art from UK Galleries
Dance First, Think Later – Art from Elsewhere: International Contemporary Art from UK Galleries
Exhibition
10 October – 28 November 2015
 Art from Elsewhere explores global change through the work of artists from around the world.
The exhibition addresses topical issues such as migration, trade and exchange, social tensions, life in conflict zones and failed ideas of utopia are addressed. Experience both the familiar and the new through a wide variety of painting, sculpture, installation, video and photography.  Information Assistants are in the galleries as often as possible to help you get the most from your visit.
What our visitors are saying:
"Good to see challenging, exciting and ground breaking contemporary artworks in exhibitions like this!"
"I absolutely hope to see more of this."
"Our 5 and 9 year olds really engaged with the exhibition … it was good to have a guide deliberately interact with us."
Don't miss Barbara Kruger's graphic-design influenced photo and text paste-up, Meschac Gaba's colourful Brasilian Bank installation and Yang Zhenzhong's video installation Let's Puff that plays with the viewer's sense of space.
You can find out details of our free exhibition talks, tours and events on our What's On page here.
Curated by David Elliott, Art from Elsewhere is a Hayward Touring exhibition supported by the Art Fund.  It is part of the Harris Museum's Dance First, Think Later Contemporary Art Programme.
Image © Meschac Gaba, Brasilian Bank, 2006
Top Image © Yang Zhenzhong, Let's Puff, Two-channel video, 2002. Courtesy of ShanghART Gallery and Yang Zhenzhong
Artists included in the exhibition are listed below.
Download the exhibition leaflet here
Artists include:
 Barbara Kruger (born 1945, Newark, New Jersey, USA)
Barbara Kruger came to prominence in the 1980s with her provocative collaged photographs. The black, white and red 'paste-ups' feature cut-out slogans plastered across found images from magazines, posters and other media. Kruger confronts feminist issues and comments on corporate greed, power and excessive consumerism. She has become best known for the slogans, 'I shop therefore I am' and, 'Your body is a battleground'. The work in the exhibition, Untitled (You have searched and destroyed) from 1982 is a fine example of a prolific period in the aritst's career when she was establishing a growing reputation amongst international artists in New York.
Meschac Gaba (born 1961, Cotonou, Benin)
Meschac Gaba is an installation artist for whom money has been a consistent theme. Brasilian Bank (2006) features a collection of banknotes and coins, dumped into suitcases, bundled together, stacked and dangling from a stall that suggest a Benin village market. However, the artist actually bought the entire stall, a small portable 'bank' from a stallholder on the streets of Sao Paulo, and added the rest of the international currency, embracing, he says, 'Brazil as a multicultural country'.
Yang Zhenzhong (born 1968, Hangzhou, China)
Yang Zhenzhong became a leading figure in the emergence of video art in Shanghai following China's move to becoming a free-market state after 1989. The state's legalisation of privatisation resulted in the emergence of an art market in which Yang found himself able to experiment openly with new media. Yang's early photographic works are often humorous, capturing people in absurd situations in which helicopters or buildings rest upon their fingertips (Light and Easy, 2002) and acrobats balance in fantastic poses on bicycles (Cycle Aerobics, 1999 and Cycle Aerobics Level 2, 2005). Yang's celebrated work which is shown in this exhibition, Let's Puff (2002) also plays with the viewer's sense of space, in this case placing them directly between two screens which react to each other with perfect synchronicity. On one screen a woman appears to blow air at the image on the screen opposite, a panorama of Nanjing Road, a famous shopping street in Shanghai, which appears to zoom away in response to the woman's puffs.Jenny Holzer (born 1950, Gallipolis, Ohio)
Jenny Holzer uses text in her work to make strong statements about war, politics and social issues. She started her career as an abstract painter, but during the 1970s began working with text, printing words and phrases onto T-shirts, posters and billboards. She is best known for her text works that make use of light effects, specifically LED lights and projections onto buildings, streets and internal walls and floors. Purple Blue, Arno, Erlauf (2007) is an example of Holzer's LED work – a tall bar of LED letters. The title reflects the cacophony of voices running together, the colours of the letters and the Arno and Erlauf rivers. 
Józef Robakowski (born 1939, Poznan´, Poland)
Józef Robakowski was part of the first generation of Polish artists to work with video and became one of the pioneers of the form. His work is heavily influenced by the restrictions of practising under the oppression of Poland's Communist regime and he was banned from teaching, leaving the country or showing his work in Poland. His response was to create new and highly original works conceived 'in fear and hatred of criticism, with a desire to escape from it'. Always committed to constant experimentation Robakowski's work in the exhibition View From My Window 1978-99 (2000) is filmed over more than 20 years from his apartment building and is a reflection on time and mortality whilst also addressing the remarkable changes taking place in the Eastern Bloc during this period. 
Beat Streuli (born 1958, Altdorf, Switzerland)
Beat Streuli is a photographer, film and video artist whose work focuses on the swarming urban environment. He has filmed in cities all around the world including New York, Barcelona and Tokyo. Pallasades, the video in the exhibition, was filmed in Birmingham and is an example of how Streuli captures the ever-shifting crowd as they go about their day-to-day business. Streuli's characteristic use of slow motion creates a sense of intrusion and possibly even voyeurism on the part of the viewer, whilst reinforcing the sense of anonymity and isolation of urban living.
Mohamed Bourouissa (born 1978, Blida, Algeria)
Mohamed Bourouissa is an artist whose work explores social tensions, using photography, film and installation. After moving to France from his native Algeria, he grew up in 'les banlieues' – the poor suburbs of Paris that have become ghettos for migrant communities.  Bourouissa creates tense set-piece photographs featuring the residents and high rises of the suburbs.  His series, Le Périphérique, reflects both the name of the ring road around central Paris and the ways in which people are marginalised, physically and socially.  In Le reflet (The Reflection) a cinematic arrangement of discarded televisions seems both absurd and yet appropriate to the landscape.
Omer Fast (born 1972, Jerusalem)
Omer Fast makes films that question our assumptions about war, racism and bigotry, telling stories that combine both 'fact' (using real interviews) and fiction.  In his videos Fast uses a variety of actors who move in and out of the storyline, with the same character sometimes played by multiple people within an unclear timeline.  Fast's work can be seen as a comment on the inadequacy of the information we are given by traditional media about political and social issues and its claim to present a 'true' narrative.
Shilpa Gupta (born 1976, Mumbai, India)
Shilpa Gupta addresses problems of religious, ethnic and territorial division, with a particular focus on the recent history of South Asia.  Much of her work is concerned with partition, both in the historical sense of the 1947 Act of Partition that divided South Asia.  In There is No Border Here (2006), Gupta uses text to address the absurdities and impossibilities of segregating physical space on cultural and political grounds.  The flag-shaped text, made from barricade tape, speaks of lovers who try to cut the sky in half so that they have one half each, but the clouds keep pushing across, each territory keeps spilling into the other.
Amar Kanwar (born 1964, New Delhi)
Amar Kanwar  is a filmmaker whose works mix elements of documentary and travelogue with a complex and poetic visual language.  His films make connections between private lives and major historical events.  A Season Outside (1997) is an important early work and one of the artist's most celebrated films.  It begins at dawn along the demarcation line between India and Pakistan.  Cropped so the viewer is only partially aware of what is happening, groups of men step towards each other and seem to clash violently.  As the camera pans out we see that the men are simply passing goods back and forth at the border.  These moments are followed by scenes from the demarcation line, including the theatrical military rituals enacted by the Indian and Pakistani soldiers and images from other borders around the world.
Robert Breer (born 1926, Arizona)
Robert Breer is widely regarded as one of the pioneers of experimental film. With an interest in abstraction as a painter he soon started breaking down the geometric forms he painted and began filming each one in sequential parts. 66 (1966) is the first of a series of numerically titled films and is exemplary of the experimental films for which he is best known. The collection of 4×6-inch index cards on display emphasises how imaginatively small works on paper are able to break free from their constraints when filmed. Although an early film pioneer his use of abstract drawing and painting make these works highly contemporary.
Thomas Demand  (born 1964, Munich)
Thomas Demand has gained an international reputation for his large-format photographs of precise trompe l'oeill paper sculptures that reconstruct culturally loaded images. These images createra multi-layered separation from reality: a photograph of a sculpture of a photograph of a scene. Photo Booth (2009) is a perfect example of these elements at play. The viewer marvels at the gradual revealing of its structure and is intrigued by the questions raised, which suggests a disturbing political past.
Peter Hujar (born1934 New Jersey; died 1987, New York)
Peter Hujar was a central figure in the New York art scene. He photographed and documented the lives of his friends and acquaintances including Andy Warhol, John Cage and David Wojnarowicz. His work often documented life on the on margins of society and has strong links to the tradition of American social realism. Portraits in Life and Death, the only works known to have been exhibited in his lifetime, have attained extra significance and poignancy following the deaths of some of those he photographed and of his own early death to the AIDS pandemic.
Jitish Kallat (born1974, Mumbai)
Jitish Kallat creates vivid poster-like paintings on a large scale. He lives and works in Mumbai where his visual language is derived from the urban environment and the influence of advertising and propaganda billboards. In Sweatopia (The Cry of the Gland 11) (2010) the colourful figures and landscapes are made up of disturbing urban fragments making reference to the challenges of a city with a rapidly changing political and industrial landscape.
Ola Kolehmainen (born 1964, Helsinki)
Ola Kolehmainen's photographs are of modern and contemporary architecture, and concentrate on surface effects of light and shade. Shadow of Church (2006) shows the Selfridges store in Birmingham with the juxtaposition shadow of a religious nineteenth century church. This image, with its subtle layering of effects and purposefully high-gloss perspex frame reflecting the space in which it is displayed is a commentary on the political and cultural influences on the city. These layers of architectural history continue to fascinate the artist and influence his work.
Free Preview Event
Join us at our free preview event on Friday 9 October, 6.00-8.00pm. Free; no need to book. All welcome.
STOP PRESS: We are also delighted to announce that curator David Elliott will be talking about the exhibition at 4.30pm.  Tickets are free but booking is essential through Eventbrite or by telephoning the museum shop on 01772 905414.
The Dance First, Think Later programme is supported by: