Get on your Soapbox! 


Wednesday 22 September
11 am – 12 pm
Bob and Roberta Smith – Placard Making workshop at the Harris
Everyone welcome.
Bob and Roberta Smith uses text as an art form to create colourful, political slogans on banners and placards that advocate the importance of creativity in education and reasons why art is important.
Now it's your turn to make a statement!
Join Bob and Roberta Smith in this Placard Making workshop and use text or images to make your own statement about something you feel passionate about.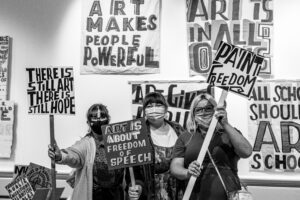 Free, places are limited so please book in advance to avoid disappointment.
To keep our visitors and staff safe we are maintaining Covid secure recommendations and we strongly encourage visitors to the Harris to wear face coverings when moving around the building.
All tools and materials are provided.
If you have booked a ticket and find you are unable to attend nearer the time please release your ticket for other families to use.
How much does it cost?
This activity is free. Spaces are limited. Booking essential.