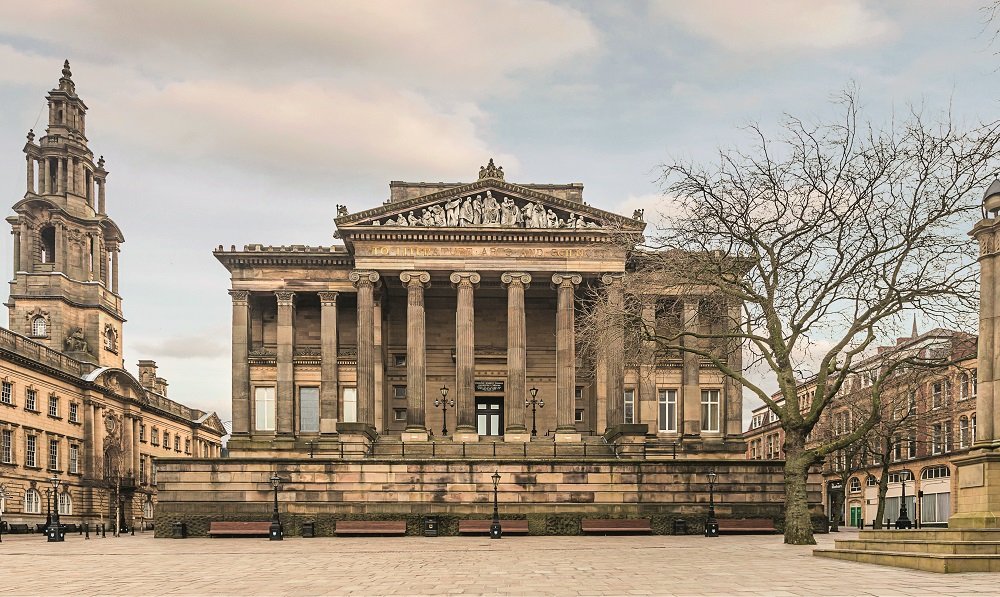 National Poetry Day October 2020
This year the theme is Vision
Image: Eugène Boudin (1824-1898), Deauville, 1893,
© The Samuel Courtauld Trust, The Courtauld Gallery, London
In 2018 we received the first of some very special loans from The Courtauld Gallery's world famous collection of French Impressionist Paintings for the Courtauld Connects project.
Ex-workers of the old courtauld factory in Preston chose this beautiful scenic seaside view of Deauville, a fashionable seaside resort in Normandy popular with 19th Century Parisian holidaymakers. It was painted by Eugène Boudin in1893, the same year the Harris officially opened.
When it was on display we asked people who enjoyed writing poetry and were inspired by the painting's theme of a day on the beach, and the Courtauld project, to submit poetry for World Poetry day 2018. We received some wonderful poems that we are delighted to share again for National Poetry Day 2020. The painting went on temporary display in the spring of 2018 and has now been returned to The Courtauld Gallery. There is still chance to see new courtauld loans on display until 14 October 2020.
A selection of poetry inspired by the painting
Pillows of clouds drift lazily in the summer sky
Warm winds ruffle the waves
I sit with the picnic basket
Out at sea the yatchs billow
Listing and turning in the breeze
Time stands still, calm and still
I wait for the tide to turn
The children to stop their splashing
The horses wait for the tide to turn
The bouts to bring their catch in
A moment, caught on canvas
EE
A Day on Holiday
Billowing clouds, serene and calm
A simple summers day
Blue sky and a sandy shore
To make us drift away
The boats that scatter in the breeze
And dance on waves of blue
Floating silently, lazily, sleepily
As if nothing else to do
A day for relaxing, dreaming, thinking
A day of complete joy
A holiday for mums or dads
And every girl and boy
Strange,
like seeing washing
left in the line
in the room
Like distant, old
friends and blue
clear water and
dark fog
What is Beauty?
Is it art or nature?
Only God can truly create
But what about mankind?
Do we notice what we see?
We can be trapped in the
Mean circumference of ourselves
Or, we can look out at
God´s creation
Wander, marvel, and try
Do copy Him ourselves!
Drifting into dreamy days
A gentle breeze and summer haze
Clouds sail by like cotton wool
The day is perfect, long and full.
Hello, my name is Philip
I am a poet, I wrote this poem just to show it
And I just turned 9, you can write
Poems but you can´t write mine.
Also the sea is nice
A day on't beach; the wind so bracing,
Need a wind break, away a-facing.
The sun´s appearing over´t cloud rim;
I´ll risk the the sea and take a cold swim.
TH, 2018
Oh how the clouds go down
What a wonderful day it is in beach town
Having a picnic on a rug
Find a rope the give it a tug
Sitting on warm comfy sand
Hope fully we don´t have to stand
Fish there are so Many we thought
We wouldn´t catch any!
Abi, 9 years old
The beach and the sand
What a wonderful land
The sun and the sky
Makes me want to eat a pie
Dip my toes in the sea
Now that´s for me!
Now, look up at the sky
I just really want to fly!
The hand that sweeps across the canvas
stroke on stroke
shifts with the tide
clouds fill the sky with artists breath
Each image grows from eye and hand
Arising from a sense of place
or deeper still an inner space
Man fat,
Top hat,
Fell flat.
Evie, 5
Deauville Past and Present
Deauville in Eighteen Ninety-Three
Exuding peace and tranquillity.
Under an azure endless sky, with golden sands,
Families entwining loving hands.
Half a century passed to Nineteen Forty-Four,
Did Deauville endure the horrors of war?
As brave young souls shed blood and tears,
To release the world from those tyrannical years.
Alas to the present day,
What would Boudin´s skills convey?
As plastics pollute on each ebbing tide,
Has the pristine world that he saw almost died?
Sky Pop
As the city blue skies pop
An outburst of expert
energy emerges into the
wide angled room
From which a delightful
sound echoed
As I entered the splendid
room of educatable splendid display
My inspiration furnished
to imagine that one day
that wonderfully framed
spot lighted art can be mine.
Sail Away
Sail Away today
With a slip slap slop (of the waves)
And a flip flap flop (of the sails)
The sky becomes me
I become sky
Heart, sea, clouds, sky
Just here, stay, no fly!
Free
Off I trot
To the seaside
Where the sun
Is hot.
Ships sail with
Ease
On the sea
In the breeze