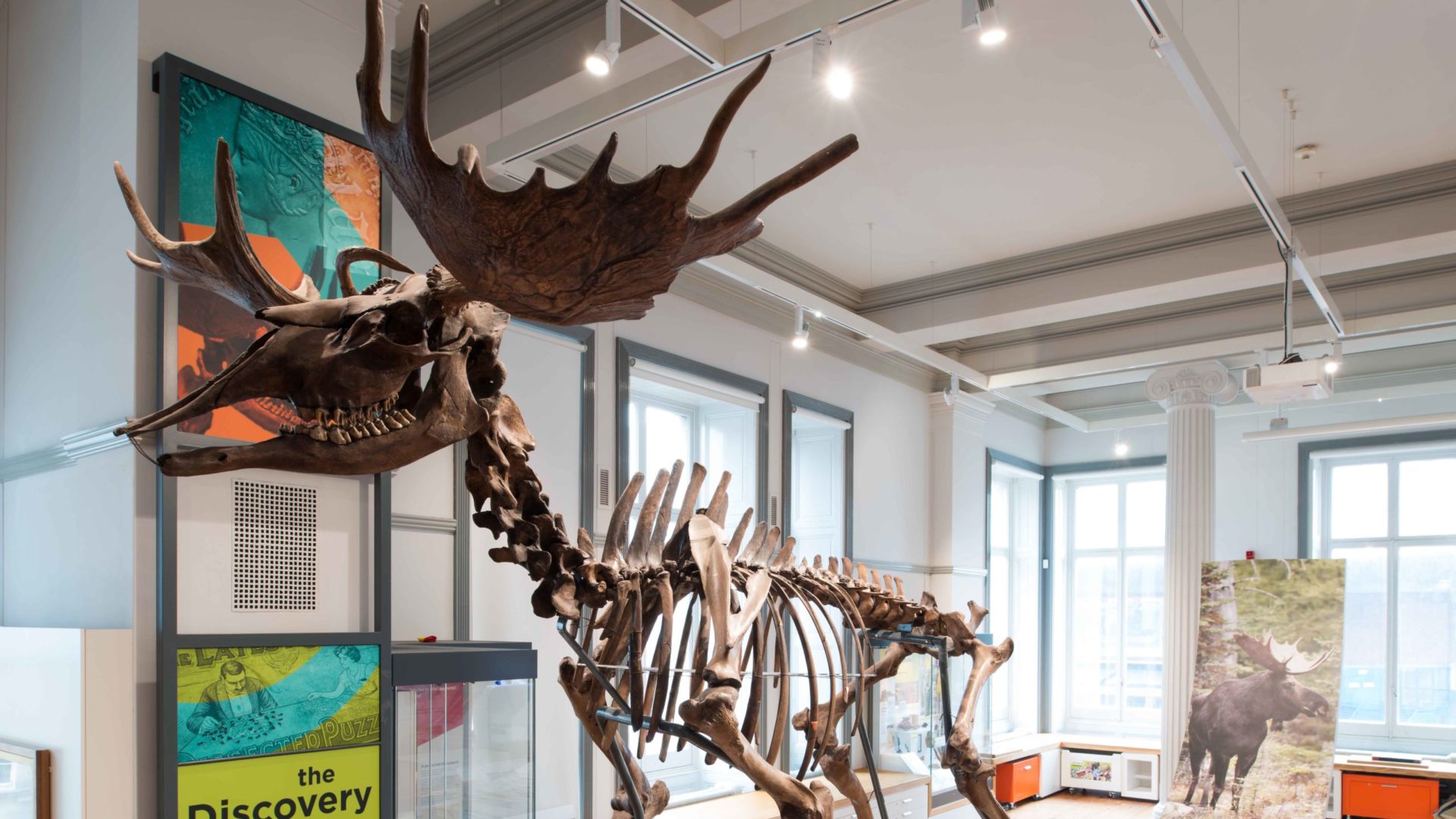 Guest blog: A Hands on Activity!
Chris Birkett from the Lancashire Archaeological Society writes …
In 2019 members of the Lancashire Archaeological Society (LAS) and some of their friends where provided an opportunity to handle objects from the Harris history collections not currently on display.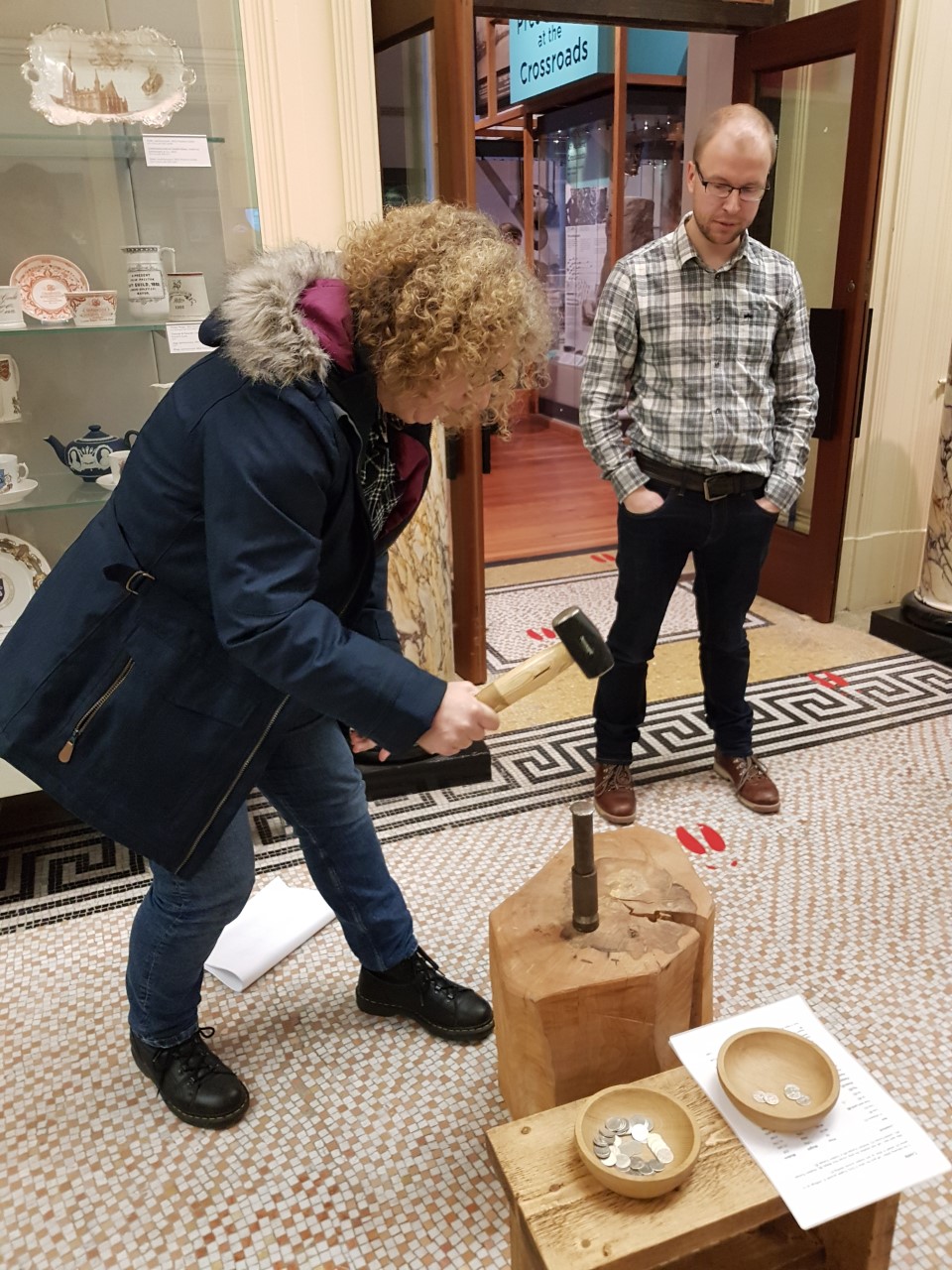 The session was expertly led for us by James Arnold, the History Curator at the Harris. He gave us a brief tour of the Discover Preston gallery explaining to us the rationale for what and where items are displayed and explained the plans for future displays.
He drew our attention to items of particular local interest. One such exhibit being an eroded decorated medieval cross slab, the base of which has the outline of a man's torso and legs carved into it and which still stands in the Rivington area, colloquially known as the Headless Boggart!  It is of Saxon origin having similarities to the crosses still standing in Whalley Parish churchyard.
Another exhibit was a silver Pyx, a container similar in size to a fob watch case which was used to contain the consecrated Host, a vital component in a Roman Catholic mass. The short tour concluded with the magnificent find of the Ice Age Elk: the skeleton prominently displayed in it's own section along with interpretative panels and authentic sounds effects!
James then led us to a table for our exciting opportunity to get up close and personal with a variety of prehistoric artefacts. We all were handed white gloves to wear as he carefully unwrapped our first object which was an Egyptian Shabti Doll – a funerary figure who accompanied the deceased to the after-life. The deceased was an individual who died about 2,600 years ago during Egypt's 26th Dynasty. The one we looked at was made of faience, a glazed ceramic material. Holding something from an Egyptian tomb was so thrilling and the other items  we were allowed to handle did not disappoint.
The next items were from British prehistory. We were shown and allowed to hold an unfinished Langdale axe and also fully finished axe made of tuff. What struck us was the weight of the axes and how powerful the person who wielded these tools must have been. The axes were accompanied by a flint scraper which was a fine implement perfectly designed for its job. We then moved on to Bronze and Iron Age artefacts. The state of preservation was wonderful. There was a bronze buckle and spearhead both exquisitely executed and also a wonderful brass dagger sheath with similarities to La Tene decoration found in Pilling Moss probably made in the 6th century B.C. Nothing is known of it's desposition. All of these objects have a story which we cannot know but we can only imagine.
The last artefacts we were allowed to handle were silver coins from the Cuerdale Hoard, the largest Viking hoard found in Europe. A couple of years ago our society had a guided walk to the site of the hoard and to actually hold part of it was so exciting and fulfilling. One coin struck for an otherwise unknown Viking leader called Cnut and the other was a Frankish coin recording the name of King Charles III – otherwise known as Charles the Fat – the grandson of Charlemagne.
To cap our afternoon off we were allowed to strike our own Viking Cuerdale coins with the aid of a mallet, the way they were actually made. The money-maker must have been fairly strong and probably deaf as this is a very loud activity.
This was such an interesting and informative session and one that LAS might perhaps be repeated in the future. Thanks go out to two LAS Committee Members, Gaynor Wood for organising this event and Jeanette Dobson for assistance in putting together this blog. Find out more about what LAS get involved with on their website here. 
James Arnold History Curator
'I really enjoyed taking the group around the Discover Preston Gallery and am pleased that they got so much enjoyment out of handling the items from our archaeology collection and striking their own coins. I hope to see them at the Harris again soon.'
Become a guest blogger like Chris and keep people entertained and informed throughout lockdown.  Please send to theharris@preston.gov.uk we would love to hear from you.
April 2020
Written by Guest Blogger Chris Birkett