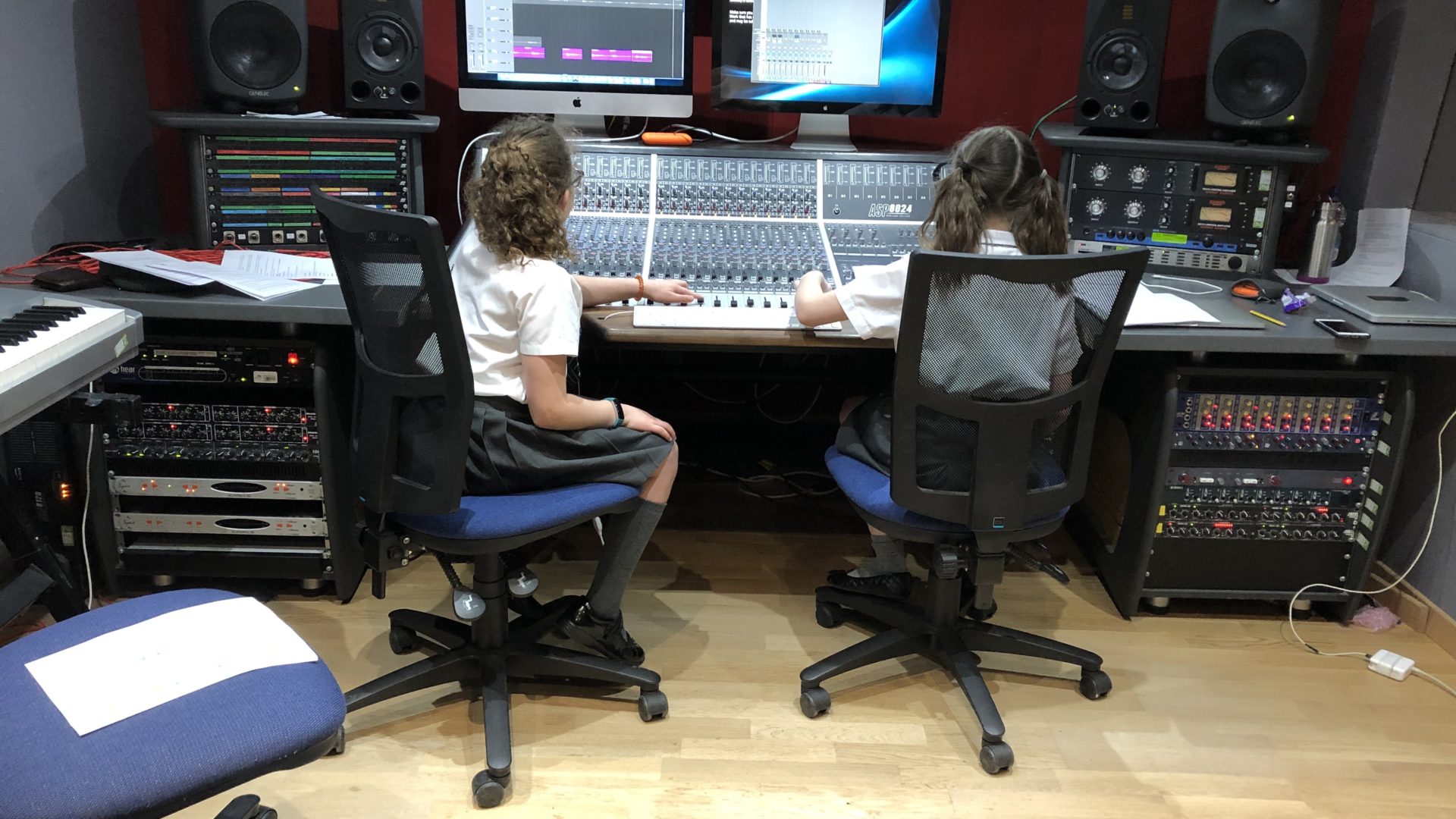 Behind the scenes! Taken in a few seconds /// By the reflection of light
Behind the scenes
Taken in a few seconds /// By the reflection of light is a solo exhibition by Abigail Reynolds presenting some of the oldest artefacts in the Harris collection. As well as an exciting array of artefacts, the exhibition also presents a moving piece, which brings the objects to life. This short film was narrated by Anya, Scarlett and Lorraine and is available to see on the exhibition page.
Below, Anya, Scarlett, Lorraine and Mrs Hindley from St Patrick's school share with us how they found the experience.
Lorraine
My name is Lorraine Hulme. I live at Clifton which is a small village on the outskirts of Preston. With the encouragement of my good friend Edwin I did an impromptu voice recording for Abigail Reynolds' new work for the Harris. To my surprise my local sounding voice was exactly what was needed!
Having never done anything like this before I didn't know what to expect. The recording took place at The Media Factory, UCLan. It's a large modern building and as I sat in the clean foyer looking up and all the different floors I felt a little out of my depth.
I stood in front of a microphone and became the voice of the Daguerreotype, the oldest photograph in the Harris collection. With Abigail's guidance we re-recorded me speaking louder, quieter and slower with different versions of her script. Until then I had given little thought as to how I spoke and hearing it back was unusual and exciting.
Taking my family to the Harris on the opening night was a very proud moment especially as the Mayor gave a speech for all the new exhibitions. I would recommend visiting and supporting the Harris to anyone as it is the backbone of Preston.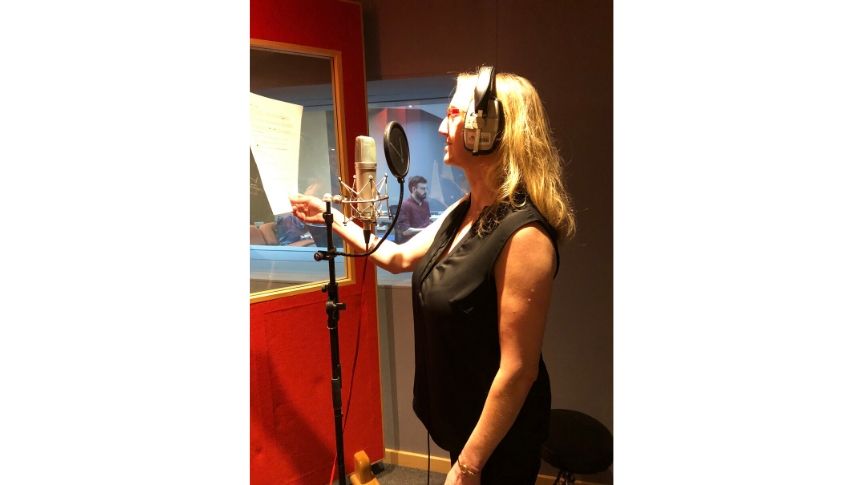 Anya
My experience at the Harris was amazing! I had so much fun. This was a once-in-a-life time opportunity and I got to do it with one of my best friends (Scarlett).  I was honoured to do this when Mrs Hindley asked if I wanted to.
Me and Scarlett took turns to go in a soundproof room and we read from a script called "Taken in a few seconds by the reflection of light".  I was filled with mixed emotions at this time; I was nervous at the start but I never wanted to leave!  I was filled with ecstasy. I had so much fun working with Nicola Hood, Josh Horsley and Abigail Reynolds.  They were so kind and friendly. We even got a tour in the cellar at The Harris. 
There were all sorts of books; some tall, some small.  Some of them were so precious they had to be put in safes and you had to use gloves if you wanted to touch them.  I will never forget the day when I was asked to do such a magnificent thing like that.  Overall, this experience was fantastic.  Thank you to everybody who took part.

Scarlett
My experience with going to the Harris museum felt absolutely incredible when I first got asked by my teacher Mrs Hindley. I had never been asked to do something like this before so I was very excited and a tiny bit nervous.  When I was going to the Harris with my friend Anya and my teacher Mrs Hindley, I didn't expect to meet such kind, welcoming people there. Abigail Reynolds, Nicola Hood and Josh Horsley were extremely friendly.
Being in the recording studio was an extraordinary feeling of excitement and lots of other mixed emotions. This is also what I felt when I got to go down into the cellar of the Harris Museum where all of the really old books were kept and there was even some extra special books  that were kept in locked safes because they were so old and too precious to touch. 
I enjoyed my experience of going to the Harris; I feel honoured for being able to experience a once-in-a-lifetime opportunity like that.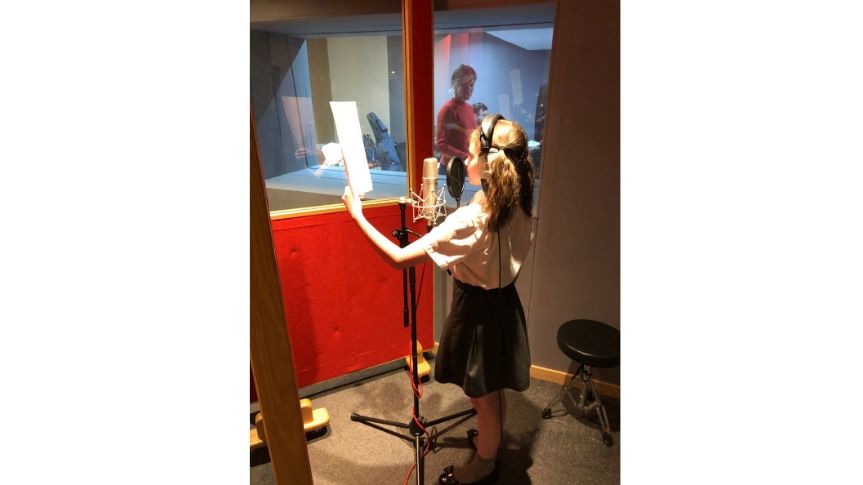 Mrs Liz Hindley – teacher 
I first saw a tweet from the Harris asking for local voices to become the voices of artefacts at the Harris.  This seemed like a fantastic opportunity to be included in the history of the Harris, which is such an iconic building.  When I shared with Abigail Reynolds that I was a primary school teacher, this sparked a conversation about an idea that she had regarding using the voices of local children.  I reassured Abigail that we had fantastic readers at St. Patrick's and that I would find her a couple of children to help her with her project.  At school, we are always seeking out ways of bringing our curriculum to life and giving the children "real" experiences and this was second-to-none.
Anya and Scarlett were chosen following delivery of an assembly where they spoke with wonderful intonation and fluency.  The girls were thrilled and excited to be asked to record their voices for Abigail to consider.  Abigail agreed with me that the recordings I took of these girls showed great potential and lovely reading voices, even though they were both only 10 years old!
Seeing the girls in the recording studio, working with professional artists and sound engineers, made me a very proud teacher, but not as proud as the day the exhibition opened.  Anya and Scarlett were joined by their families and hundreds of other important people for the opening of the exhibition.  The mayor was there with his big gold chains and there was champagne and a lot of speeches.
Once the exhibition was declared officially open, we saw the film linked to the exhibition for the first time and had the exciting thrill of hearing Anya and Scarlett's voice, bringing the artefacts of the Harris to life.  We sat through the film twice to fully absorb the content.  Abigail had done an amazing job and St. Patrick's school thanks her for including our children in this work.  This was a huge opportunity and has made us all realise that even the youngest children can collaborate in developing important works of art.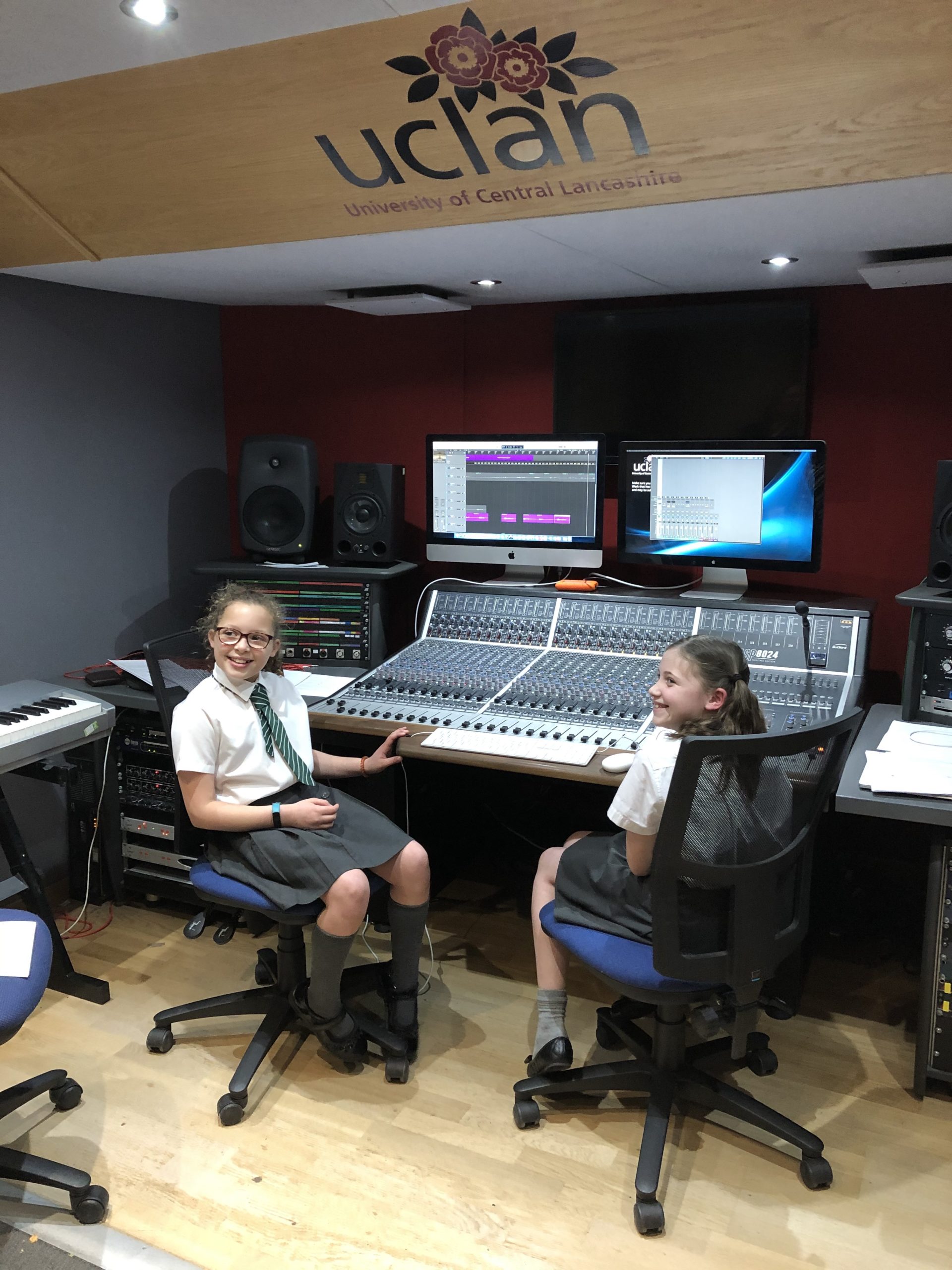 We have digitised this exhibition to make it accessible while the building is temporarily closed. Keep an eye out on our Facebook, Twitter and Instagram for more information about each artefact.
May 2020
Written by Guest Bloggers