Inter Faith Week – New Readings
To celebrate Inter Faith Week 2022, our aim to inspire a dialogue with art and audiences. We've caught up with Fareda Khan who has selected a few artworks and objects from the Harris collection to initiate the conversation by exploring key themes of faith and identity.
Guest blog written by Fareda Khan, Art Curator, Theatre Producer
As a curator, I find that art is a conduit prompting us to reflect on our lives internally and externally, enabling us to find meaning during a process of exploring broader aspects of our existence. To me, art is cognizance, a means of comprehending our multiple realities and intersecting the realm of the imagination.
This moment of reflection and connectivity harks to a time when as a child growing up in Preston, I would make numerous visits the Harris Museum and Art Gallery. There were a number of artworks I appreciated for different reasons that provided me with a senses of peace, self-reflection, belonging and escapism, forging lasting and happy memories.
For Inter Faith Week, and as part of the forthcoming Under the Crescent Moon exhibition, I have delved into the collections to explore some artworks that resonate with the theme of faith and identity to foreground diversity in creative practice and to encourage active audience participation. I selected some artworks looking across the different aspects of the Gallery's collection from the range of artists, period and subject matter to provenance as well as styles.
The following works were selected during this process:
Her Head, Dhruva Mistry 1986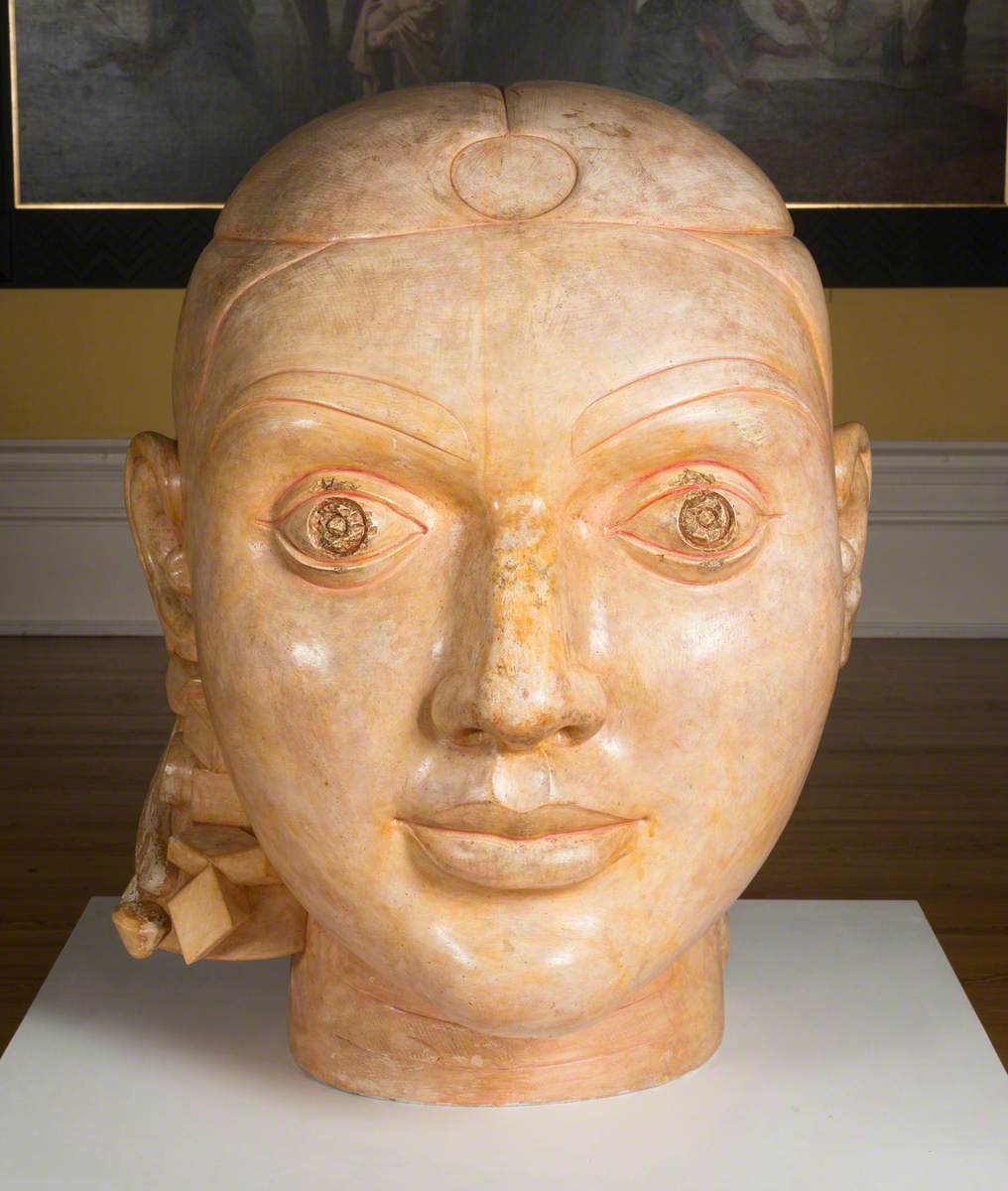 This sculpture feels iconic, placed in such a prominent position almost became part of the fabric of the building, traversing geographies by referencing the existing Egyptological architectural vernacular, yet also a nod to a distinctive South Asian aesthetic and identity. The salmon pink hues come from the shellac resin, produced by the female Indian "lac" bug. It's a natural process where the parasitic insect attaches itself to a lac tree sucking its sap and secretes the resin. It was one of the few artworks on display that seemed to connect visually to a world outside of European art.
Her Head, in all her majesty assumes a bold stare, raised eyebrows and with the textured and contoured plaited hair and constructive style ear ornament, observing the visitors intently with a faint playful smile.
Interior of the Grand Mosque Damascas, (1873-75), Frederic Leighton
Photo credit: Bridgeman Images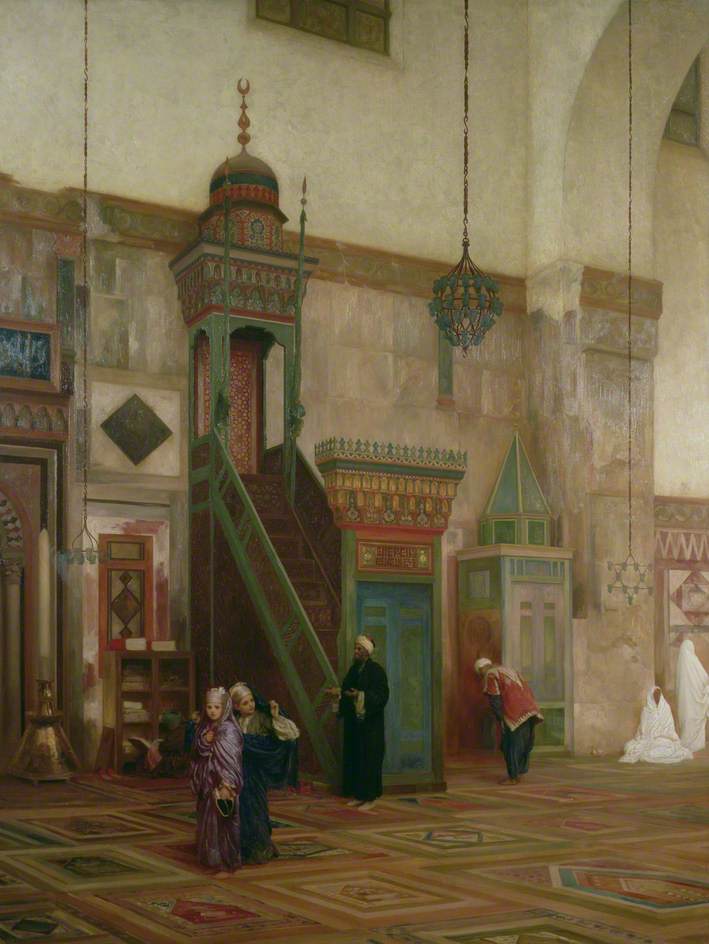 This painting evokes my interest in the subject matter and the artist. Frederic Leighton was an artist as well as an extensive traveller in the Victorian period. On his trips to Turkey in 1867, then Egypt and Syria in 1873, he collected textiles, pottery, tiles and other objects, which were displayed in an exquisite extension built in "orientalist interior" style to his home in Holland Park, London, known as The Arab Hall. The 16th – 17th century tiles originated in Damascus are considered an important historical collection.
Leighton was a complex man, whose sense of belonging was questioned, as he was considered 'not very British' by some of his contemporaries. He admired Islamic culture in an extract of his letters, he wrote,
"Eastern manners are certainly very pleasing, and the frequent salutations, which consist in laying the hand first on the breast and then on the forehead, making the same slight inclination, are graceful without servility"
However, in this painting of the Umayyad Mosque's prayer hall, he makes an error.  Glimpsed on the far left of the painting is the mihrab, a niche, which points worshippers towards Mecca. Leighton instead makes the pulpit as a central focus as it is in a Protestant church.  
Resurrection, Hill of Zion, Stanley Spencer, 1946
© the estate of Stanley Spencer. All rights reserved / Bridgeman Images. Photo credit: Bridgeman Images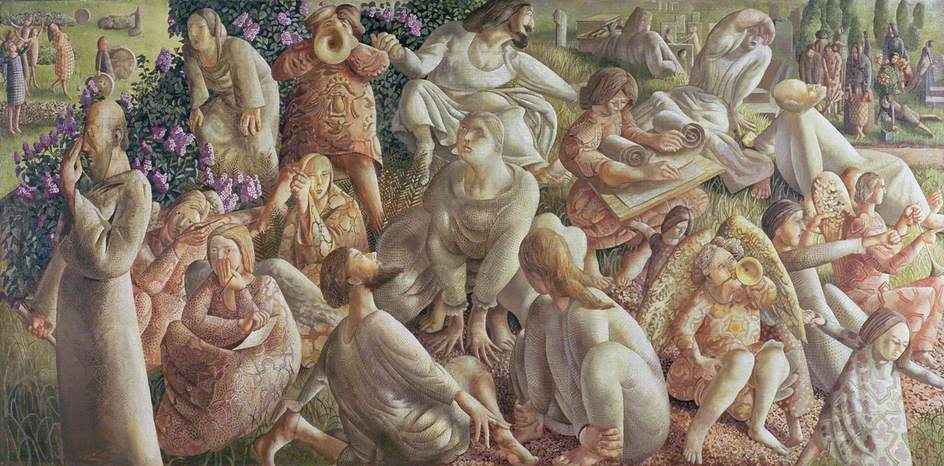 Ressurection, Hill of Zion is a very evocative painting by Stanley Spencer, who was the official war artist at the time.  The chaos and disorganisation around the figure of Christ to me indicates the disorder and pain surrounding that period in history. Engulfed by a sense of sorrow, regeneration and resurrection, the painting creates a feeling of discomfort and hope. His biblical and multi-figure scenes capture horror and rebirth. He had witnessed loss during the time and at only 5′ 2″ tall, he served in the Royal Army Medical Corps in the First World War and then joined the infantry on the front line. He lost all his sketches during this time and had to draw from memory for a war memorial commission afterwards.
Spencer's artworks often express his Christian faith, and as a deeply religious man, painting brought him closer to God. His sense of belonging was apparent as the rural backdrop of some of his biblical scenes was set in Cookham, Berkshire and he featured the local inhabitants as subjects. He had a deep-rooted affiliation to his birthplace. His friends had named him "Cookham", which he referred to as "a village in Heaven".
Study for Sultan, Bridget Riley, Gouache and pencil, 1983
© courtesy the artist and Karsten Schubert, London.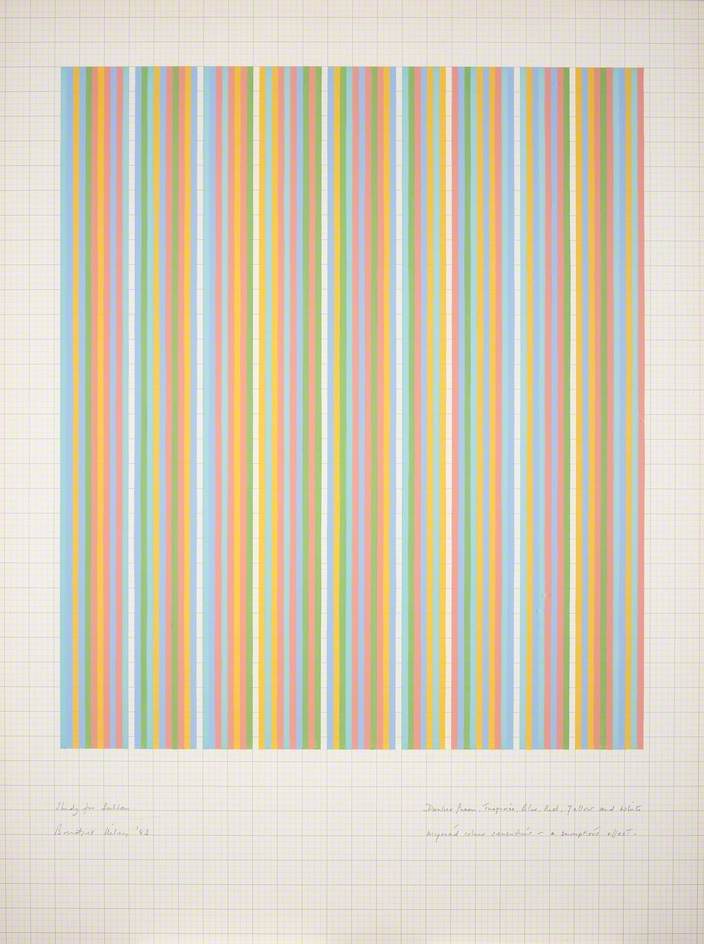 Study for Sultan, was created after being inspired by her visit to Egypt in 1981, a journey from Cairo to Luxor via the Nile Valley. She was inspired by the stunning colours around her and imbibed by the vivid ochre from the desert and verdant green from the lush landscape, and red from the local bricks. Known for her innovation in Op art and her use achromatic colours (black, white or grey), Riley's use of colour in this artwork and the inspiration from Egypt also reminds me of the connection to the precision of Islamic geometric art and pattern. The distillation process and rhythmic maths to create linear simplicity are mesmerising.