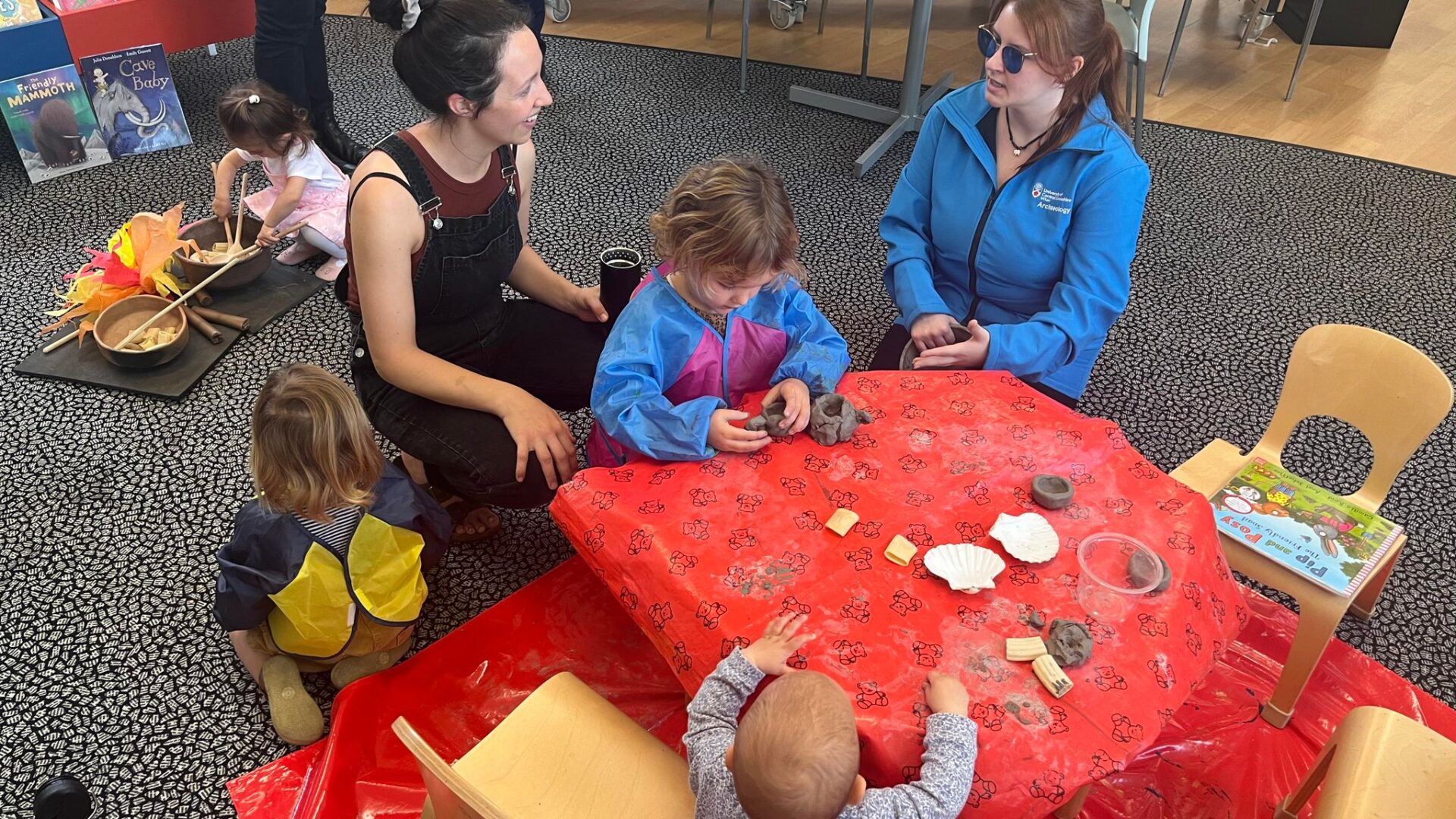 The Harris and The University of Central Lancashire: Toddler Sessions in the Community
The Harris and The University of Central Lancashire Toddler Sessions in the Community
Since February, The Harris and The University of Central Lancashire (UCLan) Public Engagement team have been working together to deliver 15 activity sessions for children aged 0-5 and their parents/carers to enjoy. This has taken place across 3 venues around Preston that serve their local communities: Ingol library, Ribbleton library and St Matthews Mission.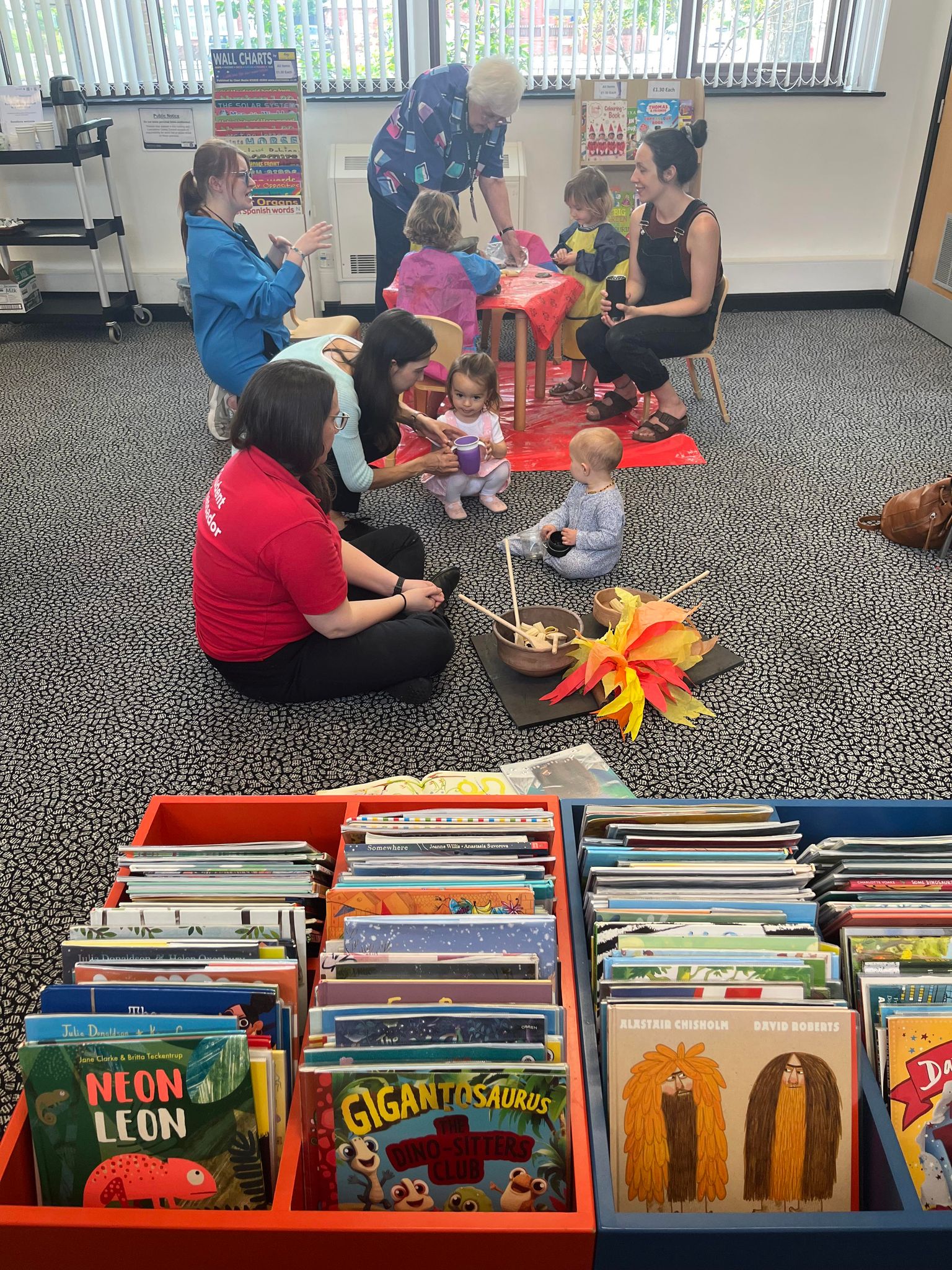 Since The Harris is closed until 2025, we want to ensure that Preston's communities still get to engage with our collections or learn a little bit more about us! Families are a big audience for museums – we love hearing all of your memories of family days out at The Harris. This has been a great opportunity to encourage collaboration and forge lots of new connections between the community venues, their visitors, UCLan staff and student ambassadors, Harris staff and volunteers.
Alessandra Frau, UCLan's Senior Public Engagement Officer says: "This project was about creating activities based on links between our research at UCLan and The Harris' collection. I had a lot of fun looking for possible links, liaising with academics and linking them with colleagues from The Harris, and seeing all the ideas flourish and the activities take shape. The challenge to make the content engaging for parents/carers and children and age appropriate was taken with enthusiasm, and I am proud of the amazing activities that have been created and thankful for all the efforts."
Each month brought a new theme for the activity sessions:
Art in February: 'A Golden Dream' by Elaine Speight Reader in Curatorial Practice and Place and Krissi Musiol Lecturer in Contemporary Theatre Design from the School of Art and Media.
Inspired by the ideas of caring and nourishment, paintings that featured apples from The Harris' collections were chosen and put on display in the venues. Having real apples to eat, smell and play with created a sensory experience for the children and they also got to have a go at printing with paint using the apple halves!
Maths in March: 'Exploring shapes in art and life' by Davide Penazzi and Kevin Bowman, mathematicians from the School of Natural Sciences 
Adults and children were encouraged to experiment with what shapes and patterns they could make out of polydron tiles (2D shapes that can fold up to become 3D shapes). We used images of The Harris' mosaics and John Somerscales' painting 'Pyramids at Giza' to see where shapes occur in everyday life.
History in April: 'Playtime in the past' by Keith Vernon, a historian from the School of Humanities, Language & Global Studies 
In this session, children had the chance to dress up in some Victorian-style costumes made by our talented Harris volunteer, Peggy. This was by far the most popular activity! The children loved playing with tea sets and being able to recognise that they looked the same as the children in 'A Tea Party' a painting in The Harris' collections.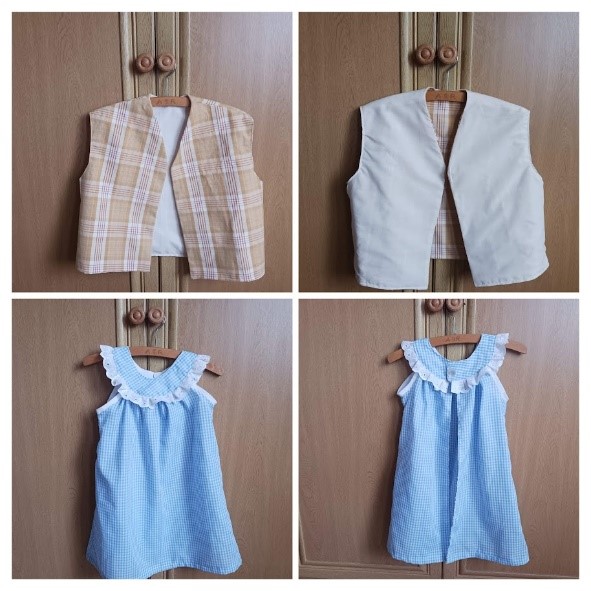 Archaeology in May:
'Potted Prehistory' by Rick Peterson, an archaeologist from the School of Natural Sciences 
May saw a joyfully messy session with children, parents and carers playing with air-drying clay in an attempt to create their very own pinch pot. Sat round a crackling 'fire' with some replica pots, the children could let their imagination run wild whilst 'The Friendly Mammoth' was read to them.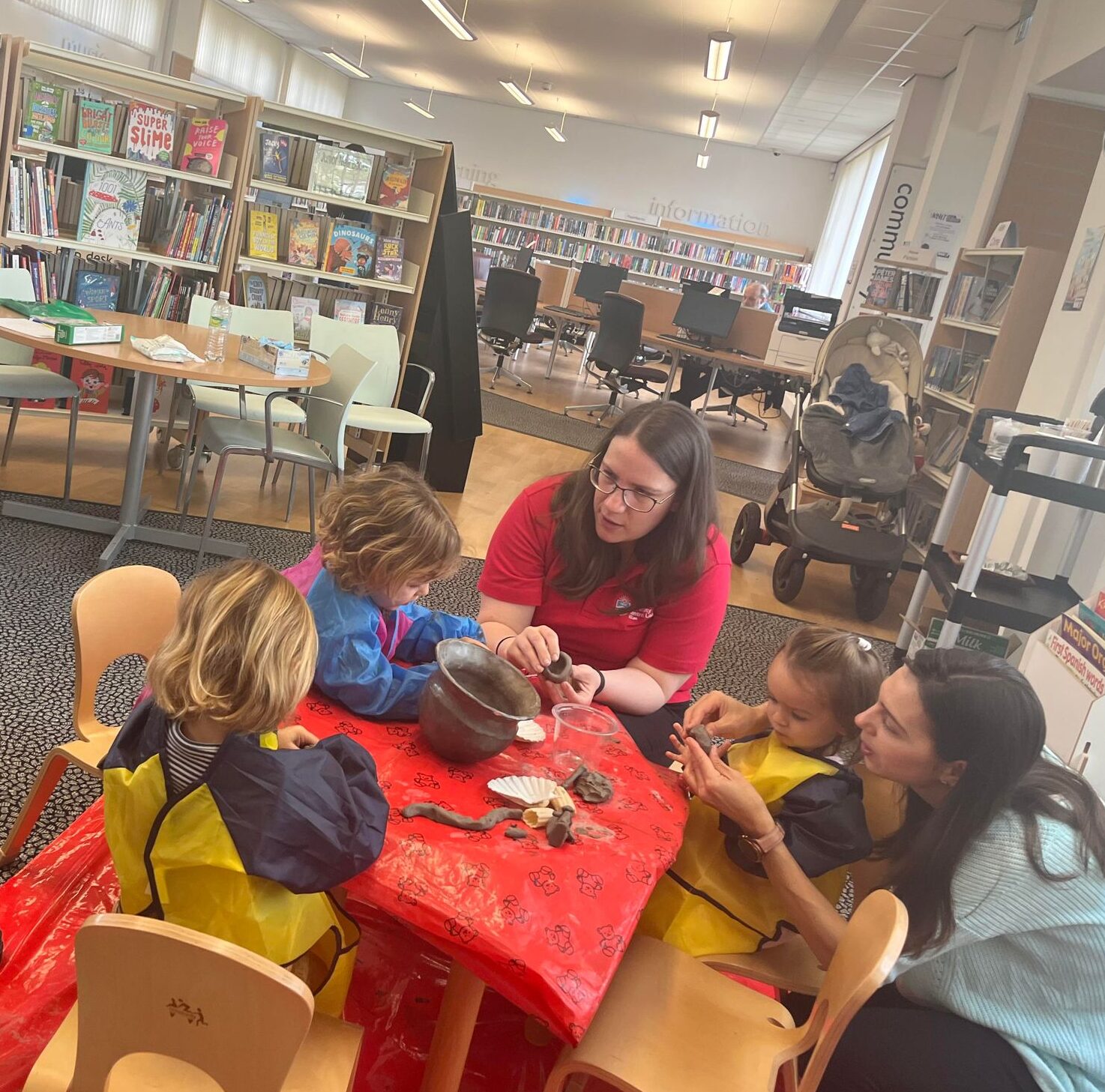 Poetry in June:
'Trees for Toddlers!' by Yvonne Reddick, a poet from the School of Humanities, Language & Global Studies
Using Yvonne Reddick's poems on trees as inspiration, the toddler group were introduced to real leaves and twigs from an oak, willow and apple tree. This was another sensory experience: to look, feel, and hear the crunchy leaves, then to paint and use them to make prints.
"The input of my colleague Anna Graham with her expertise in early age was invaluable. The sessions were run by UCLan students that were supported by volunteers from The Harris; both were trained by the academics that created the sessions. The students' and volunteers' work was outstanding and their feedback was always sought and taken into account to improve the activities, as they came with their own previous experience and acquired unique insights during the sessions. Also key, was the input of the venue coordinators, their thoughts and support helped us to improve and to make this a winning project. Last but not least, was the contribution, enthusiasm, and constant support of the colleagues from The Harris: Amelia, Dawn, and Kyra."– Alessandra Frau.
This is not the first time that The Harris and UCLan have worked together, and it certainly won't be the last, as we plan to run the toddler sessions all over again in Autumn! Check out our future 'What's On' Guides and social media posts for more updates and confirmed dates.
Not only were the sessions popular with families but also with our Harris volunteers! We were lucky to have such a dedicated team; Ann, Nikki and Yana helping to run sessions every week.
New Harris Volunteer, Nikki, says: "The project was an ideal first volunteering role for me on a number of levels.  As a former teaching assistant, I was able to use my experience of working with children and one of the libraries I went to was in my local area.  The project ran for a number of months, enabling me to get to know other Harris volunteers and UCLan student ambassadors. Finally, it was great fun and a good introduction to some of the Harris' paintings/artefacts."
Become a Harris Volunteer
Are you over 16? Looking to gain skills and experiences in the arts sector? Wanting to get involved in the community? Sounds like you'd be a great Harris volunteer! We encourage all ages and abilities to get involved with us. We are looking to diversify our volunteer cohort to better reflect the diverse communities of Preston. Age, ethnicity, sexuality, socio-economic status and disability should not be a barrier to getting involved.
To find out about current opportunities and sign up as a volunteer, visit our Harris Volunteers webpage: Harris Volunteer Makers
Harris Your Place

Harris Your Place is a £16 million project set to restore and reimagine the Harris for 21st-century audiences as a cultural learning space. The aim of this project is to protect the building and the architecture for future generations whilst enhancing accessibility options and positioning the Harris as a community hub for Preston and Lancashire.
The capital project is more than simply preserving this much-loved building; Harris wants to ensure that it remains a vibrant heart of the community. A place where people want to spend their time.