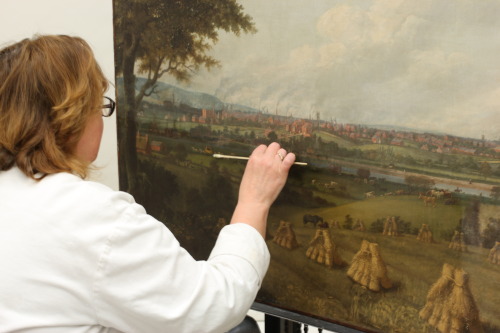 Friends of the Harris and Art Aid help save Preston Painting
Friends of the Harris and Art Aid help save Preston Painting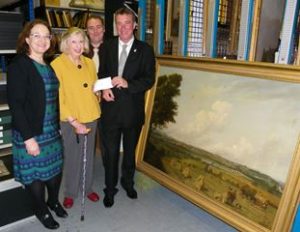 The Harris Museum & Art Gallery has won financial support from a locally-based charity to help bring a 194-year old work of art back to life.
Art Aid has donated £1,000 to help conserve the painting, 'View of Preston from Penwortham Hill' which was painted by artist John Jenkinson in 1821. Without specialist treatment the painting will decay and the image will be lost forever.
The oil on canvas work is currently housed in the Harris Museum's art store awaiting conservation, but curators are now optimistic that it will be back on display in 2016.
The picture shows Paul Smith (Art Aid) presenting the £1,000 cheque to Greta Krypczyk-Oddy (Friends of the Harris), watched by (far left) Alex Walker (Harris Museum) and Tony Peers (Art Aid).
The painting shows a sunny harvest scene in the foreground while across the River Ribble and Penwortham Bridge looms the onset of industrial Preston, with its rapidly expanding streets of houses and mills. It is a unique historic view of Preston as a new industrial city with countryside all around, including sights we would recognise today like St. John's Minster and Avenham Colonnade.
Greta Krypczyk-Oddy, Chair of the Friends of the Harris, the charity which led the fundraising campaign, said: "We are indebted to Art Aid for this show of support, particularly as the gift has been raised through the sale of donated art at charity exhibitions. Following a very successful public donations campaign it means that we can now go ahead with conservation work so that the painting back on show next year."
Conservators at Lancashire County Museums Conservation Studio are on standby to give the painting the special care it desperately needs. They will:
• remove discoloured varnish, old retouching and overpaint
• patch damage with synthetic fabric and adhesive, and strip line edges
• fill and in-paint areas of paint loss and then re-varnish the painting
• provide a new frame backing board and non-reflective lightweight glazing
Cllr Veronica Afrin, Executive Member for Culture and Leisure at Preston City Council, which owns and manages the museum said: "We are delighted and grateful that Art Aid have been able to provide the final funding the museum needs to go ahead with the conservation of this important work of art and would also like to thank all the members of the public who donated. Once on show it will be seen by hundreds of thousands of local people and visitors to Preston, telling the important story of Preston's industrial development, including for school children and other community groups."
Art Aid is based in Longridge and was established last year to assist charities and worthy causes home and aboard to increase awareness through holding art exhibitions across the UK.
Art Aid Trustee, Paul Smith, says, "We have already supported many local causes like Derian House Children's Hospice and Furniture for Education Worldwide and it is great to be able to help the Harris Museum & Art Gallery in their invaluable work."
Art Aid was established in 2014 and is registered with the Charity Commission (No 1155349).
Art Aid strives to assist all charities and worthy causes – home and abroad – to raise awareness through the holding of art exhibitions and the sale of donated art across the UK.
Every charity, local, regional, national or international, can benefit from a working partnership with Art Aid, and the support of individuals and groups –
particularly schools and colleges – with a passion for art is encouraged.
Although still in its infancy, Art Aid has already helped support the following charities:-
Furniture for Education Worldwide
Safe Africa
Derian House Childrens Hospice
Unicef
Headway
Memusi Foundation
Liverpool Heartbeat
W: artaiduk.org
Email: admin@artaiduk.org
March 2016
Written by the Friends of the Harris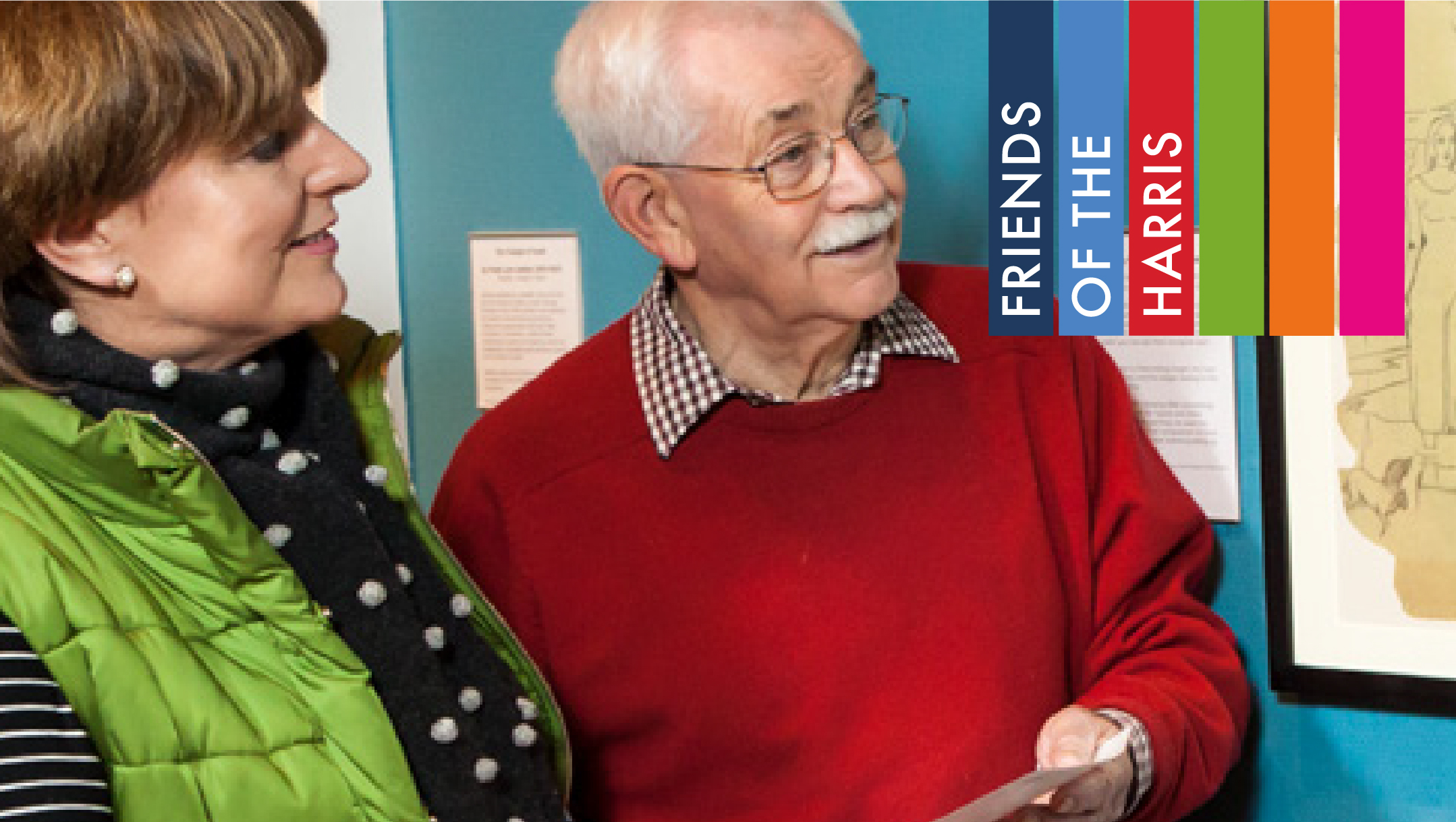 Get closer to what we do and support the Harris by joining our Friends
Meeting artists, authors and curators
Invitations to private views and special events
Advance information and priority booking
Plus much more!
JOIN TODAY