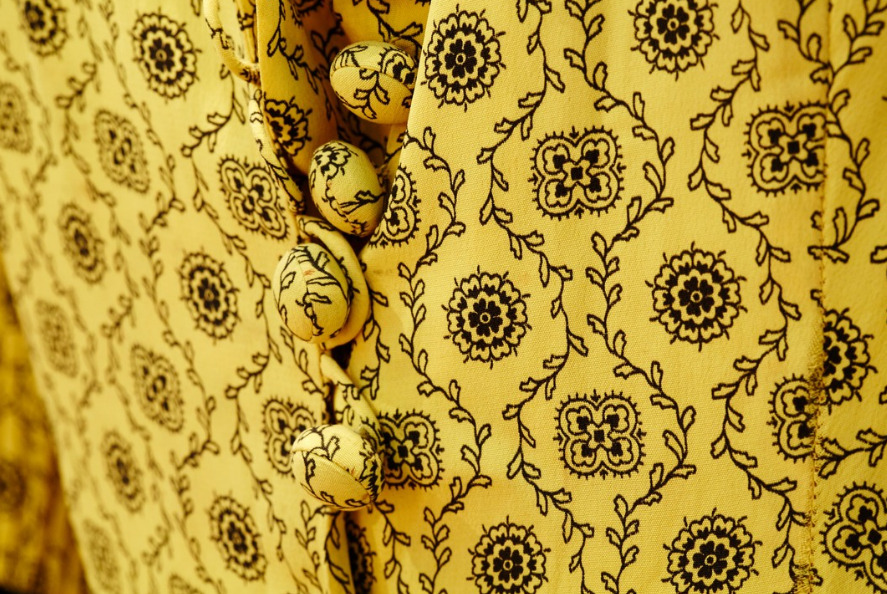 13 Collections In The Harris' Fashion Collection To Mark Our 130th Birthday
13 Collections In The Harris' Fashion Collection To Mark Our 130th Birthday
The Harris is home to an extensive fashion, textiles and costume collection, carrying a wide variety of fashion accessories, including shoes, hats, handbags, fans, jewellery, hair accessories and purses. You will also find a large collection of historic eyewear including spectacles from the 1700 and 1800s in the collection. Many garments and accessories have strong connections with Preston and were made or worn by local people. So let's take a closer look at some of these special items.
Let's start with this beautiful Horrockses Fashions full-skirted evening dress with a strapless, boned bodice, full-length skirt and matching sash. It's made from printed cotton, and we love how the blue/green iris designs complement the white material.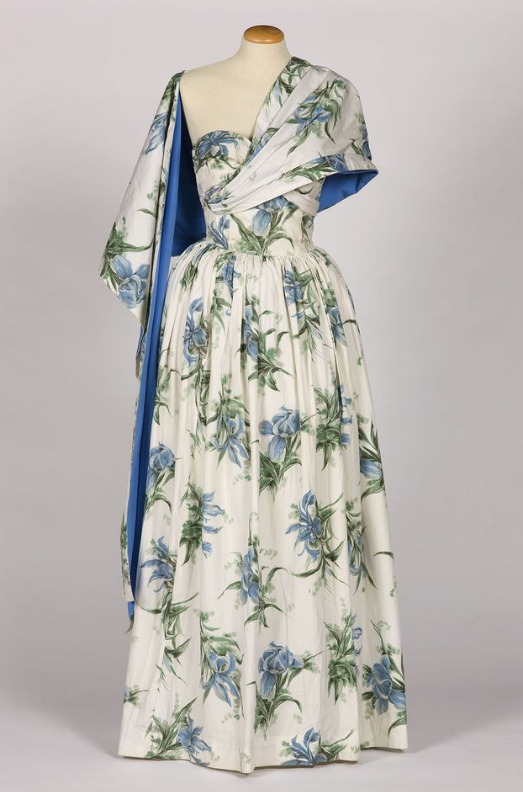 This pretty pink cotton halter neck sun dress is printed with a yellow and white tulip pattern, it also comes with a matching bolero and belt. Designed by Joyce Badrocke, who was the in-house designer for Horrockses Fashions, this particular Horrockses fabric print in blue was chosen by Queen Elizabeth II for her 1953-1954 tour of New Zealand. The donor purchased her version of the dress at Nottingham House on Fishergate in Preston in 1954 to wear for her honeymoon.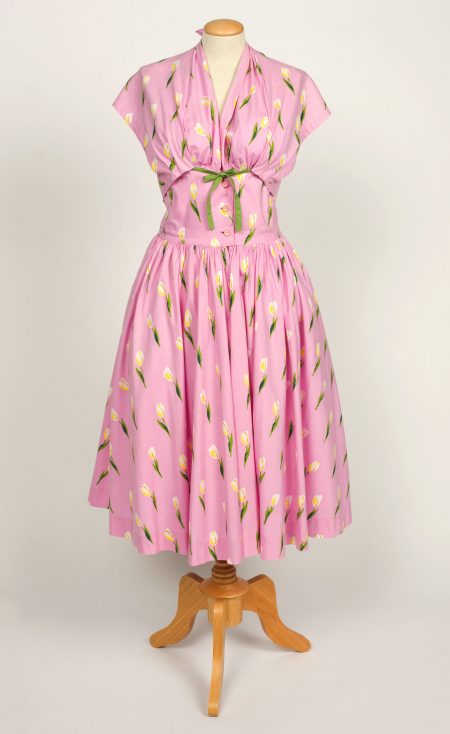 A popular skirt people dream of wearing in our collection is this lovely pink silk Gucci skirt which belonged to Dr Nicholson, a local doctor at Preston Royal Infirmary. She bought the brightly coloured floral plant pot pattern skirt while on holiday in Italy in the 1990s. Dr Nicholson donated several other of her fashionable garments from the 80s and 90s to The Harris fashion collection.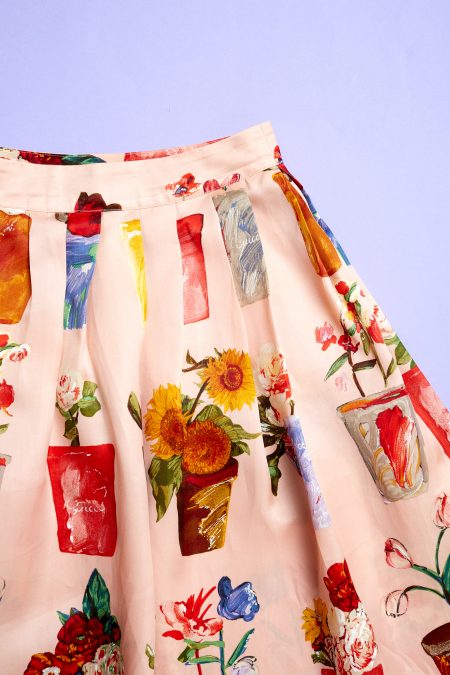 These bright red shoes were part of Vivienne Westwood's 'Cut, Slash and Pull' collection for Spring/Summer 1991. Supermodel Naomi Campbell famously fell over during a fashion show while wearing a pair of blue Vivienne Westwood platform shoes, but Lancashire girls are made of stronger stuff! The donor of these shores wore them for nights out dancing in Preston and Blackpool.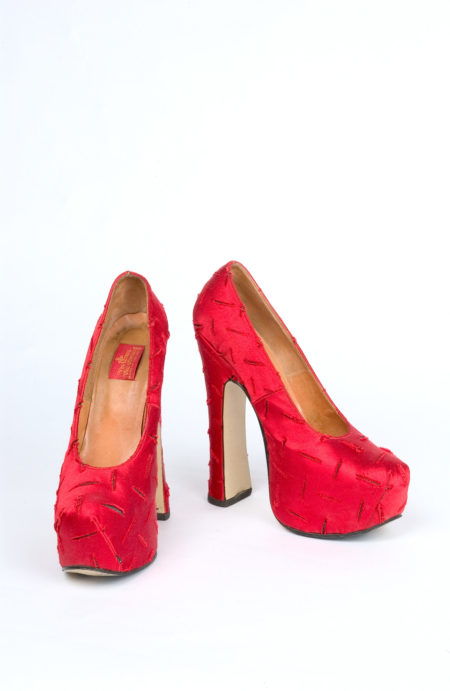 A favourite dress of many visitors is our beautiful Horrockses Fashions floral dress which would certainly make you the belle of the ball. Purchased from Cresta, this dress was bought originally to wear at a dinner dance on the 4th of April 1959.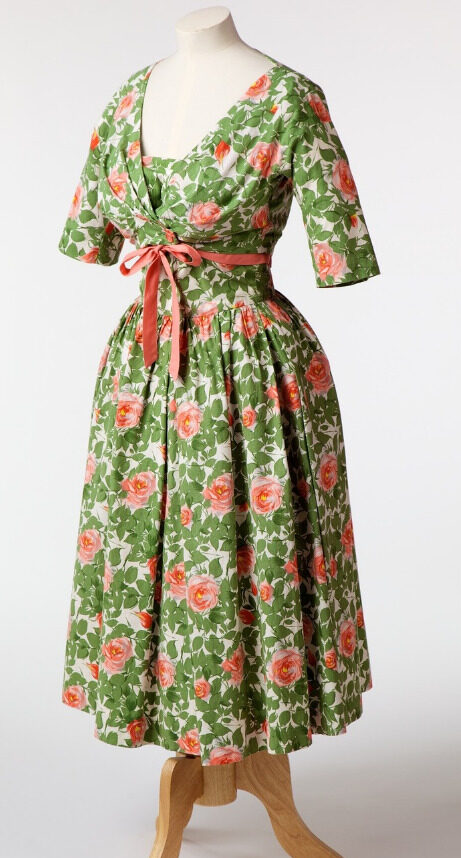 A much-beloved dress in our collection is the famous outfit worn in the painting 'Pauline in the Yellow Dress' by Sir James Gunn. The original garment was given to The Harris in late 2006 by the Gunn family and has been a welcomed addition to The Harris collection after conservation at Lancashire Conservation Studio.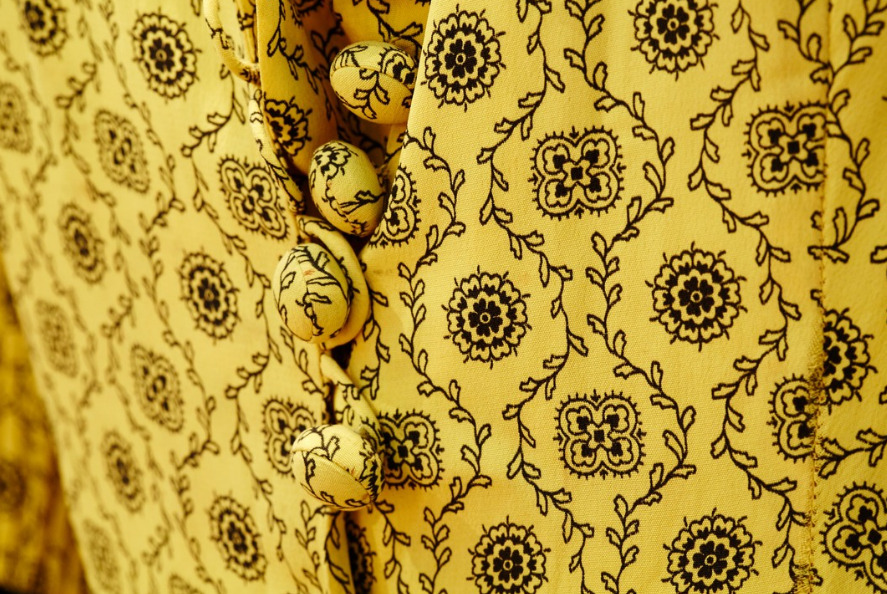 A classic staple in our collection is this man's waistcoat is made from a type of fabric known as a fancy silk because it showcases all the fancy effects textile manufacturers could achieve in the mid-1800s – as technology became more sophisticated. Combined with its neatly tailored shape and high collar, the original wearer of this waistcoat must have cut quite a dash. The Harris has examples of men's clothing and accessories from the 1700s to the modern day – but the largest part of the collection is men's waistcoats from the 1800s.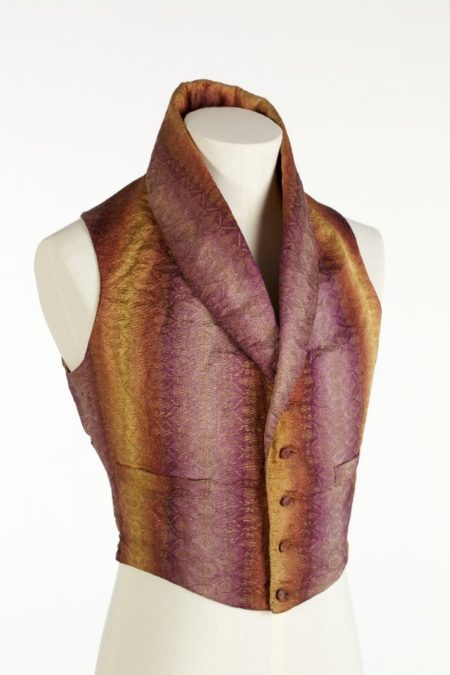 Here we can see a Robe and Skirt in Spitalfields Silk where the design of this floral silk is typical of the 1740s, although the style of the outfit reflects 1760s fashions. It was typical for clothes inexpensive materials like silk to be unpicked and re-sewn into more fashionable styles. Most of The Harris's fashion collection dates from the 1800s but we have significant examples of earlier clothing. Alongside this Spitalfields silk dress, these include a pair of men's red embroidered slippers from the 1620s and men's clothing from the 1700s.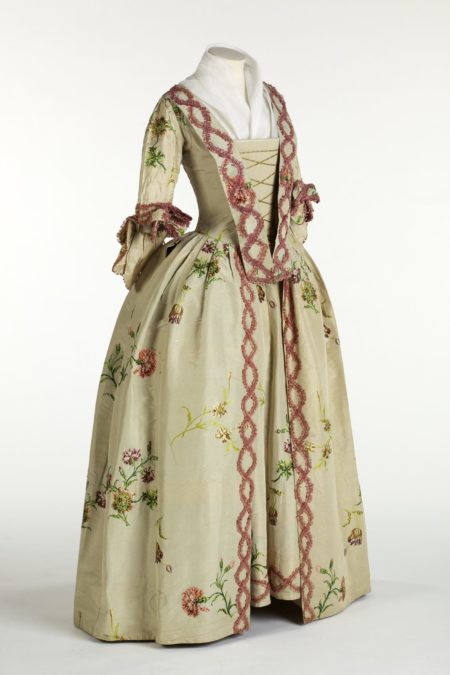 Local tailor Harold B. Sim of Ribbleton Lane made this black wool pinstripe suit in the 1920s. It was purchased by Anthony Conway to wear as his Sunday best. Anthony was a slater whose jobs in the area included St Walburge's church spire. He and his wife Ruth lived on High Street – (where the Ring Way is now located)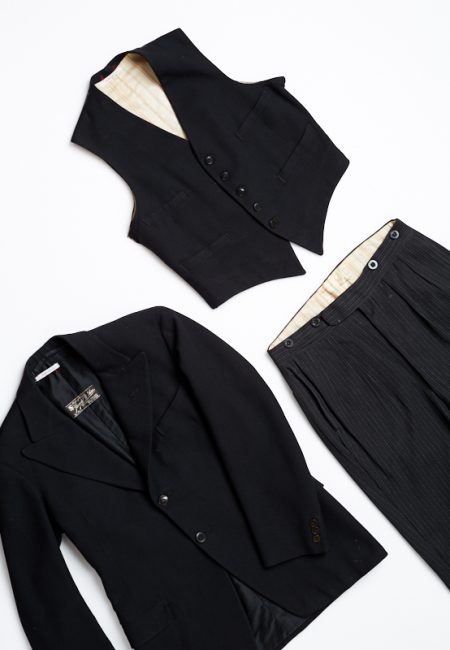 One of our more glamorous dresses from the collection was made in the 1930s. A mixture of blue silk and silver-gilt thread has been woven in a damask weave to create the beautiful floral pattern on this dress. The fabric has been cut on the bias so it clings more closely to the wearer's body. Dressmakers usually cut clothes with the warps and wefts running vertically and horizontally across the fabric, if it is cut diagonally the fabric hangs differently on the body. It's also a more expensive cut, as it uses greater quantities of fabric.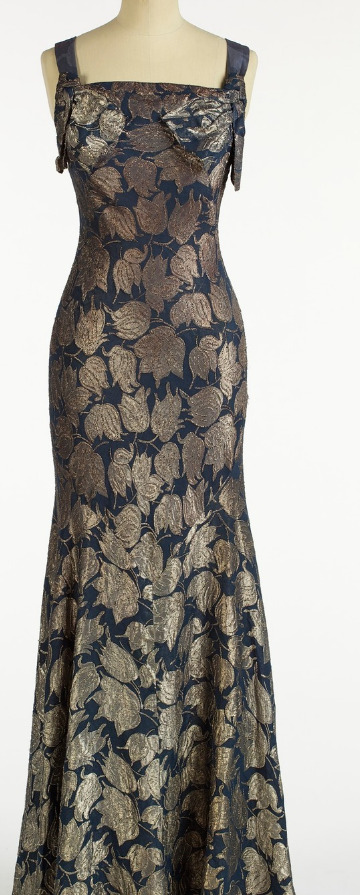 Visitors are drawn to this eye-catching pink silk evening gown with pearl beading around the neck which was made by the label Susan Small. The donor bought the dress in Speights on Friargate in Preston to wear during the 1972 Preston Guild. She wore it to a party at the Bull and Royal on Church Street where she apparently stole the show! She never wore the dress again but as it was so special she decided to keep it stored above her wardrobe for 42 years.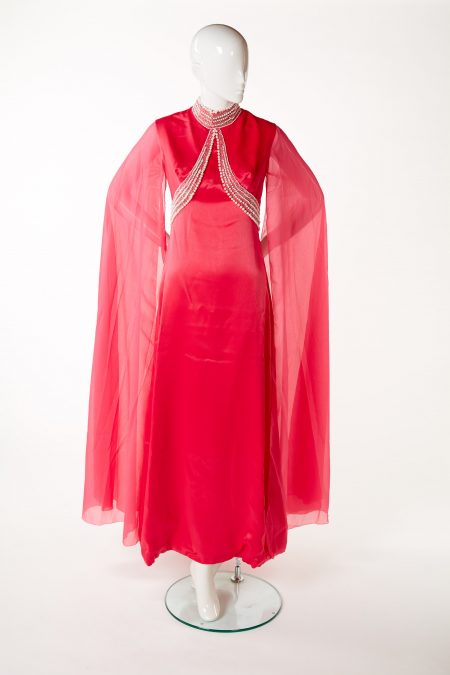 Although Horrockses Fashions are famous for its cotton frocks, the firm also sourced wool to make frocks suitable for their customers to wear in the colder months. This Horrockses Fashions dress appeared in a 1956 Vogue feature, '12 ways to go into Autumn' in which they wrote, "A sweep of skirt for prettiness, grey flannel for trimness- could be your most useful dress". This dress priced at 12 guineas would have been quite expensive but the classic style meant that it would have lasted several winters.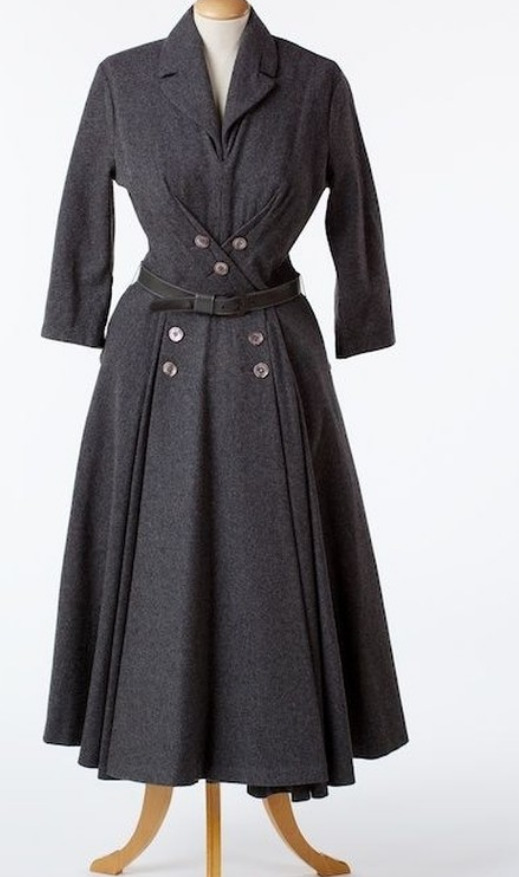 Harris Your Place

Harris Your Place is a £16 million project set to restore and reimagine the Harris for 21st-century audiences as a cultural learning space. The aim of this project is to protect the building and the architecture for future generations whilst enhancing accessibility options and positioning the Harris as a community hub for Preston and Lancashire.
The capital project is more than simply preserving this much-loved building; Harris wants to ensure that it remains a vibrant heart of the community. A place where people want to spend their time.