Space to Relax gallery
Exploring how art can improve all our wellbeing
In this gallery visitors can take time to slow down and relax inspired by the Harris' art collections. The space was developed with visitors and partners at Lancashire Recovery College. We asked people what they'd like to see in this gallery and what type of art they find relaxing.
The results are on display for everyone to enjoy. Helping people to access health and wellbeing opportunities is important to us, and we value your feedback so that we can continue to develop spaces like this in future.
In this display you have the opportunity to practice mindfulness with Herbert Draper's tranquil seascape The Ebb, encounter calming landscapes, and discover a new display of watercolours and drawings around the theme of nature and the outdoors. Including Mallard and Magnolia by Charles Tunnicliffe, Japanese Dandelion by Rebecca Chesney, and On the Neath River by Anthony Devis.
Working in partnership with Lancashire & South Cumbria NHS Foundation Trust.
Coming soon
Conservation of a special painting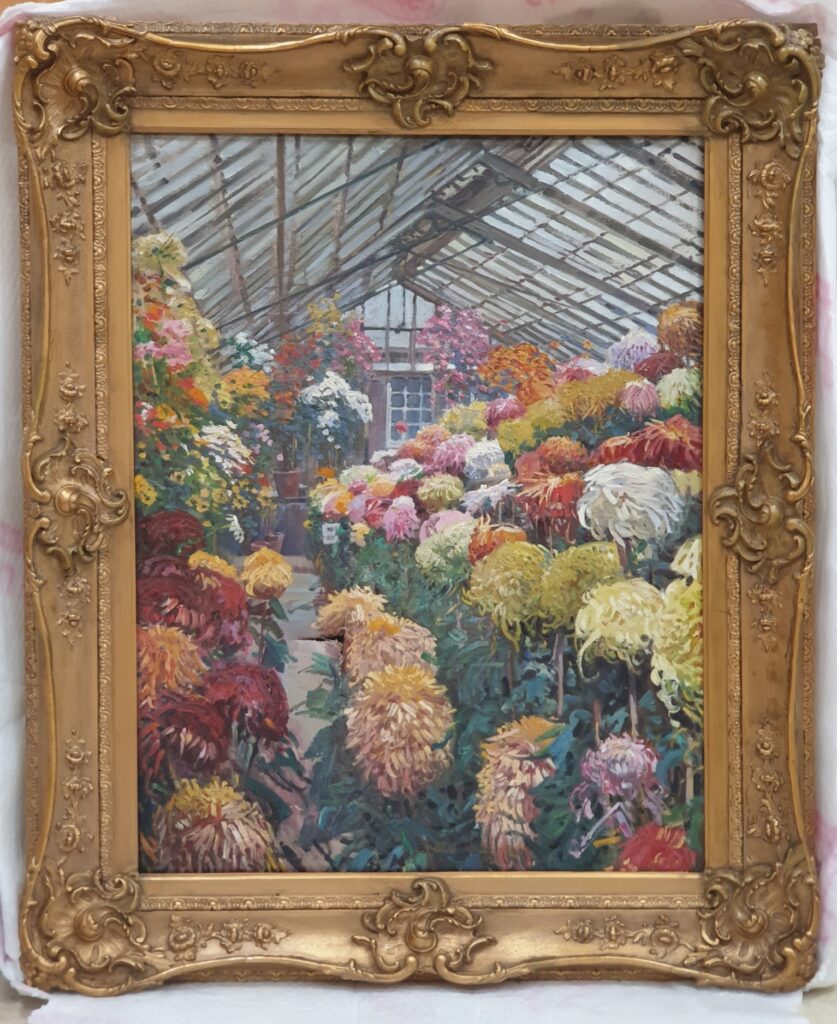 Preston Corporation Chrysanthemum House in 1921 by Albert Woods
When Albert Woods painted Preston Corporation Chrysanthemum House in 1921, he was living on Farringdon Lane in Ribbleton with his wife Mary and three children. He also rented a studio space near the Bull & Royal on Church Street. He was born in Preston, and as a young man spent time in St Ives in Cornwall, a fishing village that became famous as a creative centre for artists who were (and still are) drawn there by the quality of the light and the beautiful coastline and landscapes.
His style reflects his studies with artists working in St Ives and the influence of Impressionism. An art movement that originated in France, which included painting scenes of everyday life, often outside in the open air as opposed to in a studio working from sketches. Alberts Woods layered paint thickly onto his canvases, working quickly and spontaneously creating paintings full of life and energy.
Sadly the Harris' chrysanthemum painting was damaged accidentally a number of years ago. We are currently working with a painting conservator at Lancashire Conservation Studios to carefully repair the damage, including a large tear in the canvas.
Visitors will soon be able to see the newly restored painting on display in our Space to Relax gallery alongside the film showing step by step the repairs.
First steps
The painting being examined by our Fine Art curator and a painting conservator at Lancashire Conservation Studios.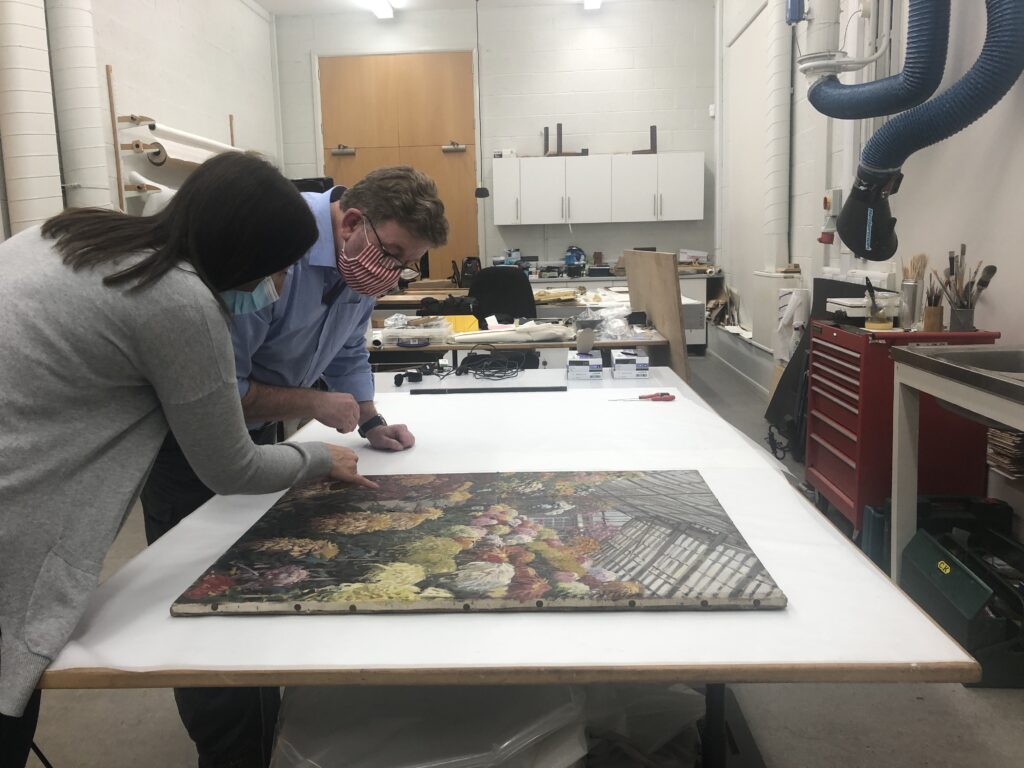 The tear in the painting partly revealed a secret secondary canvas underneath Albert's painting. To repair the hole, the conservator had to first separate the two canvases which gave us the opportunity to find out what was hidden beneath. One hundred years after Albert first covered it up to make his painting, the hidden picture was revealed. Watch the film below to find out what we discovered.
The painting appears to be Victorian but there are no clues about who the sitter might be and we are not sure who painted it. It has an ornate gilded frame, which may be what caught Albert's eye. He possibly bought it from a second-hand or antique shop, and with little interest in the painting covered up the old portrait to reuse it. There is more research to do.