Camp in the collection – Episode 3: Fine Art and History
This is the third  and final episode of the series. Join Harry as we explore the Harris Fine Art and History collections.
The pieces featured in this video
Fine Art Collection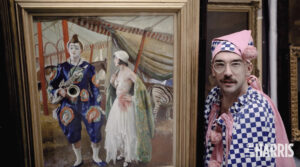 Dame Laura Knight (1877-1970) was a well-known British artist who enjoyed painting scenes of theatres and circuses. Knight liked to show these performers whilst they weren't on stage, when they were just like everyone else. However, painting in a working circus meant that Knight had to paint with great speed, as the performers often had little time to pose.
She worked in oils, watercolours, etching, engraving and drypoint and was a painter in the figurative, realist tradition, who embraced English Impressionism.
In her long career, Knight was among the most successful and popular painters in Britain. Her success in the male-dominated British art establishment paved the way for greater status and recognition for women artists.
In 1929 she was created a Dame, and in 1936 became the first woman elected to full membership of the Royal Academy. Her large retrospective exhibition at the Royal Academy in 1965 was the first for a woman. Knight was known for painting amidst the world of the theatre and ballet in London, and for being a war artist during the Second World War. She was also greatly interested in, and inspired by, marginalised communities and individuals.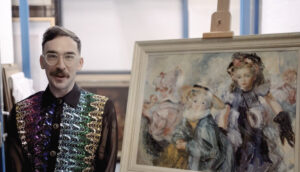 This painting of Strevens' children dressing up in fancy dress celebrates the innocence of being young. Putting on a dress and a hat and feeling very special and beautiful.
Here's an excerpt from John Strevens' letter to the Harris dated 6 May 1947:
"I was born in Essex 12th July 1902 I studied the violin as a schoolboy, this later enabled me to earn enough with other jobs to keep myself while I studied painting – or better still practised it.. I've learnt more on my own by studying the Masters and so escaped – I hope – the bypass road outlook of most art schools. The picture Dressing Up marks a complete change in my outlook and technique.
Prior to painting this, my work had been rather dull and academic for I was unable to see what I wanted and how I wanted to express it. Now I know, that is why I'm so delighted you have this picture of my three children. I couldn't wish for better fate for it. Incidentally I had offers for it for reproduction before lending it to the R.A. (Royal Academy) that I turned down and I am glad I did. I keep my head above water by doing publicity and illustration work and portraits. I love painting gay pictures – happy ones…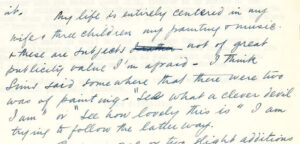 My life is entirely centred in my wife, three children, my painting and music, and these subjects not of great publicity value I'm afraid – I think Sims said somewhere that there were two ways of painting: "Look what a clever devil I am" or "See how lovely this is", I am trying to follow the latter way."
Dorette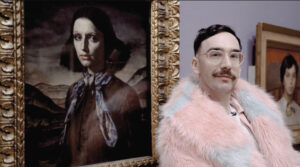 Gerald Brockhurst was a celebrated portraitist who painted the likes of film stars Merle Oberon and Marlene Dietrich. Dorette was the nickname given by the artist to his model, Kathleen Woodward, who became Brockhurst's second wife in 1947. Purchased by the Harris Museum from the Royal Academy in 1933 for the sum of £750 – £55,060.96 today. 
This painting with its dark landscape and Dorette's ambiguous expression creates an uneasy and melancholic atmosphere. In a series of paintings and prints, the artist attempted to form an ideal image of 'young womanhood' for the modern age.
The Lancashire Daily Post said at the time of Dorette: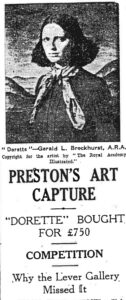 "The Art Gallery has never been so thronged since it came. People see it and they come back to it, to look into that enigmatic face as visitors to the Louvre try to penetrate the mask of the Mona Lisa's smile.'
'The type Gerald Brockhurst has vividly portrayed is so unusual that it is at once arresting. The face, thrown into relief as by a spotlight, has the quality of an old master. Every detail has been reproduced with astounding fidelity.'
'Her big, lustrous eyes follow one as if alive. The whole effect is one of amazing reality. The face stands out as if the brunette herself had thrust her head through it and was staring quizzically at the people who gaze curiously at her. The mouth, too, is wonderfully alive and individual."
But it would be remiss of us to feature Dorette and not talk about her stunningly camp eyebrows.

Edwin Landseer (1802-1873) was a child prodigy who exhibited work at the Royal Academy at the age of 13 years old. Landseer was probably the most popular painter in Victorian England.
He possessed virtuoso technique which could perfectly capture the silk on fair of an animal coat, its watery eyes and moist nose; while his subject matter and treatment of it warmed the heart of every Victorian.
Although well known for his paintings of animals, Landseer's best known works would be the lion sculptures in Trafalgar Square.
During an age when sentimentality pervaded the fine arts, Landseer often invested his animals with human characteristics. However the sentimental view was frequently at odds with the true nature of the animals he painted, who despite their sweet and charming appearance are also capable of aggressive and violent action: The puppy playfully teasing the frog is equally capable of killing his toy.
Fun fact: Landseer was rumoured to be able to paint with both hands at the same time.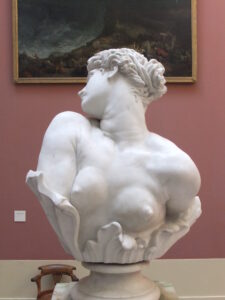 This is Clytie from 1880, by sculptor Luigi Fabbrucci from the studio of George Frederic Watts and crafted under his personal direction. Clytie was Watts first large sculpture and the only one exhibited during his lifetime. He started work on a clay model in 1867, and the marble carving was shown, unfinished, at the Royal Academy in 1868. Due to its popularity a number of replicas were made in bronze and marble.
Clytie was a water nymph from Greek mythology. She was in love with Helios, the god of the sun, who left her for another nymph. Clytie was, as to be expected, not best pleased.
Intending to win her love back she told the other nymph's father who then went and buried his own daughter alive. This only hardened Helios' heart and he left Clytie to longingly watch him fly across the sky each day. Clytie lay herself naked for nine days on the rocks, simply staring at the sun, without drinking or eating anything. On the ninth day, she was transformed into a sunflower, always turning to face the sun.
The drama of it all! This sculpture has a sense of mournful camp but camp nonetheless.
An Idyll of Spring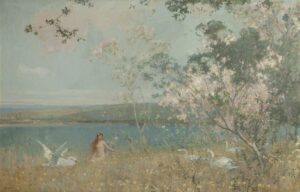 Alfred East (1844-1913) was born in Kettering, where he began his working life in his brother's shoe factory. Later, he was sent to Glasgow where he began to attend art classes. In 1880, he went to Paris, where he studied at the Ecole des Beaux Arts and the Académie Julian. East returned to England in 1884, settling in London. In 1910, he was knighted and three years later was elected a Royal Academician. 
East was regarded as one of the greatest Edwardian landscape painters. His romantic, pastoral imagery frequently took inspiration from the poetry of Milton, Wordsworth and Tennyson. However, his reassuring and idyllic approach to landscape became unfashionable during the early Modern period and it is only recently that his reputation has been reassessed.
An Idyll of Spring (1897) makes the camp list because being attacked by swans while naked is pretty camp!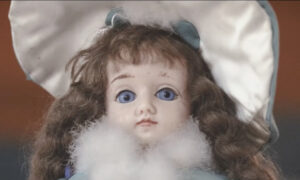 This doll dates from 1903-1906 and she looks like she's wearing Kate Winslet's hat from her first scene of Titanic. "It doesn't look any bigger than the Mauritania" indeed. 
This doll has a stuffed cotton torso, upper arms and legs and lower painted compostion limbs.
The head is made of a deep layer of good quality wax and has open blue glass eyes, a smiling painted red mouth, pinprick nostrils and a distinct septum, mouth and chin. Overall the features of the face have been carefully modelled including eyelids, ears and eyebrows. She has brown painted eyelids and eyebrows. The doll has a long brown wavy mohair wig made of several layers. One layer is attached through the head and longer layers are glued to the wax surface.
The doll's blue suit and hat are trimmed with white swansdown. We love her, how CAMP!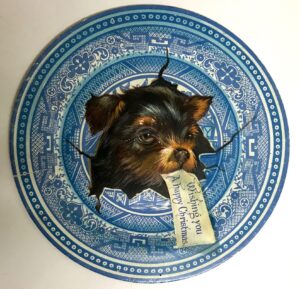 The Harris holds a collection of over 800 postcards and greetings cards mainly dating from 1910s to the 1980s. The Victorians were the first to send commercial Christmas cards as we know them. 
Artist John Callcott Horsley 1817-1903), designed the very first Christmas and New Year's 
card at the request of his friend Sir Henry Cole (the first director of the Victoria and Albert Museum). 1000 of Cole's cards were put on sale at a pricy 1 shilling each. The venture wasn't initially successful but it inspired other artists  to create the forerunners of the modern Christmas card. Many of the older cards don't seem very festive, one features a puppy bursting through a blue-and-white china plate 'Alien-style'.
Many of the cards show animals doing weird and wonderful human things such as kittens getting married – complete with cat vicar in a cassock and surplice! The more modern cards also feature lots of cute animals, usually wearing ribbons and gazing lovingly through mostly lenses. Très camp.
Cigarette Cards
Cigarette cards are essentially trading cards issued by tobacco manufacturers to stiffen cigarette packaging and advertise their brands. Highly collectable, ​they're often adorned with actors, sports stars and animals. The Harris has a collection of more than 800 cards depicting a wide range of subjects and dating from the 1910s to 1960s. Here are some of Harry's favourites.
Film Partners cards, Gallaher Cigarettes, 1936.
Cat cards, Player's Cigarettes, 1936
Juvenile Fancy Ball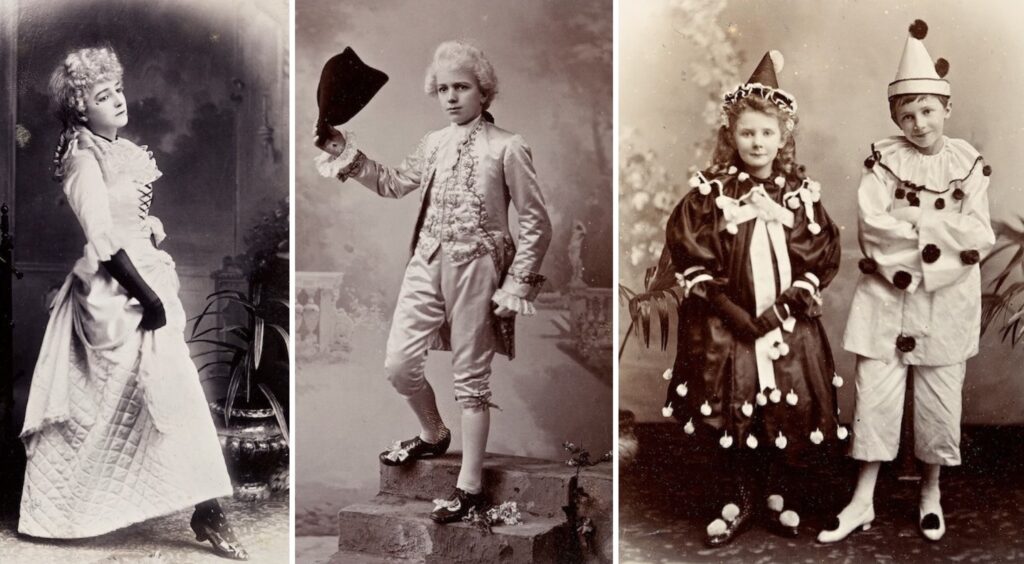 "Turning looks, stunting pretty, these are the kids from Preston City."  These photographs were taken at the Juvenile Fancy Dress Ball at the Public Hall on Lune St on 21 January 1897.  You can see the exceptional care and attention given to every detail of these costumes. These children have dressed up as courtiers of the 17th Century, Pierrette and Pierrot.
These photographs were presented to the Mayor of Preston by the children's parents; you can see the album in our Discover Preston gallery.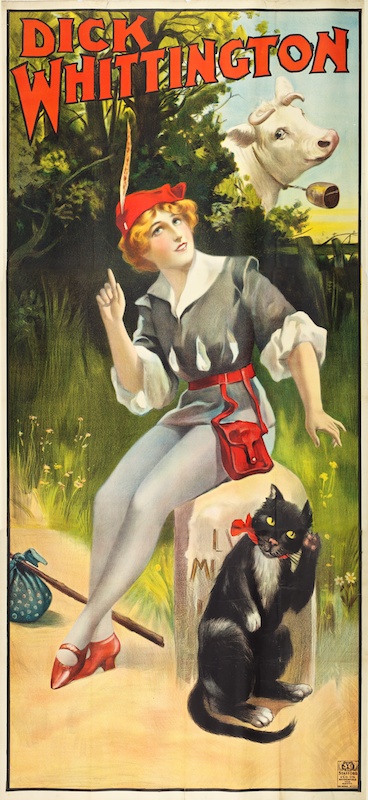 Here is a Dick Whittington silent film poster from 1913. It was rescued from a now demolished Prince's Theatre in Preston. The Prince's Theatre  opened in 1881, changed its name to the Gaiety Theatre in 1885, and was  renamed Prince's again between 1885-1889. In 1961 it was converted into a Bingo Club and was derelict by 1961.
This colourful poster is made up of three parts and was printed by Stafford and Company and features Dick (in his kitten heels) and his pussycat, on their way to London. Look who's in the background – this cheeky cow!
Have you ever seen such a big Dick poster? Could this be any more camp? We think not!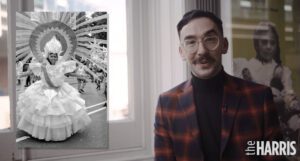 The final item is one of Harry's favourites.
This photograph was taken at Preston's first ever Carnival on 26 May 1975. It was taken by Noel Coombes and shows the Carnival Queen wearing the most stunning, huge white dress featuring many flounces and a dazzling shiny trim.
She wears a reflective headdress, epaulettes and apron, a Carnival sash and a huge back piece in a sunburst design.
This photograph is so beautiful, absolute heaven and so camp.
Preston Carnival is still running to this day and attracts thousands of visitors each year. Every June, Preston comes alive as the city dances to the rhythms of the Caribbean.
"Camp is by its very nature, political, subversive and even revolutionary." 
Bruce LaBruce
You can see more of the Harris's Fine Art and History collections in the Collections section of this website and on Art UK.