Mrs French's scent bottles
How to make your own scent bottle like those in our collection.
Use our step-by-step guide to help you do the patterns for your bottle.
YOU WILL NEED
coloured card
paint
paint brush
pencil, scissors
glue
tin foil and anything else to decorate- we've used feathers and sequins.
Draw a scent bottle template on your coloured card and cut out using scissors.
Decorate with your own pattern and pictures!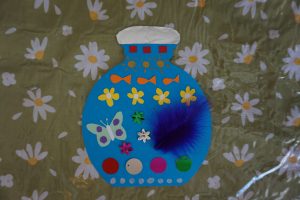 FUN FACT: Did you know that some of the scent bottles collected by Mrs French are decorated with pictures of animals? Try making your own animal themed scent bottle.
You can find some pictures of Mrs French's perfume bottles on our glass collections page for inspiration.