Camp in the collection – Episode 2: Decorative Art
This is the second episode of a three part series, this time we're looking at the Harris Decorative Art collection.
The pieces featured in this video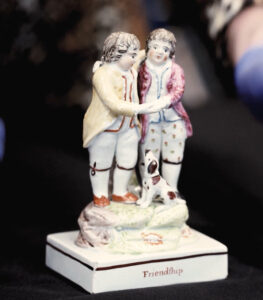 This Staffordshire Pearlware figure shows two boys, one in a yellow coat and the other in pink, embracing each other. The boys have their arms linked while their dog sits at their feet.
Staffordshire figures were popular ornaments in the 18th and 19th centuries and this particular figure dates from 1800-1850. They figures represent a wide range of subjects, from musicians to literary characters.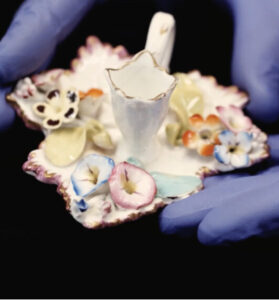 This white porcelain miniature candle holder was possibly made by Rockingham around 1840. I
t is in the shape of an ivy leaf and the rim is decorated with pink and gilt detail. It is encrusted with multi-coloured flower sprays and there is more gilt decoration to the handle and rim of the stem.
These porcelain figures of poodles are the last word in frou-frou!
They were made by Rockingham between 1830 and 1840. The blue cushion is rimmed with gilt decoration and the solo dog sports a rather fancy 'lion cut' hairstyle and appears to be carrying a strawberry.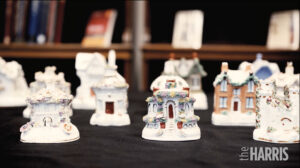 A range of pastille burners in the shape of small whimsical buildings strewn with applied coloured flowers and foliage. Most of the burners are made of earthenware or porcelain and date from 1840-1880.
A pastille burner is a perfume burner, in which a small scented pellet (similar to incense) is burned to remove unpleasant odours by releasing a pleasant scent into the air. A pastille would be placed inside the burner and lit with a taper or splint. The smouldering pastille would release its smoky scent through the openings of the burner. In this case, through the chimneys of the tiny buildings.
Bust of William Shakespeare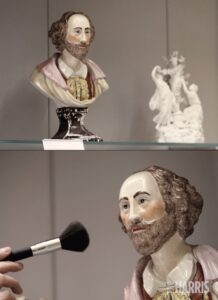 This glazed earthenware bust of William Shakespeare (1564-1616) was made by Enoch Wood between 1800 and 1840 in Burslem, Staffordshire.
Shakespeare sits on an integral rectangular bottomed plinth and wears a yellow cape over a red shirt with white collar and gold ruffles. His brown hair and beard are painted and he is a little heavy handed with the blusher!
Many different figurines and busts of William Shakespeare were produced by Staffordshire pottery firms especially in the lead-up to the tricentenary of his birth in 1864.
Enoch Wood was a gifted ceramic sculptor who was apprenticed to Josiah Wedgwood I. He went on to found his own company in 1784 and was an early collector of English pottery.
Well Hung? ceramic plates, Morgan Dowdall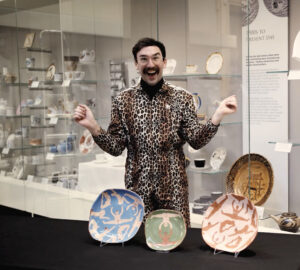 These plates are from Morgan Dowdall's Well-Hung? series which featured in G R A F T – a UK New Artists exhibition at the Harris in 2019. Morgan Dowdall is an artist based in Cardiff whose artistic practice explores all facets of visual art, ranging from: sculpture, applied arts, surface design to installation.
Morgan's slipware plates are an overt celebration of queer sexuality and naked bodies. They are joyful and naïve: inspired by traditional British slipware makers such as Thomas Toft, sexually liberated like the Athenian ceramics of Ancient Greece, and made fresh and
contemporary through vivid colours and the portrayal of diverse bodies  – from cis to trans, black to white, hairy to smooth, and from chubby to skinny to muscled.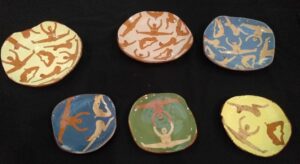 Each plate is handmade and some of the techniques used emphasise this quality, for example, the plates are not exact circles, they are hump moulded rather than thrown. This contrasts with the clean edges of the body silhouettes and the zing of the coloured backgrounds which shine through the leadless glaze.
These plates were selected by the Harris LGBTQ Working Group. This group have recently been working with the Harris to identify objects in the museum and library's collections which tell LGBTQ stories. The plates have been acquired by the Harris as part of our permanent collection.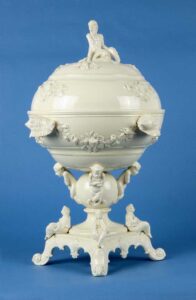 Manufactured in Leeds in 1790, this creamware cockle pot and lid is supported on an elaborate square base with scroll feet on which are seated four draped female figures. The bowl rests on a globe on the shoulders of four mermen. It is decorated with shells and seaweed, with four large shells along the bowl's rim. A figure of Neptune seated on a two headed sea horse sits on top of the lid. A very elaborate piece of pottery for serving the humble cockle!
Gibraltar tea set, Clarice Cliff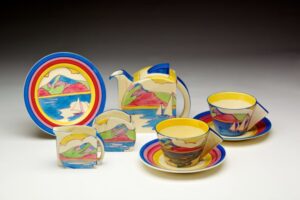 This 'tea for two' set is instantly recognisable as the work of Clarice Cliff, one of the UK's most famous and prolific ceramicists.
It comprises of a lidded Stamford shape teapot, jug, bowl, two cups and saucers and a larger plate.
The design is called 'Gibraltar' and features a painted seascape including a boat, the sea and a mountain- most likely Gibraltar Rock. It is decorated with bright blue, pink, red and yellow banding. This vibrant design dates from 1932-1933. Cliff's colourful and affordable designs brought Art Deco into homes across the country.
The Mrs French Scent Bottle Collection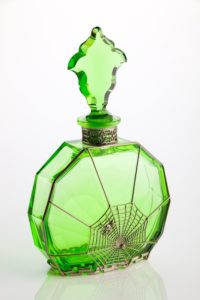 The Harris holds the largest collection of scent bottles in Britain. All 2,748 were collected by one woman – Idonea Thomas, later Mrs Idonea French. Mrs French started her collection as a young girl in the 1890s – and what began as a childhood hobby developed into a lifetime's passion.
Mrs French and her husband Charles spent their holidays motoring around England, exploring antique shops and dusty junk shops. Their house became a cluttered 'museum' with everything on display. Although she never claimed to be an expert, Mrs French undeniably developed an expert's eye with encyclopaedic knowledge of the origin and dates of various types of bottle. She was also able recognise when bottles were fake.
Because of this great passion for her collection – which took up all her time and her home – she unfairly gained a reputation within her family as an eccentric. Intelligent women in her day, like most women of her generation, were denied the opportunity to pursue a career. Collecting was an outlet for her intellectual ambitions – also undeniably a focus for her after her son's sad death.
After Mrs French's death, her friend Mr Bernard Hughes became executor of her will. He was a well-known writer on the decorative arts who knew the Harris collection well. Honouring Mrs French's wish not to split up the collection, he arranged for it to go in its entirety to the Harris. It arrived in 50+ shoe boxes and it took until 2008 to log, organise and put all 2748 bottles on display.
You can see more of the Harris's fashion and textile collection in the Collections section of this website.