Camp in the collection – Episode 1: Costume
This is the first episode of a three part series looking at the Harris costume collection.
The clothing and accessories featured in this video
Pauline's Yellow Dress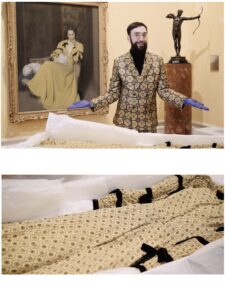 Probably the most famous dress in Preston, from the unforgettable painting Pauline in the Yellow Dress by Sir James Gunn.
Nicknamed the 'Mona Lisa of 1944' when it was first exhibited in London, the painting has been on display at the museum here in Preston for 77 years. The Harris had no idea the dress still existed until the Gunn family got in contact and it was acquired as a gift in 2006.
This full-length day dress is made from yellow viscose overprinted with a
black geometric repeat pattern. The dress is trimmed with black velvet bows on the arms and the neck. The front of the dress is buttoned to the waist and then zipped. A small woven label down inside seam says 'Made in U.S.A'. In the painting it is seen unbuttoned down the middle, which must have been very provocative at the time. 
Pauline learnt how to create a glamorous and fashionable look on a shoestring whilst working at Elizabeth Arden in Paris and Rome. She would often scour the fashion houses for end of season bargains.
The image of this glamorous dress with its luxurious use of material, particularly in the full skirt and concertina sleeves, created controversy at a time when fabric was rationed.
Vivienne Westwood – Red Satin Shoes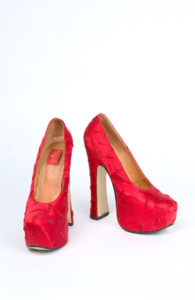 These shoes were part of top British designer Vivienne Westwood's 'Cut, Slash and Pull' collection for Spring/Summer 1991. The red satin is purposely cut to show the black fabric beneath. They were purchased in London by our donor, who wore them with a silver sequinned dress for nights out in Preston and Blackpool – how camp!
Vivienne Westwood reminds Harry of Naomi Campbell, Gwen Stefani, or Pete Burns. Platform shoes are a favourite of the designer, who says they represent women 'being put on a pedestal'.
Supermodel Naomi Campbell famously fell over during a fashion show while wearing a pair of blue Vivienne Westwood platform shoes. Those shoes are now in the Victoria and Albert Museum in London. Lancashire folk are made of stronger stuff as our donor used to dance in these!
Bejewelled Headdress
This jewelled headdress is crowned with a long, black bird of paradise feather held in a fan holder. It also features an ostrich feather. Strings of pearls hang beneath the chin and an elongated drop costume jewel dangles from the forehead.
The headdress is most probably part of a fancy dress outfit.
"Fancy dress parties in the 1920s were fast, frantic, off-beat, Bohemian, anything was 'different'; such as the Baby Party where the girls went as babies in prams and the men as nursemaids […] Brian Howard gave a Greek Party, for which he and his friends went to the British Museum to get their poses and costumes correct."
'There was a Young Man of Bengal …' The Vogue for Fancy Dress, 1830–1950, Anthea Jarvis
The original inspiration for this headdress is likely to be Asian – perhaps Turkish or Indian. In the 1920s, people in Europe often referred to Asia as 'the Orient' and there was a fashion for what was termed 'orientalism'. This style of European clothing imitated – but also hugely romanticised and distorted – the dress of countries such as Japan, China, Russia, India and the Middle East.
"…the Orientalist objective in Western dress was to cull from the various Easts their spellbinding foreignness for the purpose of rendering Western dress richer and more exotic." Orientalism: Visions of the East in Western Dress, H Koda & R.Martin.
Think of it as cultural appropriation, 1920s style: wearing another person's culture as a costume.
Lanvin Skirt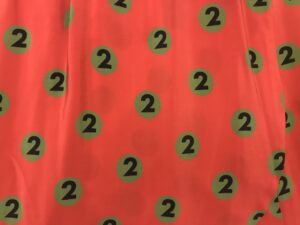 "Eyes down for a full house!" This Lanvin skirt and sash reminds Harry of a bingo caller from the sea front.
The original owner was Anne Bullit, an American heiress, philanthropist, and the last chatelaine of the famous Irish estate Palmerstown House. Anne amassed a huge collection of rare couture garments. This piece is from her heyday, when she mixed with international society.  Anne had an 18 inch waist, fitting into designer samples.
Anne's father was William Christian Bullitt, a wealthy diplomat and the first U.S. ambassador to the Soviet Union. Her mother, Louise Bryant, was a radical American writer.  Anne grew up attending balls and exclusive functions, accompanying her father on his travels and foreign assignments.
Anne did some modelling in her youth, but her first love was horses, and she was the first female breeder of thoroughbreds in Ireland.  You can read Anne's fascinating story here.
Evening Dress with 2 bodices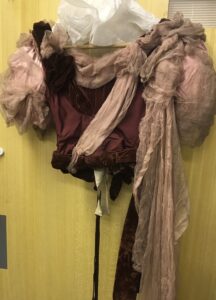 This evening dress  is made up of a skirt with two bodices.
The first bodice is a pale peach figured satin with a  rust-coloured crushed velvet on the puff sleeves. There is a waist frill and more white lace frills around the cuffs and neck.
The second bodice is pure Nancy from Oliver!  Made of maroon corded silk, it features puff sleeves of pink chiffon over pink satin. It has a rust-coloured crushed velvet details on one of the shoulders and a waist frill similar to the first bodice.
The skirt has a train and a wadded roll of velvet bound with pink cord on the hemline. The maker's name is on inner waist belt and reads: "Mrs Doyle, 104 Grafton Street, Dublin".
Knave of Hearts costume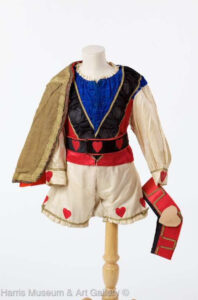 On the cute end of the camp spectrum, this costume was worn in the Preston Guild by three generations of the same family in 1882, 1922 and 1945. Camp can be outlandish, but to Harry camp is also about frugality – treasuring items and giving them a life and letting them have a meaning and a story. 
This Knave of Hearts costume consists of:
A red crown hat with a faded red heart at front;
A black belt with red hearts;
A gold cloak with red lining;
White short trousers; and
A red, white, blue and black shirt.
It was worn by Stephen Simpson (b.1860) at the 1882 Guild, his daughter, Melene Simpson, (b. 1907) at the 1922 Guild, and Melene's son, William (Bill) Barnes, in 1945.
Venetian Costume Hat
We thought this was a shoulder piece, but no! It is actually a hat worn by the Guild Mayoress at the Preston Guild Fancy Dress Ball in 1922. Through the Guild Preston has such a rich history of dressing up in fabulous costumes.
The costume is entitled: 'A Venetian Lady of the Fourteenth Century'. It is medieval-style and comprises of a hat with a veil and a two-part dress.
The hat is a trefoil (three-lobed) shape in gold and silver cloth and is ornamented with faux emeralds and diamanté. It is tied under the chin with a separate piece of cream chiffon. The overdress is turquoise silk and forms a train at the back, with cream chiffon hanging sleeves adding extra drama. It is ornamented with gold braid around the hem and with gold tassels around neck. The underdress of cream and gold brocade has fur trimmed sleeves. There is an integral belt of
gold braid and green and clear glass stones, plus an integral handbag of turquoise silk and navy blue check with gold
tassels.  The costume is further ornamented with glass stones, including faux topaz at the neck and shoulder.
This is some serious, top tier fancy dress!
Red Evening Dress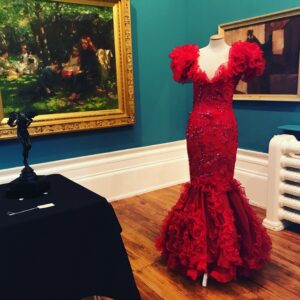 The ruffles, the sequins. This is dripping in camp!
It's a little bit Liza, a little bit Shirley Bassey, it would be right at home on a drag queen belting out show tunes on a Sunday afternoon.
The dress was designed by David Fielden who studied art at Preston Polytechnic (now UCLan) and then went on to study theatre design at Birmingham College of Art. He had a was a ballet dancer and had worked with Ballet Rambert.
All these influences can be seen in the dress, which offers the wearer drama and movement. During the 1980s, Fielden was renowned for his opulent ball gowns and wedding dresses, and his clients included stars such as Elizabeth Taylor, Cindi Lauper, Bette Midler, Liz Hurley, Helena Bonham Carter and Bianca Jagger.  He had a shop on Chelsea's Kings Road but later moved into theatre and set design.  Fun fact: Even in 1985 a dress like this would cost over £1000!
This flamboyant evening dress was presented to the Harris by the designer.
You can see more of the Harris's fashion and textile collection in the Collections section of this website or on Google's Art & Culture We Wear Culture website.